Imola, Italy, 26 Sept 2020.
Netherlands/Boels – Dolmans Cycling Team's Anna van der Breggen took her second 2020 UCI World Champion Gold Medal with the win in the Road Race to go with her Individual Time Trial victory on Thursday.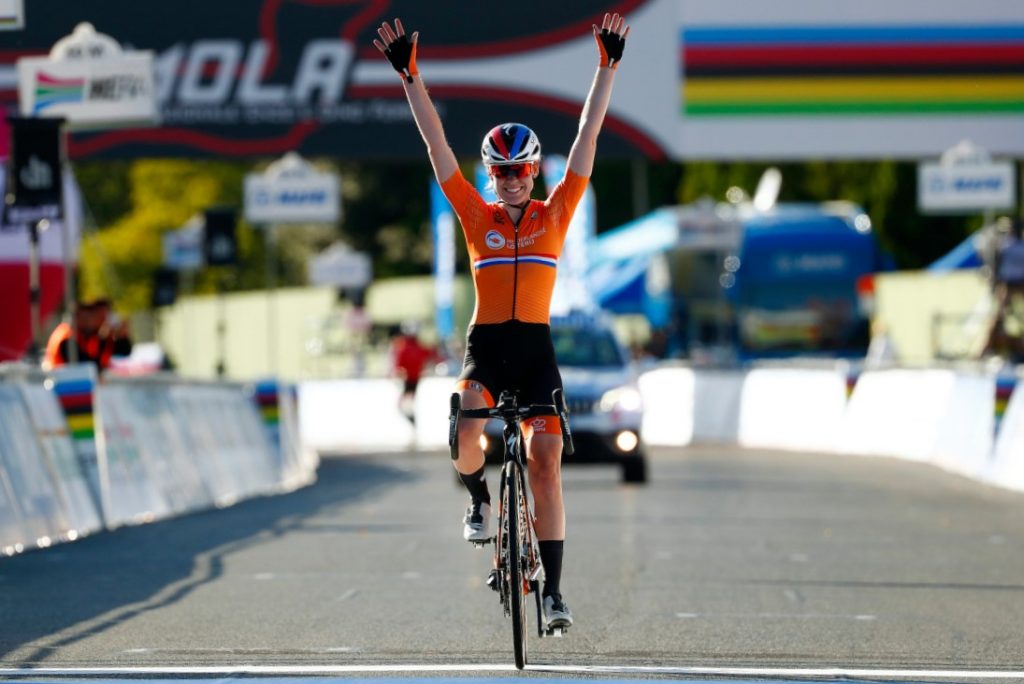 "It's incredible", Anna van der Breggen rejoiced after her victory. "It was a really hard race, we were fighting from the beginning. The climbs were really tough. In the fourth lap, I felt strong. We made the race hard and I just went for it. I felt good but it was really hard. The circuit had some flat parts but it was very hard. I never expected this. This season is pretty good for me so far."
Imola continued to be deliver success for Anna van der Breggen and Dutch cycling as she dominated the Elite Women road race of the 2020 UCI Road World Championships. The Boels – Dolmans Cycling Team star took her third gold medal at the Worlds in Italy, after claiming victory in the 2018 road race in Innsbruck and in the individual time-trial this Thursday in Imola. She's only the second rider to win both events the same year, 25 years after France's Jeannie Longo's double triumph in Duitama (Colombia).
---
A 145-rider peloton started from the Autodromo Enzo e Dino Ferrari with a beautiful sun shining along their first pedal strokes. They immediately tackled the circuit that would later crown the 2020 UCI World Champion: a 28.8km loop with two climbs to be faced five times, for a total of 143km of racing and 2,800m of elevation.
The climbs up Mazzolano (2.8km at an average of 5.9%, with 13% slopes at the bottom) and Cima Gallisterna (2.7km at 6.4% and a maximum of 14%) wore down a peloton which was quickly reduced to around 100 riders.
A group of nine riders eventually got away with Jackson accompanied by Amy Pieters (Netherlands), Katia Ragusa (Italy), Lisa Brennauer (Germany), Christine Majerus (Luxembourg), Tayler Wiles (USA), Hannah Barnes (Great Britain), Mavi Garcia (Spain) and Juliette Labous (France). Italy started pacing behind them with 63km to go and a gap up to 2'. Meanwhile, Eugenia Bujak (Slovenia) bridged the gap to the front group on her own.
The Orange train increased the tension in the penultimate lap. First, Anna van der Breggen seriously upped the tempo in the Mazolano climb. Over the top, the gap was down to 10" and some 30 riders were still in the bunch. The attackers were caught in the next climb, with Marianne Vos (UCI Road World Champion in 2006, 2012, 2013) and Annemiek van Vleuten (winner in 2019) accelerating.
Van der Breggen launched an attack with 42km to go, and never looked seriously challenged despite a concerted effort by Annemiek van Vleuten and Elisa Longo Borghini, eventually winning the race with a gap of 1'20''.
Annemiek van Vleuten and Elisa Longo Borghini continued their duel right to the line in a sprint that saw Borghini throwing an elbow at The Dutchwoman. Van Vleuten held her line and, despite a cast on her arm from a crash ten days ago that saw her abandon the giro Rosa, took the silver medal. Marianne Vos held off a four-woman group at 2'01" to make it three Dutch in the top four.