Stage 2: Brigham City to Powder Mountain Resort , 135.8km
Hermans takes over race lead with solo win in the rarefied air of Powder Mountain
Israel Cycling Acadamy's Ben Hermans took a moment to salute compatriot Bjorg Lambrecht as a crossed the line alone atop Utah's Powder Mountain, finishing solo after a punishing 16km climb to 2700m.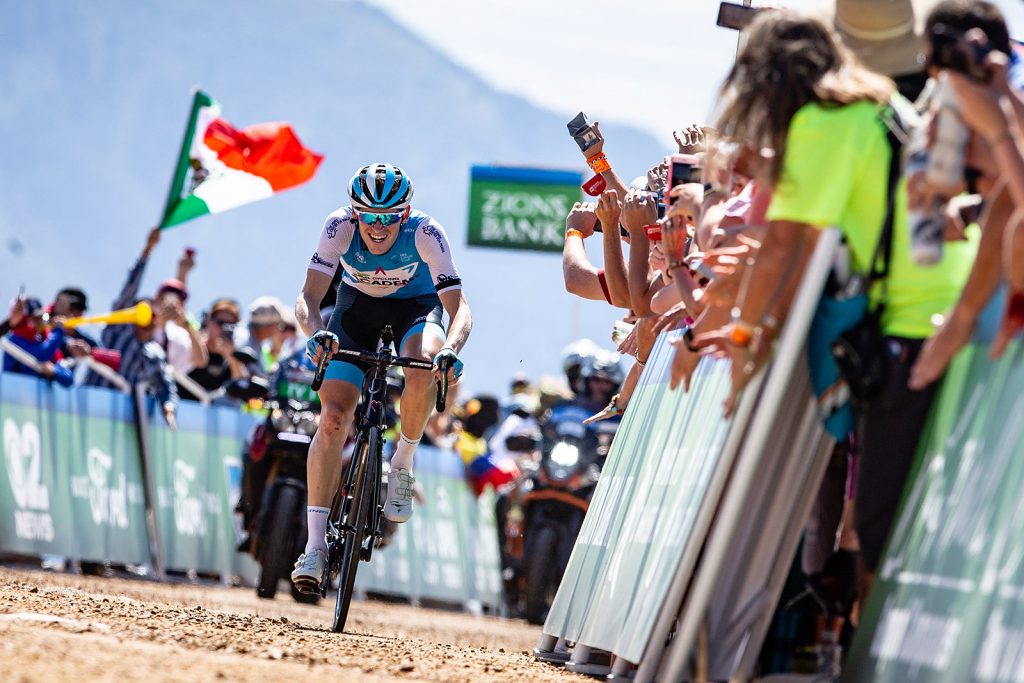 "I knew I had to be in really good shape on this climb. You can make a lot of time, you can lose a lot of time, on this climb. I hoped for the best legs. I had really good feeling on the climb, so I'm happy I was able to take the win," said Hermans
Hermans, who finished second overall in 2018, started the climb part of a six-man breakaway that has formed 40km into the stage. Peter Stetina (USA) of Trek-Segafredo made an early break gaining 20 seconds but over the course of the brutal 14km (8.6mi) climb the Hermans, in the company of James Piccoli (Elevate-KHS Pro Cycling) and Trek-Segafredo's Niklas Eg gradually shed their companions, and finally caught Stetina with four kilometres to go.
From there the Belgian maintained a steady pace despite the gradient rearing up to 16 percent, and managed to drop Eg and Piccoli. eg drifted away leaving the three riders battling along intheir own world of pain amongst the rock and thinning air. Despite the riders being in constant sight of each other thanks to the treeless terrain the gaps proved insurmountable.
Herman finally crossed the line 20 seconds ahead of Piccoli with Eg in third, 35 seconds down. Fourth spot went to Stetina at 58″. The gap to the peloton now became the focus but it was clear that barring a surge of pace the lead would pass to Hermans.
"Peter Stetina attacked quite hard and I knew that I had to set my tempo and look at the other guys. I kept my tempo until five or four K (kilometers) to go. From there, I knew that the chance was big that I could win the stage. It was still hard to get to the finish," Hermans added.
The race gave the GC a massive shakeout with overnight leader Lawson Craddock (USA) of EF Education First, dropping to ninth on G.C., 2 minutes and 56 seconds off the lead, while Serghei Tvetcov (ROM) of Worthy Pro Cycling dropped from second place to 23rd overall. It left Hermans with a lead of 26″ over Piccoli, wiht Eg at 52″, Stetina at 1'10" and Joseph Dombrowski (EF Education First) fifth at 1'33".
The Larry H. Miller Dealerships Most Aggressive Rider jersey went to Piccoli who said, "Today we had an extra bit of motivation. I always want to do the best I can here. I think there is lots to play for, and the team is going to do everything we can to continue fighting and to race strong."