Packed with mountains the 2020 Tour de France is aimed to leave the peloton shaken and stirred.
The route of the 2020 Tour de France was unveiled today in Paris in front of a packed auditorium at the Palais des Congrés.
With the usual rumours doing the rounds the course was expected to be designed to further create uncertainty and disrupt the dominance of the GC teams. The presentation certainly proved that was exactly what the organisers had in mind – starting on the French Riviera in Nice it includes 3470km, 29 cols, bookended with mountain stages, the latter an altitude finish TT.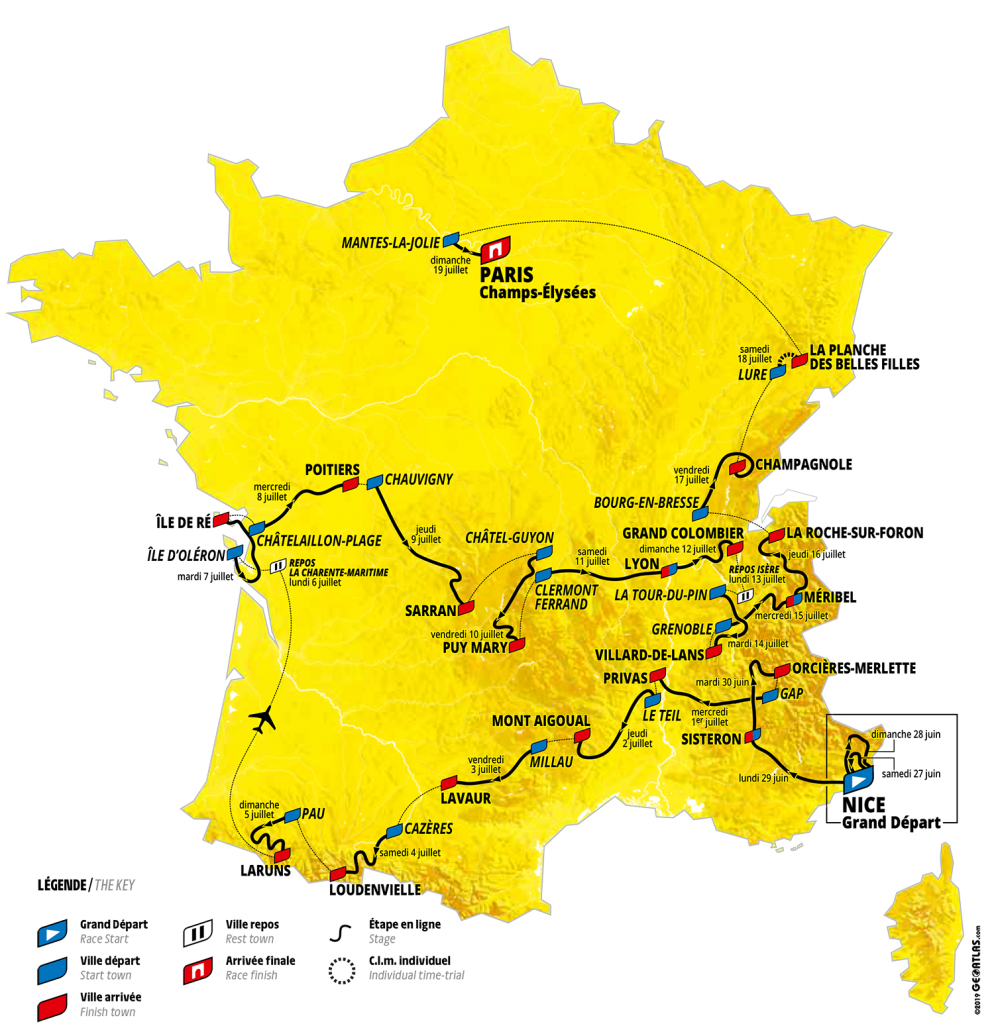 Stages of the Tour de France 2020
| Date | Etape | Km |
| --- | --- | --- |
| 27/06 | 1. Nice Moyen Pays – Nice | 156 |
| 28/06 | 2. Nice Haut Pays – Nice | 187 |
| 29/06 | 3. Nice-Sisteron | 198 |
| 30/06 | 4. Sisteron – Orcières-Merlette | 157 |
| 01/07 | 5. Gap-Privas | 183 |
| 02/07 | 6. Le Teil – Mont Aigoual | 191 |
| 03/07 | 7. Millau-Lavaur | 168 |
| 04/07 | 8. Cazères-sur-Garonne – Loudenvielle | 140 |
| 05/07 | 9. Pau-Laruns | 154 |
| 06/07 | Charente-Maritimes (jour de repos) | |
| 07/07 | 10. Le Château d'Oléron – Saint-Martin-de-Ré | 170 |
| 08/07 | 11. Châtelaillon-Plage – Poitiers | 167 |
| 09/07 | 12. Chauvigny-Sarran | 218 |
| 10/07 | 13. Châtel-Guyon – Puy-Mary | 191 |
| 11/07 | 14. Clermont-Ferrand – Lyon | 197 |
| 12/07 | 15. Lyon – Grand Colombier | 175 |
| 13/07 | Isère (jour de repos) | |
| 14/07 | 16. La Tour-du-Pin – Villard-de-Lans | 164 |
| 15/07 | 17. Grenoble-Col de la Loze | 168 |
| 16/07 | 18. Méribel – La-Roche-sur-Foron | 168 |
| 17/07 | 19. Bourg-en-Bresse – Champagnole | 160 |
| 18/07 | 20. Lure – La Planche des belles filles (clm) | 36 |
| 19/07 | 21. Mantes-la-Jolie – Paris | 122 |