Round 1: Guisborough Monday 2 May
Round 1: Guisborough, Monday 2 May
Round 2: Galashiels, Wednesday 4 May
Report compiled using material supplied by https://tourseries.co.uk/
Round One: Guisborough, Monday 2 May
Wiv SunGod and Pro-Noctis take the honours at the opening round of Sportsbreaks.com Tour Series in Guisborough.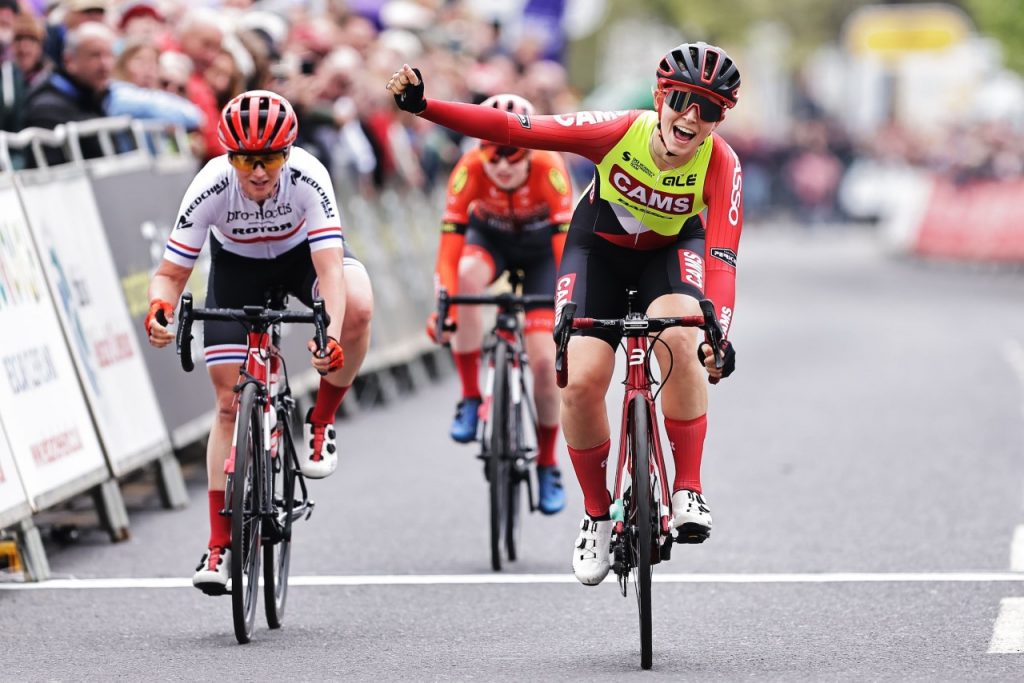 Pro – Noctis – Rotor – Redchilli Bikes p/b Heidi Kjeldsen also produced a fine start in Guisborough as British circuit race champion Jo Tindley and Lucy Ellmore finished second and third in the women's race.
Tindley and eventual individual winner Sophie Lewis (CAMS – Basso) also broke away in the early laps, before Ellmore produced a fine effort to bridge across to the leaders.
Despite leading out the sprint, Tindley could only place second here for the second year running, as promising track talent Lewis pipped her to the line. Behind, Sammie Stuart (Team Brother UK – LDN) broke away from the peloton to finish fourth.
Corinne Side was Pro – Noctis – Rotor – Redchilli Bikes p/b Heidi Kjeldsen's third-ranked finisher in 12th as Rick Lister's team started strongly in the series once again.
"The first round is always the one that you never really know how it's going to go," said Tindley. "You've done all this training but you don't know how everyone else is going and so much could happen within one race. So, it's really good to get the first one out of the way, we just work for the rest of them really.
"It's a new circuit for round two [in Guisborough], so I think we will be defending more than anything, and just seeing how it goes. We'll try to keep an eye on things!"
CAMS – Basso finished second on the day to leave Guisborough with just a one-point deficit in the overall standings, with Team Boompods taking third.
"It's given me a lot of confidence [going into the next few races]," said Lewis. "It's nice that we're in a good place for the rest of the series.
"It was a really good race and I'm really pleased with how it went. I knew that last year about five riders went clear pretty early on, so I knew I had to be up there right from the start. I did feel a bit out numbered but I did what I needed to do."
Round 1 Men's Event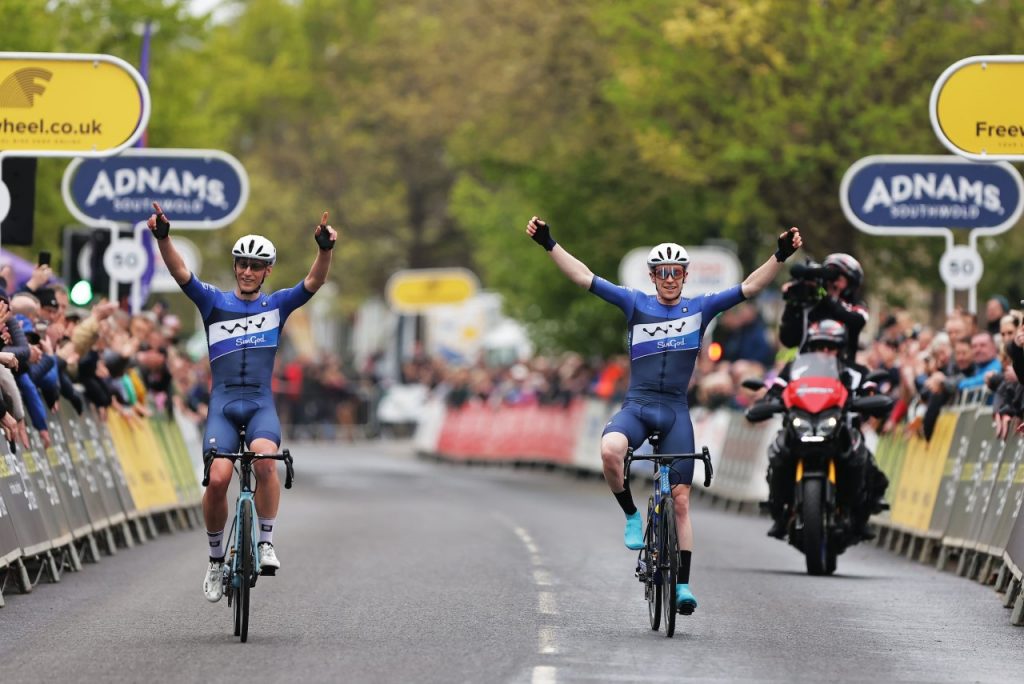 After a disastrous start to the series here in 2021, the first men's race of this year's event couldn't have gone any better for Wiv SunGod, as Thomas Mein and Matthew Bostock broke clear on lap one and almost lapped the entire field.
Mein, the reigning British cyclo-cross champion, took his first individual series win ahead of Bostock after the pair delivered an unforgettable victory salute. Impressively, only 0.001s separated the duo across the line, making it the closest-ever finish in series history.
Behind, Matthew Gibson placed fifth in the rain-affected race to seal the team win for Tim Elverson's squad.
Wales Racing Academy impressed en route to finishing second on the day, ahead of TEKKERZ, TRINITY Racing and Saint Piran.
Although local rider Harry Tanfield led the peloton home in third respectively, defending men's champions Ribble Weldtite Pro Cycling only finished sixth in the team result.
"We went on the first lap and just kept on going," said Mein. "It was pretty much game over for everyone else when we got away, so that's a bit of a dream scenario.
"Getting away with team-mates doesn't happen often, so you've just got to make the most of those chances.
"It couldn't have gone any better to be honest, so now we've got to carry on doing that for the rest of the series."
Round 2 Galashiels, Wednesday 4 May
Sportsbreaks.com Tour Series leaders Wiv SunGod and Pro-Noctis – Rotor – Redchilli Bikes p/b Heidi Kjeldsen extended their overall advantage following the Galashiels event on Wednesday (4 May) evening.
Both teams took the all-important team victory on the night in round two as the series visited the Scottish Borders for the first time.
This was a historic night in the 13-year history of the Sportsbreaks.com Tour Series as the women's race followed the men's race for the first time.
Sunshine and two super quick races greeted Britain's best men's and women's teams to the centre of Galashiels, with Scottish men's rugby union head coach Gregor Townsend flagging both races away.
Round 2 Men's Race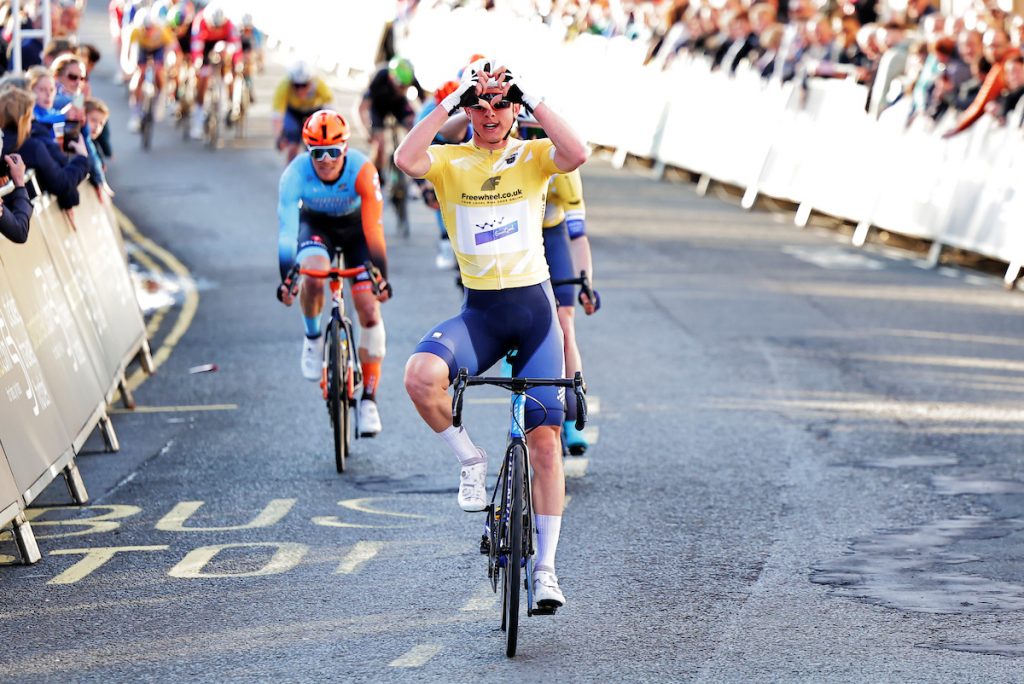 In the opening men's race it was Wiv SunGod rider Jim Brown who took his first individual win in the Sportsbreaks.com Tour Series. Brown and teammate Matthew Bostock had been at the forefront from the start, driving the pace around the short circuit to stretch the peloton, and drag a select group of riders clear as a crash split the peloton behind.
The evening then turned into a duel between Wiv SunGod and defending champions Ribble Weldtite with the pair of teams taking four of the top five spots. Dividing them was 17-year-old Noah Hobbs of Tekkerz, in fourth, who also took the fastest lap.
"I'm buzzing! Taking the one-two in both rounds is really good and we'd like to continue that if we can," said Brown (Wiv SunGod).
"We've got a good team, you know. We've got five really strong riders, so we can just get to the front and make it hard for everyone else.
"In the first five minutes we started putting the hammer down and the race split into a group of about 15. After that there were a lot of moves going, but I managed to slip away in the final and take the win."
Wiv SunGod now hold a three point lead over the Wales Racing Academy at the top of the standings, whereas in the women's series Pro-Noctis – Rotor – Redchilli Bikes p/b Heidi Kjeldsen have a six point margin over Torelli – Cayman Islands – Scimitar and Team Boompods.
Round 2 Women's Race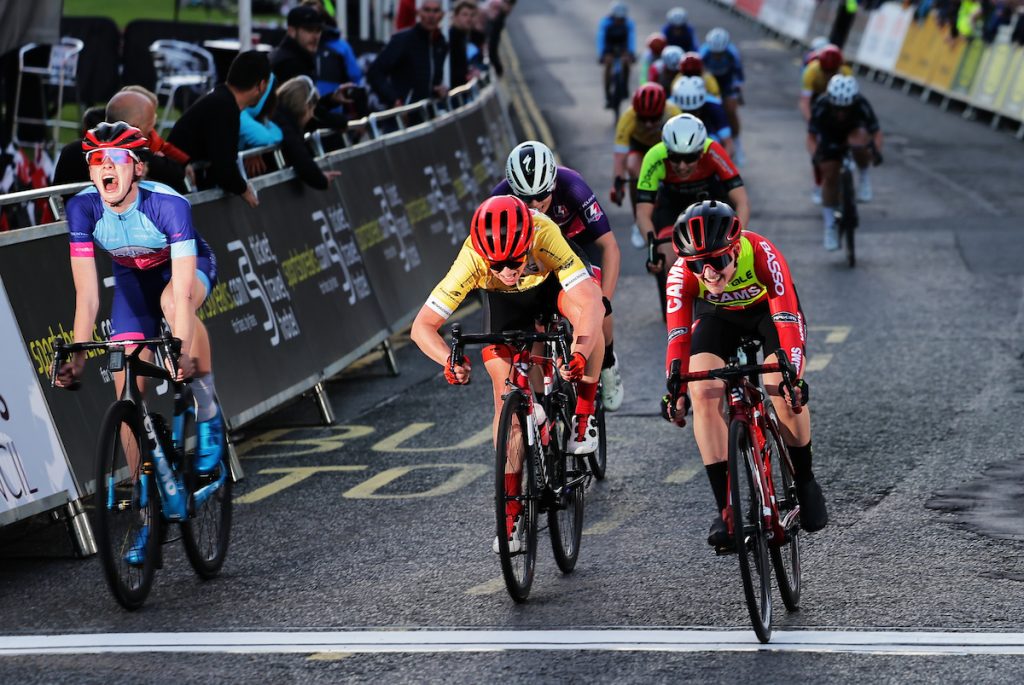 Taking the women's individual win was Megan Barker (CAMS – Basso), who has won three of the last four races held. Barker however was isolated in the front group dominated by Pro-Noctis – Rotor – Redchilli Bikes p/b Heidi Kjeldsen, but did enough to head Emma Jeffers (Jadan – Vive Le Velo) and Jo Tindley (Pro-Noctis – Rotor – Redchilli Bikes p/b Heidi Kjeldsen) in the final sprint.
"It was pretty tough for me personally," said Barker afterwards. "I think we had quite a difficult night as a team, so I ended up quite isolated in that front group with the full Pro – Noctis team attacking me like five times every lap!
"We just had to go for the individual win tonight so I just had to really stick at it, follow the wheels, not touch the wind as much as I could. I kind of was looking at the finish line every lap and figuring where I wanted to step out into the wind [and start my sprint]."
Speaking after defending both the Freewheel.co.uk Sprints jersey and with her Pro-Noctis – Rotor – Redchilli Bikes p/b Heidi Kjeldsen team mates the yellow Freewheel.co.uk leaders' jerseys, Jo Tindley said;
"It was really interesting actually [to see the men racing first]. They do race differently to us and they are going to be faster but it was interesting to see just how they attacked. They literally strung out on the first lap and how it all formed for through the bunch. So we got a good impression of how it would be for us.
"We were aware that the other teams were going to go out hitting it hard after [round one in Guisborough], so we just waited to see how it played out. It just stayed fast; it was a fast night, it was full on."
---
Sportsbreaks.com Tour Series 2022 schedule
Round one | Guisborough | Monday 2 May
Round two | Galashiels | Wednesday 4 May
Round three | Sunderland | Tuesday 10 May
Round four | Stranraer | Thursday 12 May
Round five | Clacton-on-Sea | Thursday 19 May
Round six | Barking | Saturday 21 May
Grand Final | Manchester | Tuesday 24 May