Men's U23 and Women's Elite Individual time Trials
BJERG AND DYGERT find gold in the rain and wind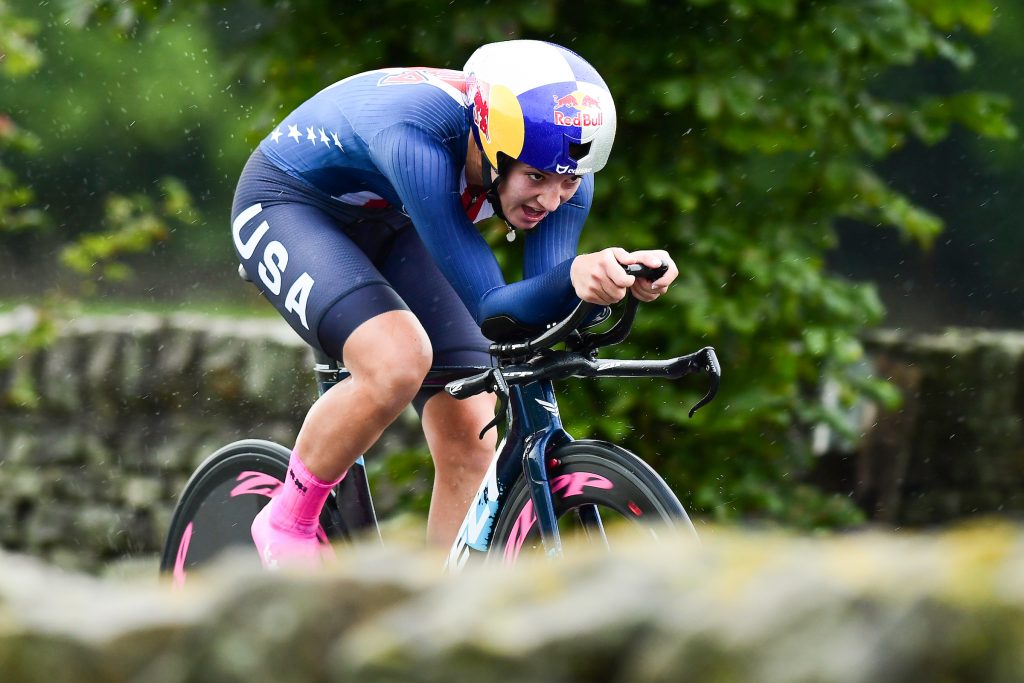 Heavy rain and roads mimicking lakes couldn't dampen the action on the third day of the 2019 UCI Road World Championships with Mikkel Bjerg (Denmark) and Chloé Dygert Owen (USA) taking victory in the Under-23 Men's and Elite Women's 30.3km Individual Time Trials.
Women's Elite Individual Time Trial
The USA's Chloé Dygert Owen had almost nothing left in the tank as she crossed the line completing the 30.3 km course in a time of 42:11.570. The 22 year old who rides professionally for Sho – Air TWENTY20 had to be helped off her bike before slumping to the soaking wet tarmac after arriving 3'15" faster than the the previous pace setter Lucinda Brand. The results were all the more remarkable for being achieved in conditions that were near-apocaplyptic and had forced the race to be delayed by almost an hour.
Nobody really threatened the time. Anna van der Breggen (Netherlands/Boels – Dolmans Cycling Team), adrift by 1:32 took silver while Annemiek van Vleuten (Netherlands/Mitchelton-Scott) took bronze.
USA rider Chloé Dygert Owen said: "It's always special to wear the rainbow stripes and I worked really hard for this. I had a concussion which forced me to miss last year's Championships so I prepared specifically for this one and to win is really special.
"Being here in Yorkshire is really cool and it's a really neat place to be. I'll enjoy this moment tonight but I'll be competing in the road race on Saturday so it'll be back to work tomorrow."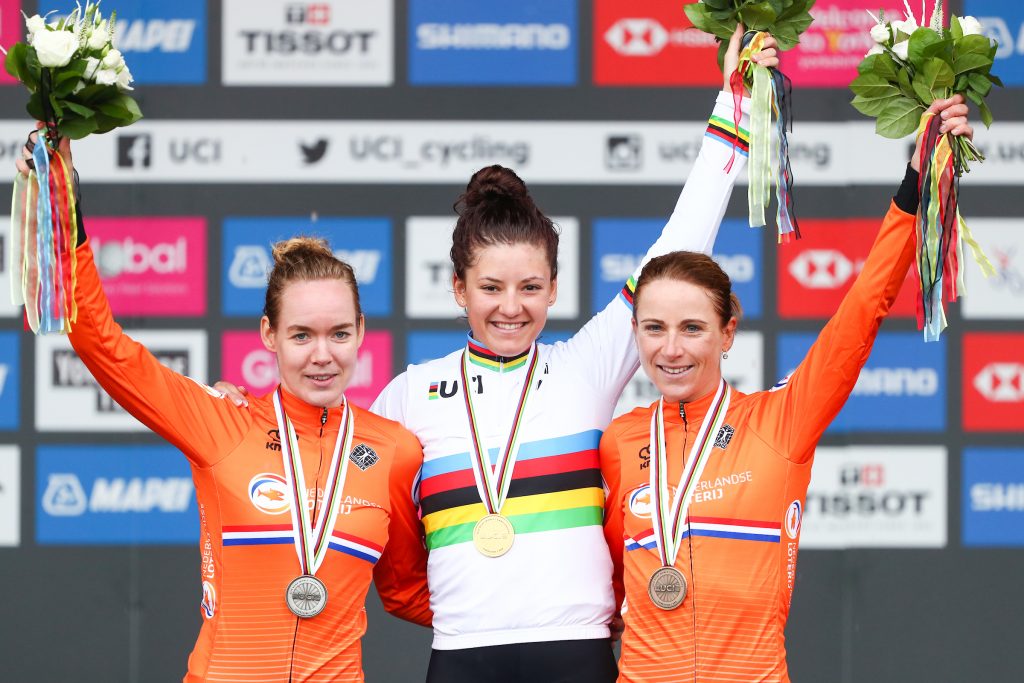 Results:
---
Men's U23 Individual Time Trial
The U23 Men had to endure heavy rain and flooded roads in their morning event. which saw riders skidding into puddles the size of ponds. this did not faze Mikkel Bjerg. The Dane was the final rider down the start ramp and produced a time-trialling masterclass as he navigated his way successfully through the tricky parcours.
The 20 year old was fastest at the 14.2km split and consolidated his advantage to claim victory by a 26.45sec cushion over USA's Ian Garrison. It was Bjerg's third successive triumph in the Men's Under-23 Individual Time Trial event and he seemingly has the world at his feet as he prepares to turn professional in 2020.
Denmark rider Mikkel Bjerg said: "Today was really, really crazy and they were very difficult conditions out there today. I was told to hold my handlebars tight, keep looking ahead of me, and go full gas through the water. I didn't have any slips or slides so I am over the moon to have pulled off this third victory."