Report, Results and Video Summary
Stage 17: Aranda de Duero to Guadalajara, 219.6km
Gilbert awarded 'Ruban Jaune' after breaking stage speed record to win Stage 17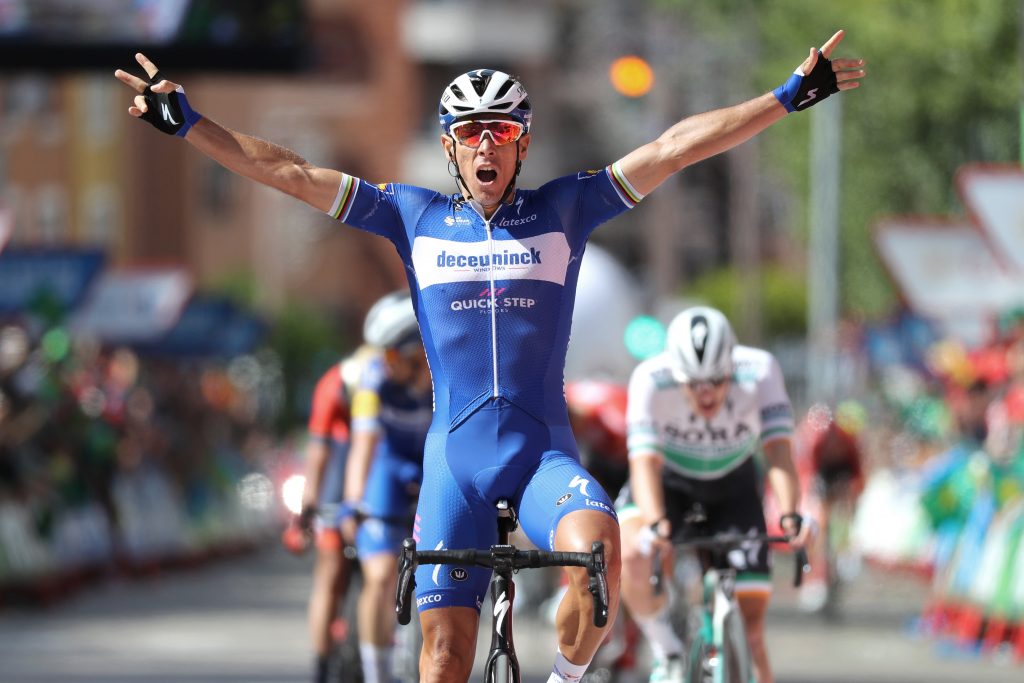 Philippe Gilbert (Deceuninck – Quick Step) defied hot windy conditions to win Stage 17 and set a new speed record for a stage longer than 200km – 50.63km/h.
The 37 year old Belgian was part of a large breakaway that at one point numbered 48 riders, that turned much of the GC on its head after finishing over five minutes head of a race leader Primož Roglič (Team Jumbo-Visma) and seeing Nairo Quintana leap into second spot ahead of teammate Alejandro Valverde.
The break which from its initial unwieldly size settled to around 28 riders and despite windy hot conditions and the presence of several GC contenders including Nairo Quintana (Movistar) grew its lead until it was over six minutes.
Deceuninck – Quick Step, with seven of its eight riders dominating the engine room, had two dogs in the fight, Gilbert for the stage and James Knox for the GC. Quintana was a clear beneficiary and as the lead crept above four and half minutes he was looking at leaping from sixth spot to second overall over-taking teammate Alejandro Valverde who was isolated in the changing red Jersey group and juggling divided loyalties. He could not preserve his overnight second spot without sacrificing the team's chance of assailing Roglic.
As Quintana edge closer on the virtual GC to Roglič Team Jumbo-Visma and Astana buried themselves to male the catch, but while the lead did ease it lodged at around five minutes as the race rocketed at full gas in both groups and a stalemate became clear – there would be massive time losses, but how much?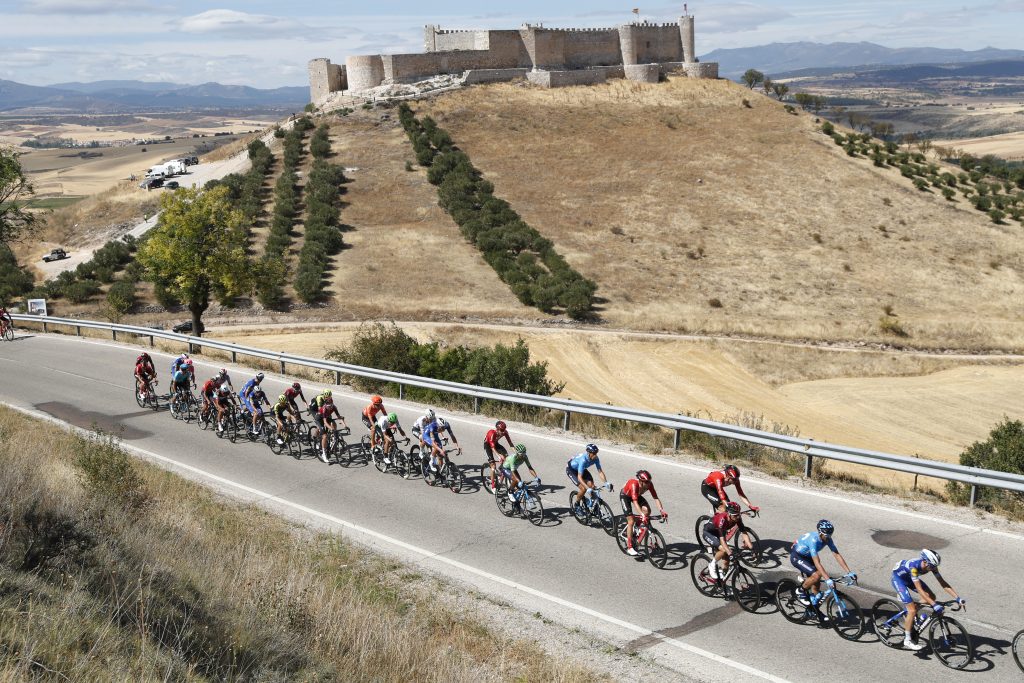 As the leaders entered the shaded streets of Guadalajara the attacks came thick and fast. Zdeněk Štybar (DQT) was first, followed by Sam Bennett (BORA – hansgrohe). The Irishman could not mimic his win in Oviedo on Stage 14 and it was Gilbert who shot past to win.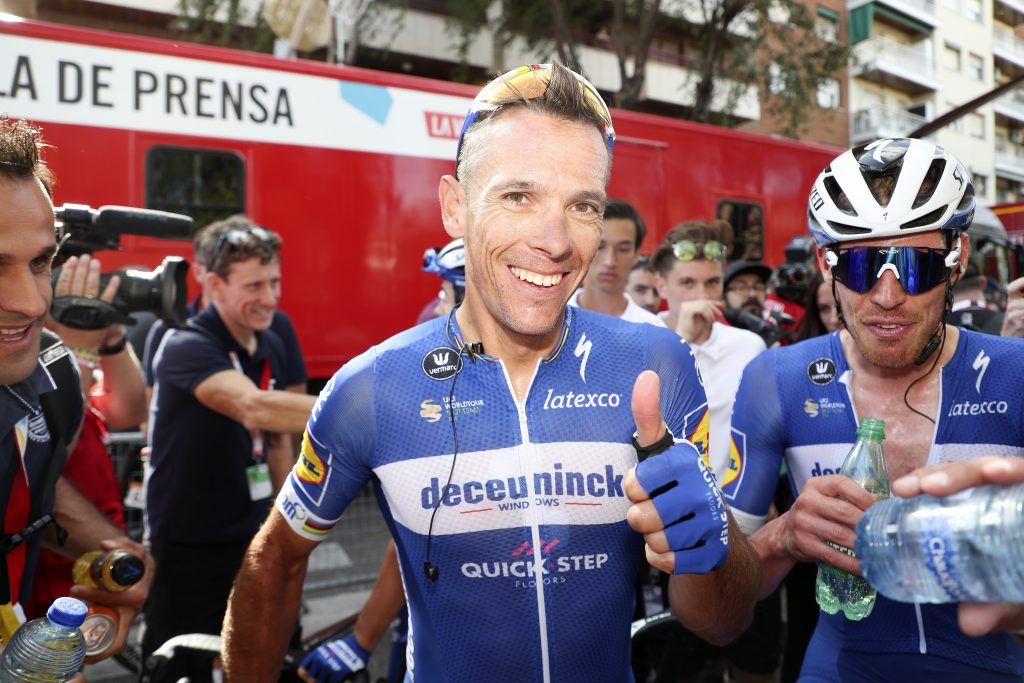 Philippe Gilbert: "It's a very special one. I think it's a stage that will stay in the history books because of the way we rode. It was crazy from the gun. We went with a big group of 40 guys. There were some guys for GC like Quintana and James Knox for ourselves. We were 7 of the 8 Deceuninck guys and we rode crazy as a team, we gave morale to each other and it was incredible to see. As the kilometres passed, we lost some guys with the crosswinds, the climbs… It was really fast. At some point we were doing 75km/h on the flat. I had a 54×11 and I was spinning all the time. In 17 years as a pro, I don't think I've ever done that. It was really really crazy. The crosswinds and echelons are part of the team's DNA and I also love it. It's not the first time I win two stages in a Grand Tour but I've never done it three times. Friday's stage suits me and I'll try to fight for victory in Toledo."
The result gave the GC a new complexion. Roglič still leads but saw his margin shaved by 24 second and second spot occupied by Quintana at 2'24". Valverde dropped to third, pushing Tadej Pogačar (UAE-Team Emirates) off the virtual podium) into fourth while James Knox slipped into the top ten at eight spot.
Primoz Roglič (Jumbo-Visma) was sanguine about the day's events: "It was a hard day. I made a mistake. I shouldn't have where I was, I should have been in the front. The team saved me with a big effort. They just went full gas from the very beginning and that was it for the rest of the day. We can see our team did a really big effort from the beginning. In the end, we couldn't anymore so other teams had to work also. We're still in a really good position. It was a hard day for everyone. We lost a battle today, but not the war. I never felt like La Vuelta was lost. Other guys wanted to finish as fast as possible so it was full gas until the finish line. We'll see in Madrid but things are still looking really good for us. La Vuelta is really unpredictable and we can expect still big fight for the days to come."
The 'Ruban Jaune'
The Ruban Jaune was inaugurated by the great cycling innovator Henri Desgrange to mirror the trans-atlantic Blue Riband, and be awarded to the fastest time over a race distance of 200km or more. It was first awarded in 1936 to Belgian cyclist Gustave Danneels, who covered 251 kilometers in the Paris-Tours at an average of 41.455 kilometers per hour.
The record has subsequently changed hands 12 times with the last holder being Matteo Trentin, another former Quick-Step rider who took the prize after winning the 231km Paris-Tours in 2015 in a time of 4h 39'12", an average speed of 49.64kmh.
Gilbert's record not is the forst above 50km/h, but also the first time the record has gone to a winner in a stage race, the previous awards going exclusively to winners of one-day races, nine of which were at Paris-Tours, two at Paris-Roubaix and one at Paris-Brussels.
Trentin was quick to congratulate Gilbert on the record:
Stage 17 Results and GC