December 22, 2018
THE OFFICIAL ROUTE OF LA VUELTA 2019 UNVEILED
The 74th edition of the Spanish race will take place between August 24th and September 15th 2019, setting out from Salinas de Torrevieja and finishing in Madrid. The 3,272.2 km route, includes eight uphill finishes, five making their debut.
In a presenttation in Alicante this Thursday the route of the 2019 La Vuleta was revealed to an audience that included World champion Alejandro Valverde together with the 2018 podium Simon Yates, Enric Mas and Miguel Ángel López..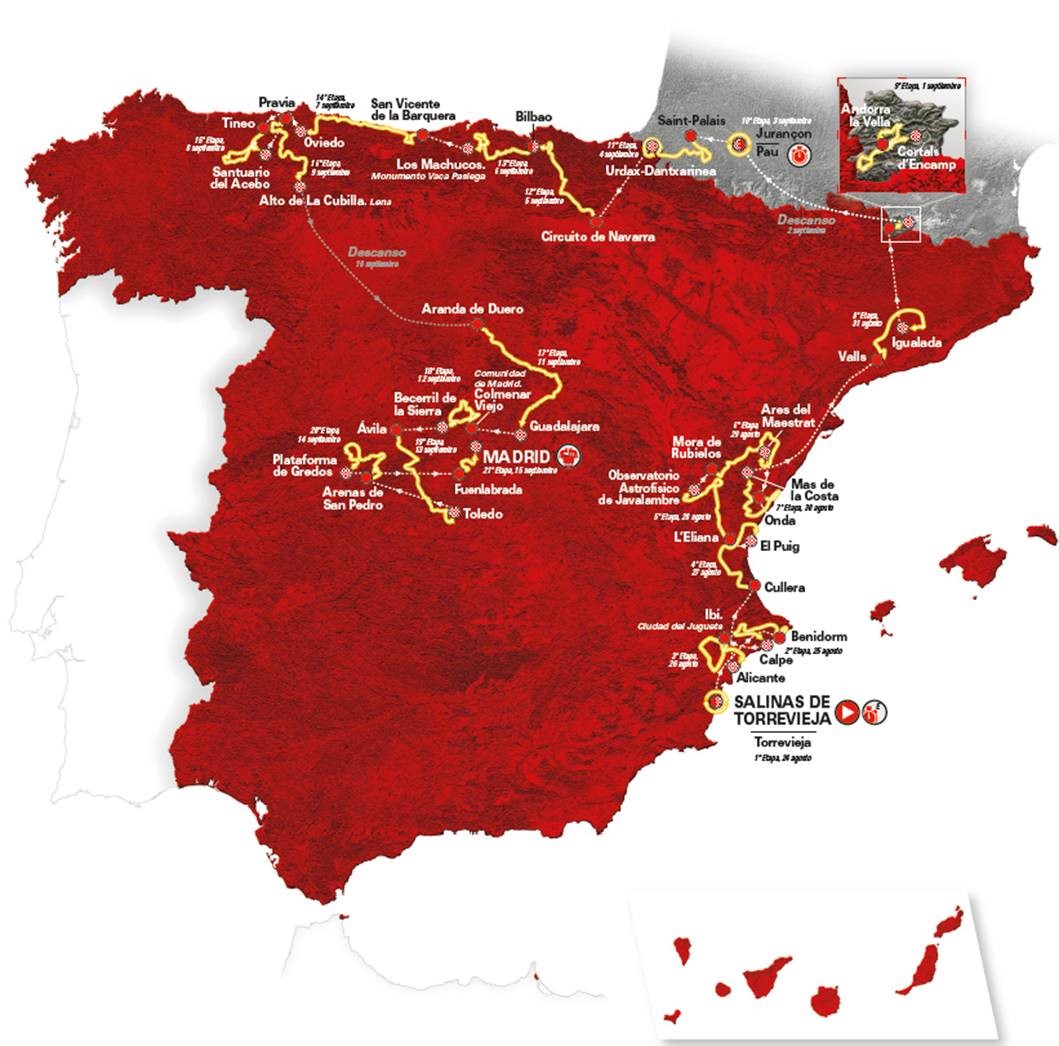 The route is broken into three distinct geographical areas, the Mediterrean Coastal area between the start and Barcleona, the North, including a stage through Andorra, a dip into South Wester France for a Team Time Trial in Pau and road stage into French Basque country, before heading West through the Costa Verde. The third section takes the race into Central Spain and the Sierra de Gredos Mountains, west of Madrid, before the finale in the Capital
The route comprises 54.1km of Time Trials, an 18km Team Trial to kick off the race and 36.1km Invidual Time Trial on Stage 10. The highest point of the race is 2025m at Cortals d'Encamp on the Andorran Queen stage 9. No stage is longer than 200km, the longest being 199.7km 17th stage.
"It's going to be a hard but very interesting Vuelta, with surprises, intrigue and emotion guaranteed. Short but intense stages, including innovation and new and unprecedented ascents. The Vuelta brand is what it is, and we will never give it up, to the contrary, we seek to strengthen it", stated Javier Guillén, La Vuelta's General Manager.
Stage List
24/8 Team Time Trial - Salinas de Torrevieja › Torrevieja (18km)
25/8 Stage 2 - Benidorm › Calpe (193km)
26/8 Stage 3 - Ibi. Ciudad del Juguete › Alicante (186km)
27/8 Stage 4 - Cullera › El Puig (177km)
28/8 Stage 5 - L'Eliana › Observatorio Astrofísico de Javalambre (165.6km)
29/8 Stage 6 - Mora de Rubielos › Ares del Maestrat (196.6km)
30/8 Stage 7 - Onda › Mas de la Costa (182.4km)
31/8 Stage 8 - Valls › Igualada (168km)
1/9 Stage 9 - Andorra la Vella › Cortals d'Encamp (96.6km)
2/9 Rest day
3/9 Stage 10 (ITT) - Jurançon › Pau (36.1km)
4/9 Stage 11 - Saint-Palais › Undax-Dantxarinea (169km)
5/9 Stage 12 - Circuito de Navarra › Bilbao (175km)
6/9 Stage 13 - Bilbao › Los Machucos. Monumento Vaca Pasiega (167.3km)
7/9 Stage 14 - San Vicente de la Barquer › Oviedo (189km)
8/9 Stage 15 - Tineo › Santuario del Acebo (159km)
9/9 Rest day
10/9 Stage 16 - Pravia › Alto de La Cubilla. Lena (155k )
11/9 Stage 17 - Aranda de Duero › Guadalajara (199.7k )
12/9 Stage 18 - Colmenar Viejo › Becerril de la Sierra (180.9k )
13/9 Stage 19 - Ávila › Toledo (163.4km)
14/9 Stage 20 - Arenas de San Pedro › Plataforma de Gredos (189km)
15/9 Stage 21 - Fuenlabrada › Madrid (105.6km)