October 5, 2018
The course of the 2019 Giro d'Italia was unveiled in Milan this week.
A super tough, mountainous Giro d'Italia was revealed on Thursday to celebrities from all walks of Italian life togetherwith sporting greats Chris Froome, Elia Viviani and Gianni Moscon.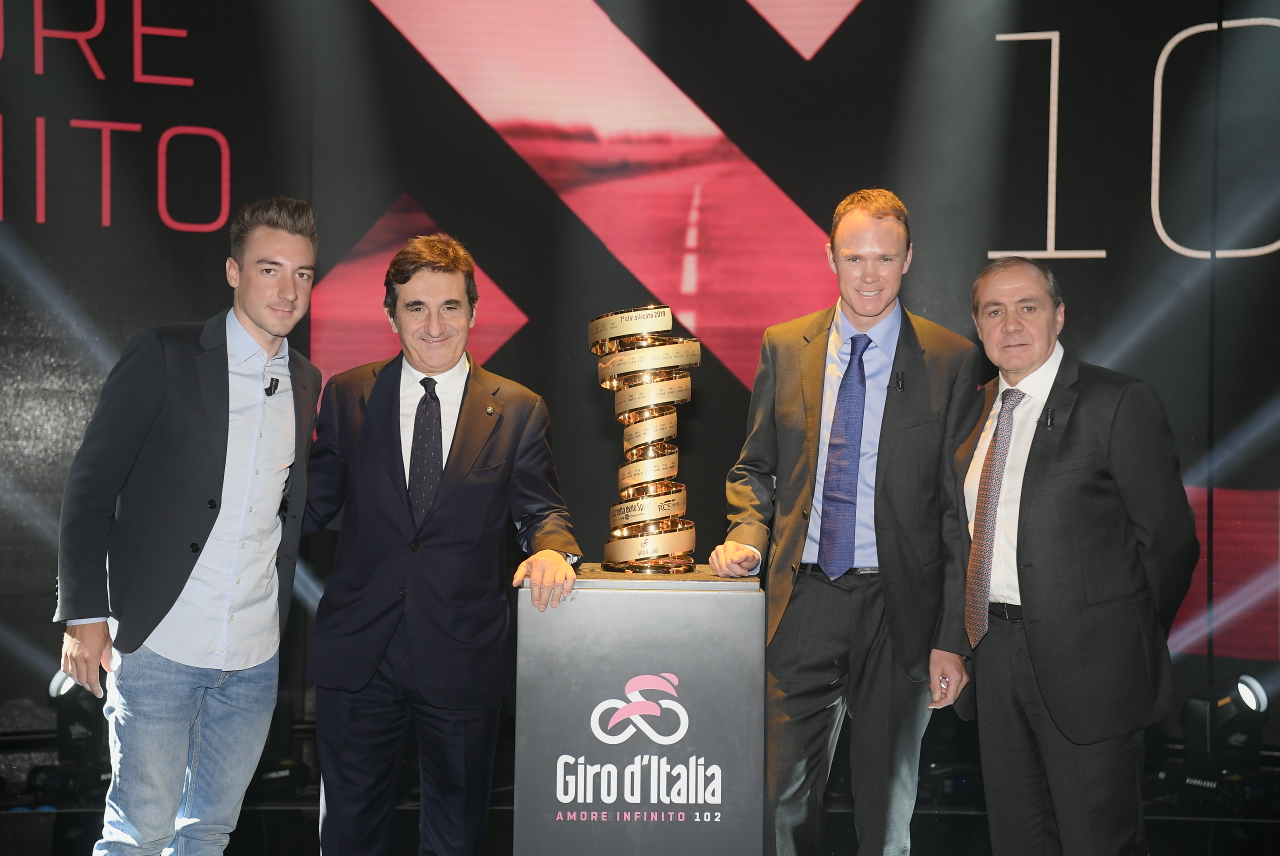 L-R Viviani, RCS Sport CEO and Managing Director, Paolo Bellino, Chris Froome, RCS MediaGroup CEO and Chairman Urbano Cairo,
An all Italian affair, the route sets a new level of challenge with over 46,500 meters of climbing together with an unprecedented three Individual Time Trials.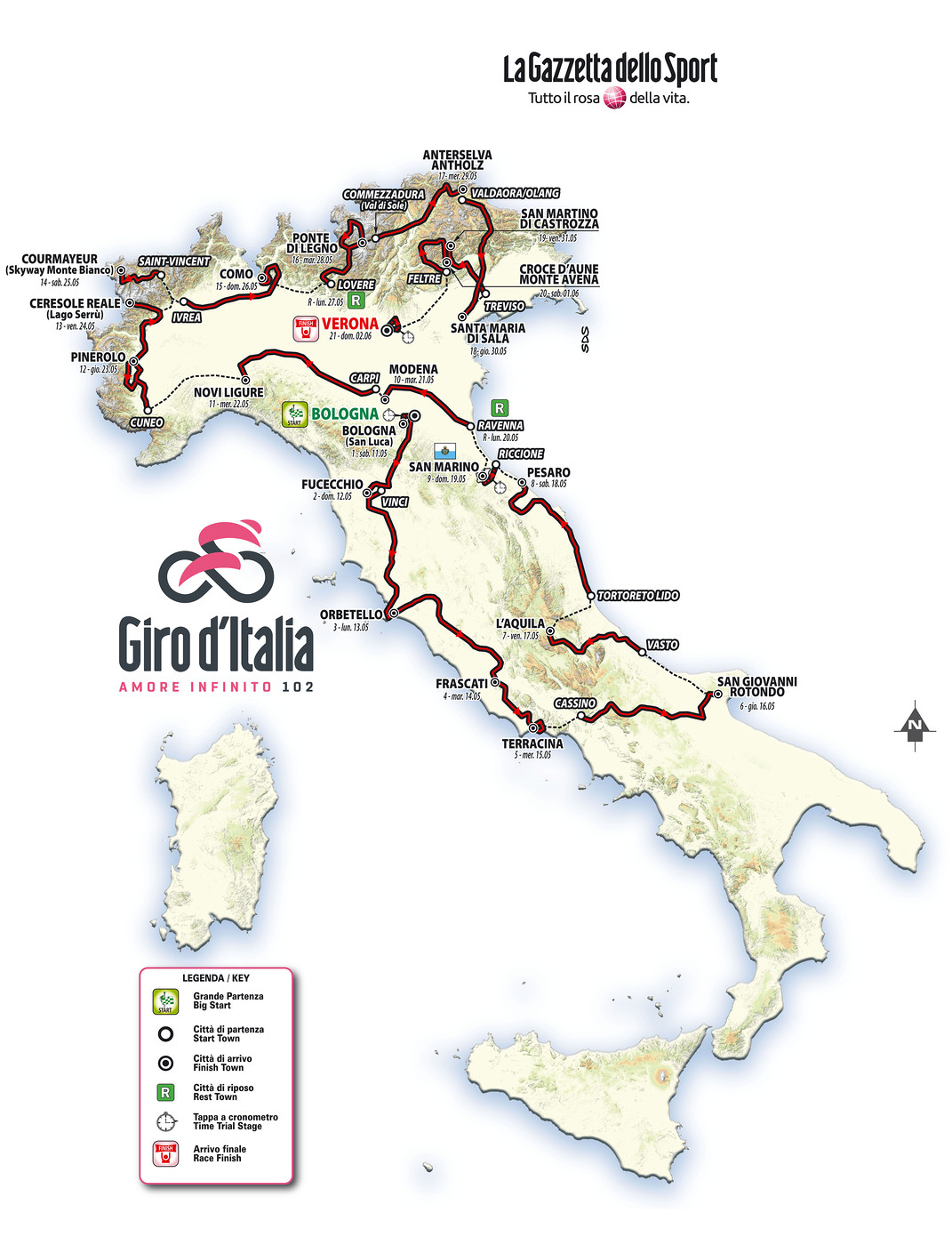 Giro 2019 Route
Giro d'Italia Director, Mauro Vegni, said: "It will be one of the hardest Giros of recent years with over 46,500 meters of overall vertical elevation and three challenging Individual Time Trials. It's a race that will be technically very challenging and full of pitfalls right from the first stages and with two tests against the clock in Bologna and San Luca and the longer one in San Marino that will probably result in bigger time gaps. Then, with the Alps and the Dolomites we will have the kind of mountain stages with climbs and finishes that have made the history of this sport. It will be a Giro open to many solutions and therefore to many riders with different characteristics. The last Individual Time Trial in Verona could change the GC and may be the decisive moment.
"After the experience of 2018 – with the historic departure from Israel – this year we will tell a story that's virtually 'all Italian', except for crossing the border only for one stage finish in the Republic of San Marino. In this journey through our wonderful country we want to show not only the sporting challenge, but also the cultural and tourist heritage of Italy: Leonardo Da Vinci, Gioacchino Rossini, the Arena of Verona, the unique images of our mountains from the Alps to Dolomites, the arrival in L'Aquila ten years after the earthquake… they will be all integral parts of this Giro d'Italia."

The winner of the l2018 edition of the Giro d'Italia, Chris Froome, said: "The Giro victory will always be in my heart for the rest of my life because I've never won a race in such an iconic way – and I've felt an incredible amount of love from the Tifosi all over the country. I like this edition of the Giro very much, it can be won only by a complete rider. It's a balanced course in between mountains and time trials. A very organised team will be needed too. The stage with Gavia and Mortirolo is a beast! It comes after a rest day and that day the true champions will stand out from the bunch."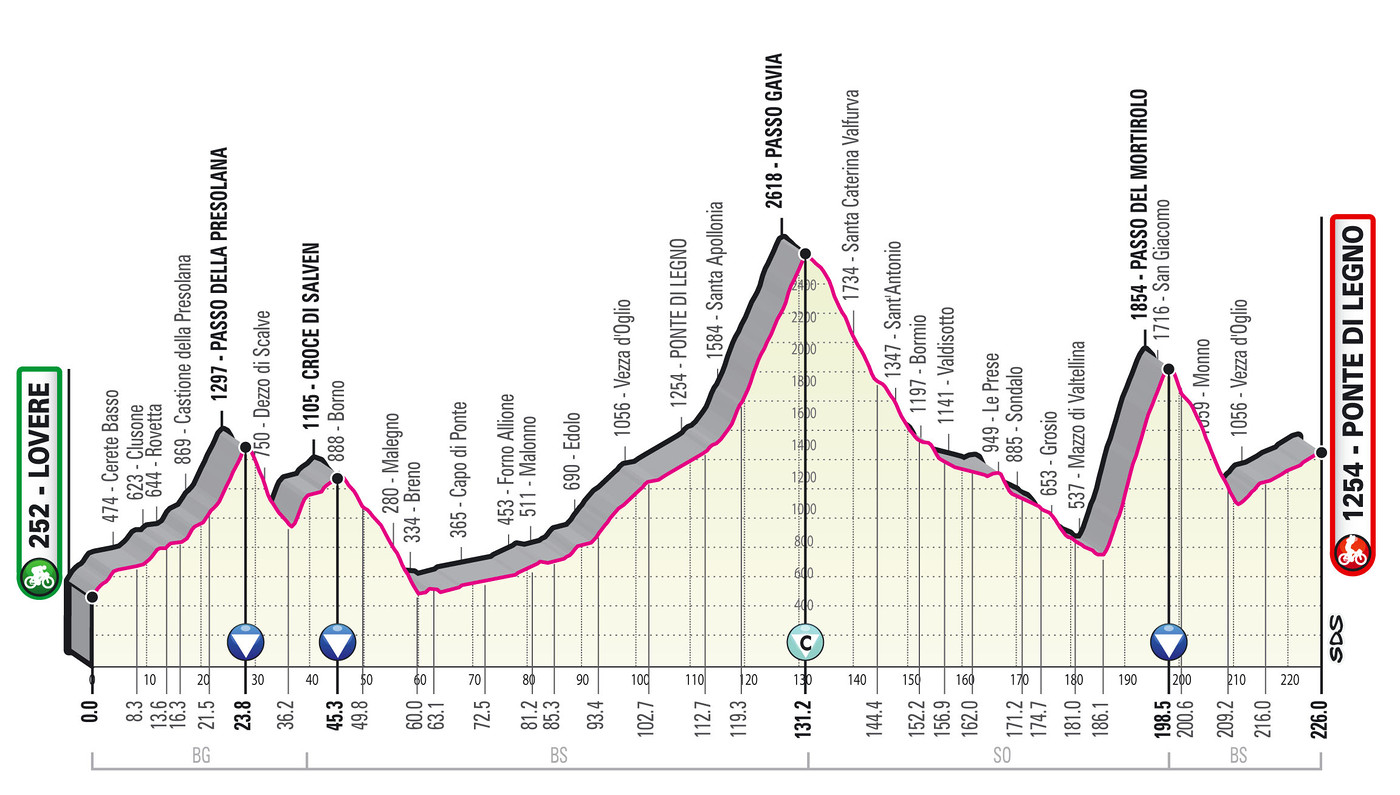 The Italian Road Cycling Champion and winner of the last edition's Maglia Ciclamino of best sprinter, Elia Viviani, said: "I've got good feelings about this Giro: I'm the Italian Road Cycling Champion, the Corsa Rosa ends in Verona… it looks like my dream Giro! Looks like there will be six stages that could end up in a bunch sprint. I'll do the recce but it looks like the right number for me, this year for instance, I won four and came second twice. The last week of racing will be incredibly tough for the sprinters but I'm looking at this Giro with the goal of arriving in the wonderful Verona, my home town. I haven't decided with the team if targeting the Maglia Ciclamino again next year will be a goal. It will be very difficult to improve on this year's Giro for me but I'll try to do my best."
Stage List

11/5 Individual Time Trial - Bologna › San Luca (8.2k) >
12/5 Stage 2 - Bologna › Fucecchio (200k)
13/5 Stage 3 - Vinci › Orbetello (219k)
14/5 Stage 4 - Orbetello › Frascati (228k)
15/5 Stage 5 - Frascati › Terracina (140k)
16/5 Stage 6 - Cassino › San Giovanni Rotondo (233k)
17/5 Stage 7 - Vasto › L'Aquila (180k)
18/5 Stage 8 - Tortoreto Lido › Pesaro (235k)
19/5 Stage 9 (ITT) - Riccione › San Marino (34.7k)
20/5 Rest day
21/5 Stage 10 - Ravenna › Modena (147k)
22/5 Stage 11 - Carpi › Novi Ligure (206k)
23/5 Stage 12 - Cuneo › Pinerolo (146k)
24/5 Stage 13 - Pinerolo › Ceresole Reale (Lago Serrù) (188k)
25/5 Stage 14 - Saint Vincent › Courmayeur (Skyway Monte Bianco) (131k)
26/5 Stage 15 - Ivrea › Como (237k) 27/5 Rest day
28/5 Stage 16 - Lovere › Ponte di Legno (226k)
29/5 Stage 17 - Commezzadura (Val di Sole) › Anterselva / Antholz (180k)
30/5 Stage 18 - Valdaora / Olang › Santa Maria di Sala (220k)
31/5 Stage 19 - Treviso › San Martino di Castrozza (151k)
1/6 Stage 20 - Feltre › Croce D'Aune-Monte Avena (193k)
2/6 Stage 21 - Verona › Verona (15.6k)