October 5, 2018
UCI World Road Championships - Men's Elite Road Race : Kufstein to Innsbruck , 252.9km
After six visits to the podium Alejandro Valverde finally made it to the top step. The 38 year old Spaniard took victory after outsprinting Frenchman Romain Bardet and Canadian Michale Woods at the end of a gruelling 6h46'41" and 252.9km.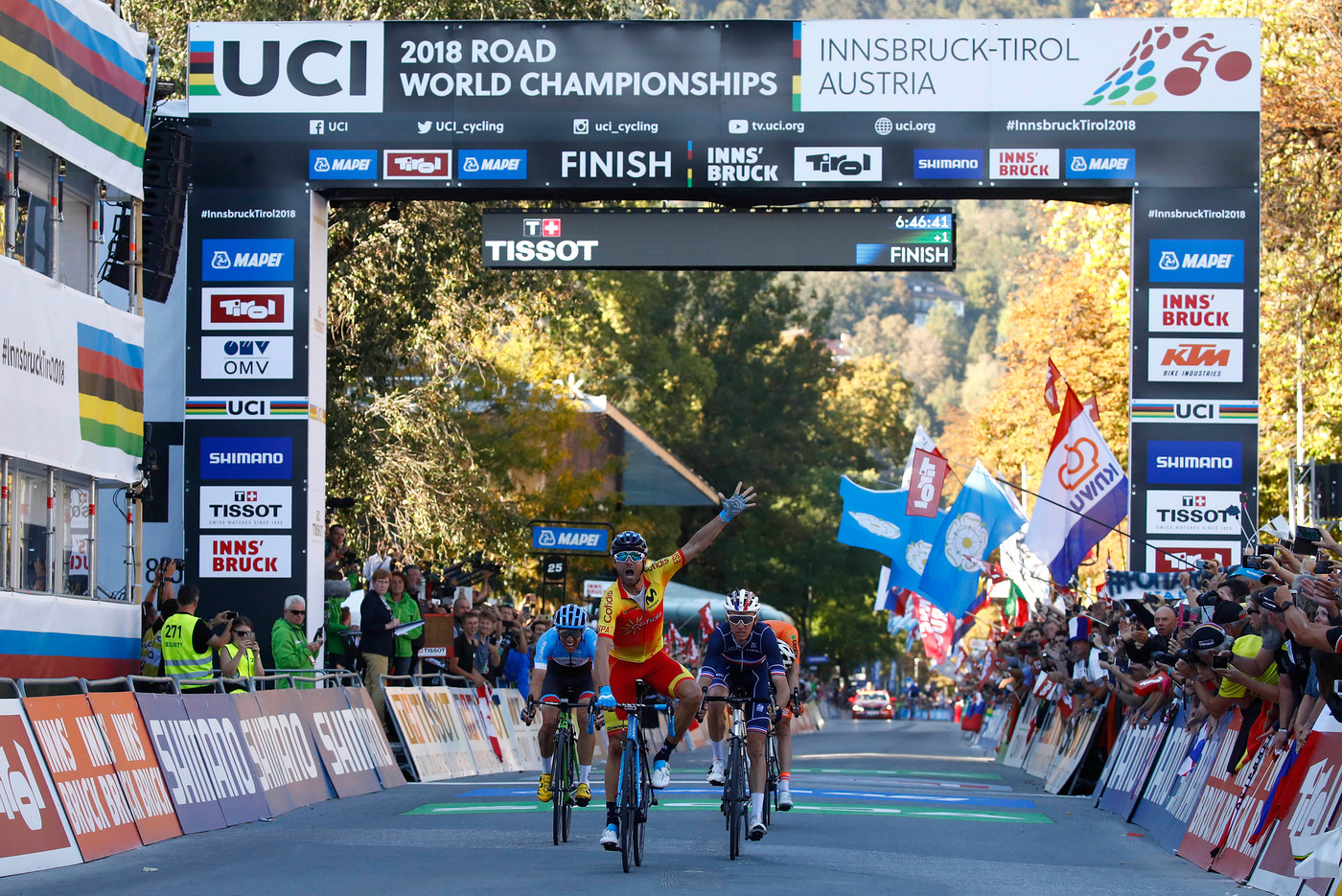 Valverde takes victory in men's elite road race
The winner, Alejandro Valverde described his feelings at winning: "The World Championship and the Tour de France were the races I dreamt of winning. It didn't work out at the Tour but finally, I'm the World Champion. It's not the first time I've cried after winning a bike race but this is the most emotional because many times I've been afraid that I'd never get the Rainbow Jersey.
" I would have preferred to launch my sprint in second or third position but not knowing who was coming behind, I had to take my responsibilities. When Tom Dumoulin came across, I thought now that we're four, one of us won't get a medal. Once I reached the 350 metres to go, that was my perfect distance for launching my sprint.
"I didn't know that I was the second oldest World Champion but that means old cyclists can still win. I believe Il Lombardia will be my first race in the Rainbow Jersey."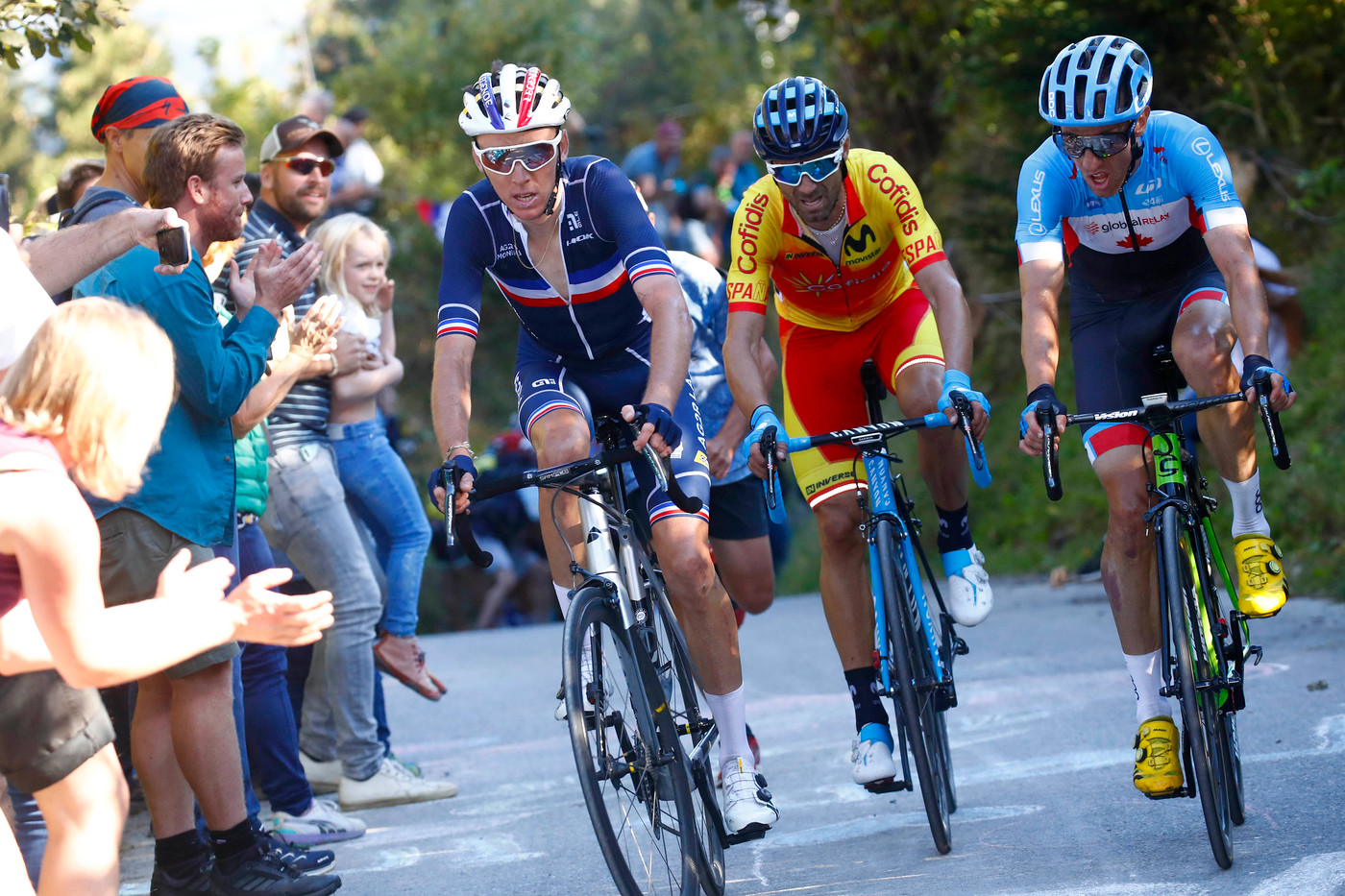 The trio made the winning move on the Höll after a long break of 11 riders dominated the day. Featuring Asgreen, Laengen, Dunne, Mullen, Hnik, Didier, Van Rensburg, Fominykh, Britton, Koshevoy and Ludvigsso. Their lead extended to 17 minutes but was steadily whittled back. With 50km to go it was six riders in the lead , being chased by Greg Van Avermaet and Omar Fraile.
With 20km to go the last of the break to survive were Dane Kasper Asgreen and Norwegian Vegard Stake Laengen. Asgreen's teammate Michael Valgren kept it a Scandinavian affair for a few more kilometres, but on the brutal climb of the Höll he was caught by the winning trio.
Their lead looked unassailable but a desperate chase by Tom Dumoulin truned it inot a quartet. Dumpulin's only hope was to steam past but the chances never came and it was the power of Valverde that prevailed.
Romain Bardet, second, said: "On a flat finish, it was hard to beat a guy like Alejandro Valverde. Earlier, I was hoping for Julian [Alaphilippe] or Thibaut [Pinot] to come back but once it came down to a sprint on the flat, I knew I'm not faster than this guy. Unfortunately, Julian wasn't able to follow us in the last climb because he had cramps. I had a mechanical at the top and I was afraid to lose everything at that moment but everyone's legs were burning and I didn't lose ground."
Michael Woods, third, said: "It's certainly a slight surprise for me to make the podium but I was hoping for this. It was my goal coming into this race. When we did the course recon, I realized this last climb was for me. When drafting isn't important, I'm pretty good. Up the Höll, my ears were ringing because the people were so loud and I could hear their cow bells. Even before the race, I told myself I'd try to get inspiration and energy from what the fans bring to the race. There were so many fans today! Coming from another sport, it's been hard for me to believe that I could win when so good riders are in the field but my stage victory at La Vuelta helped me boost my confidence. Now I'm starting to believe in myself."
UCI World Road Race Championships 2018 course
Results of Men's Elite Road Race - 30/09/18