August 27, 2018
La Vuelta 2018: Stages 1 & 2
Kwiatowski leads after the opening weekend at La Vuelta.
Team Sky's Michał Kwiatkowski leads La Vuelta 2018 after a second straight second spot.
Rohan Denis (BMC) took the opening 8km/5mi Individual Time Trial in Málaga in a time of 9'39", six seconds ahead of Kwiatowski, with Victor Campenaerts (Lotto Soudal) one second further back. Alejandro Valverde took victory by a small margin from Kwiatowski on the 163.5km Stage 2 from Marbella to Caminito del Rey to move into second spot overall, with Laurens De Plus (Quick-Step Floors) leading home the peloton just three seconds adrift of the winner.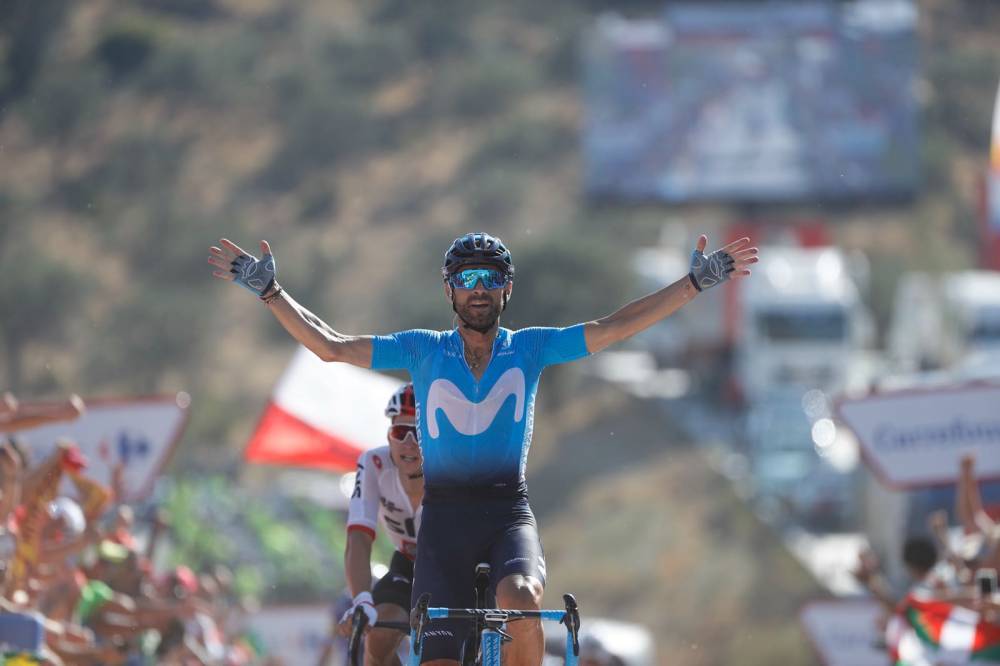 Valverde edges out Kwiatowski © Unipublic / Luis Ángel Gómez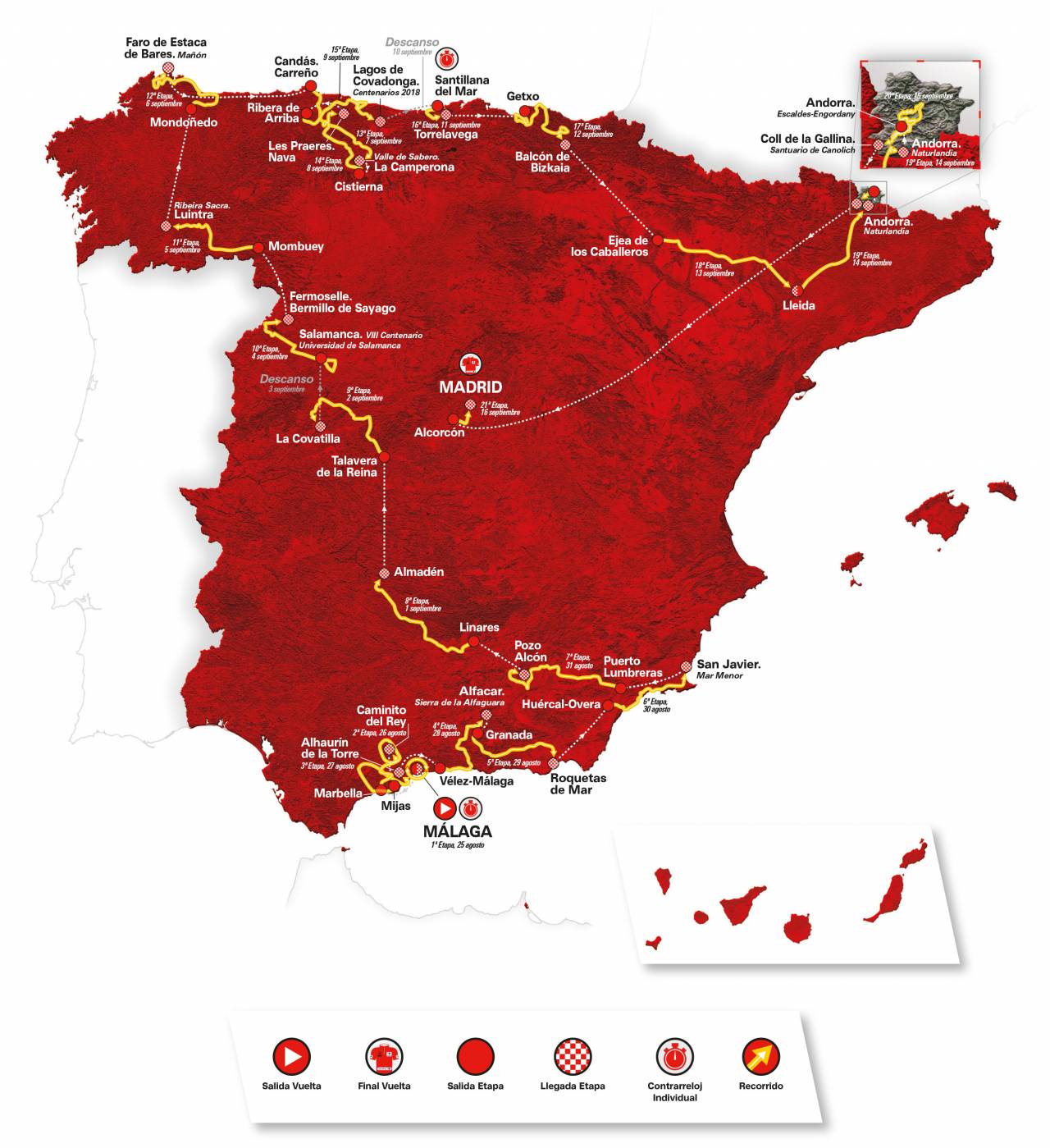 Stage One Results
GC after two Stages
Stage List
| | | |
| --- | --- | --- |
| 25/8 | Individual Time Trial - Málaga › Málaga | 8km |
| 26/8 | Stage 2 - Marbella › Caminito del Re | 163.5km |
| 27/8 | Stage 3 - Mijas › Alhaurín de la Torre | 178.2km |
| 28/8 | Stage 4 - Vélez-Málaga › Alfacar. Sierra de la Alfaguara () | 161.4km |
| 29/8 | Stage 5 - Granada › Roquetas de Mar | 188.7km |
| 30/8 | Stage 6 - Huércal-Overa › San Javier. Mar Menor | 155.7km |
| 31/8 | Stage 7 - Puerto Lumbreras › Pozo Alcón | 185.7km |
| 1/9 | Stage 8 - Linares › Almadén | 195.1km |
| 2/9 | Stage 9 - Talavera de la Reina › La Covatilla | 200.8km |
| 3/9 | Rest day |   |
| 4/9 | Stage 10 - Salamanca. VIII Centenario Universidad de Salamanc › Fermoselle. Bermillo de Sayago | 177km |
| 5/9 | Stage 11 - Mombuey › Ribeira Sacra. Luintra | 207.8km |
| 6/9 | Stage 12 - Mondoñedo › Faro de Estaca de Bares. Mañón | 181.1km |
| 7/9 | Stage 13 - Candás. Carreño › Valle de Sabero. La Camperona | 174.8km |
| 8/9 | Stage 14 - Cistierna › Les Praeres. Nava | 171km |
| 9/9 | Stage 15 - Ribera de Arriba › Lagos de Covadonga | 178.2km |
| 10/9 | Rest day |   |
| 11/9 | Stage 16 (ITT) - Santillana del Mar › Torrelavega | 32km |
| 12/9 | Stage 17 - Getxo › Balcón de Bizkaia | 157km |
| 13/9 | Stage 18 - Ejea de los Caballeros › Lleida | 186.1km |
| 14/9 | Stage 19 - Lleida › Andorra. Naturlandia | 154.4km |
| 15/9 | Stage 20 - Andorra. Escaldes-Engordany › Coll de la Gallina. Santuario de Canolich | 97.3km |
| 16/9 | Stage 21 - Alcorcón › Madrid | 112.3km |