April 19, 2018
Round 3: Aberdeen
Clancey and Juniper Triumph in Aberdeen
Ed Clancy powered JLT Condor back into the lead of the OVO Energy Tour Series in front of packed crowds in Aberdeen city centre, taking the individual victory ahead of Tobyn Horton (Madison Genesis) and Robert Scott (Team WIGGINS).The Women's race Nicola Juniper took her first Tour Series victory while Team Breeze maintained its lead in the team standings
Clancey's victory, his ninth in Series history, came at the expense of the Tanfield brothers of Canyon Eisberg, but their fourth (Harry) and sixth (Charlie) placed finishes ensured they took the team win, 12 months on from their previous win in Aberdeen.
While Clancy has nine individual wins to his name, breaking her OVO Energy Tour Series duck in Aberdeen was perennial challenger Nikki Juniper, who won the first women's race to be held in the city.
Report compiled using material supplied by the Tour Series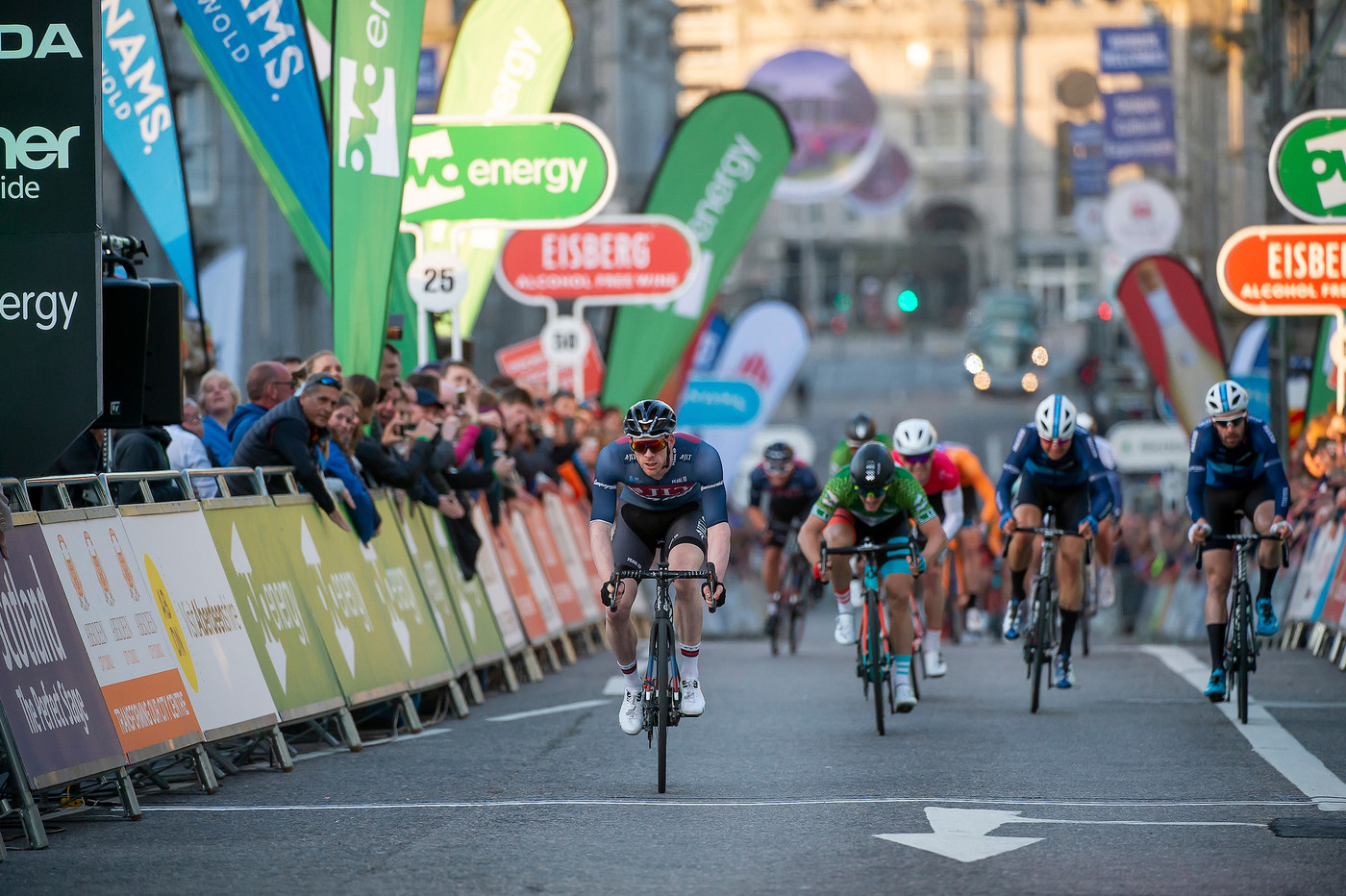 Commenting on his win, Ed Clancy, JLT Condor said:"In the last races I've been sat in the bunch marking out the Madison Genesis guys. Tonight I got into the break without too much thought and effort to be honest. You know my style – I'm happy to wait for a sprint. The tactics were straightforward but it got difficult when we started catching dropped riders! "I didn't feel good all race to be honest, which put me off doing any real hard work on the front. That meant I had a fair bit left in the tank come the finish. I always fancy my chances in a Tour Series sprint."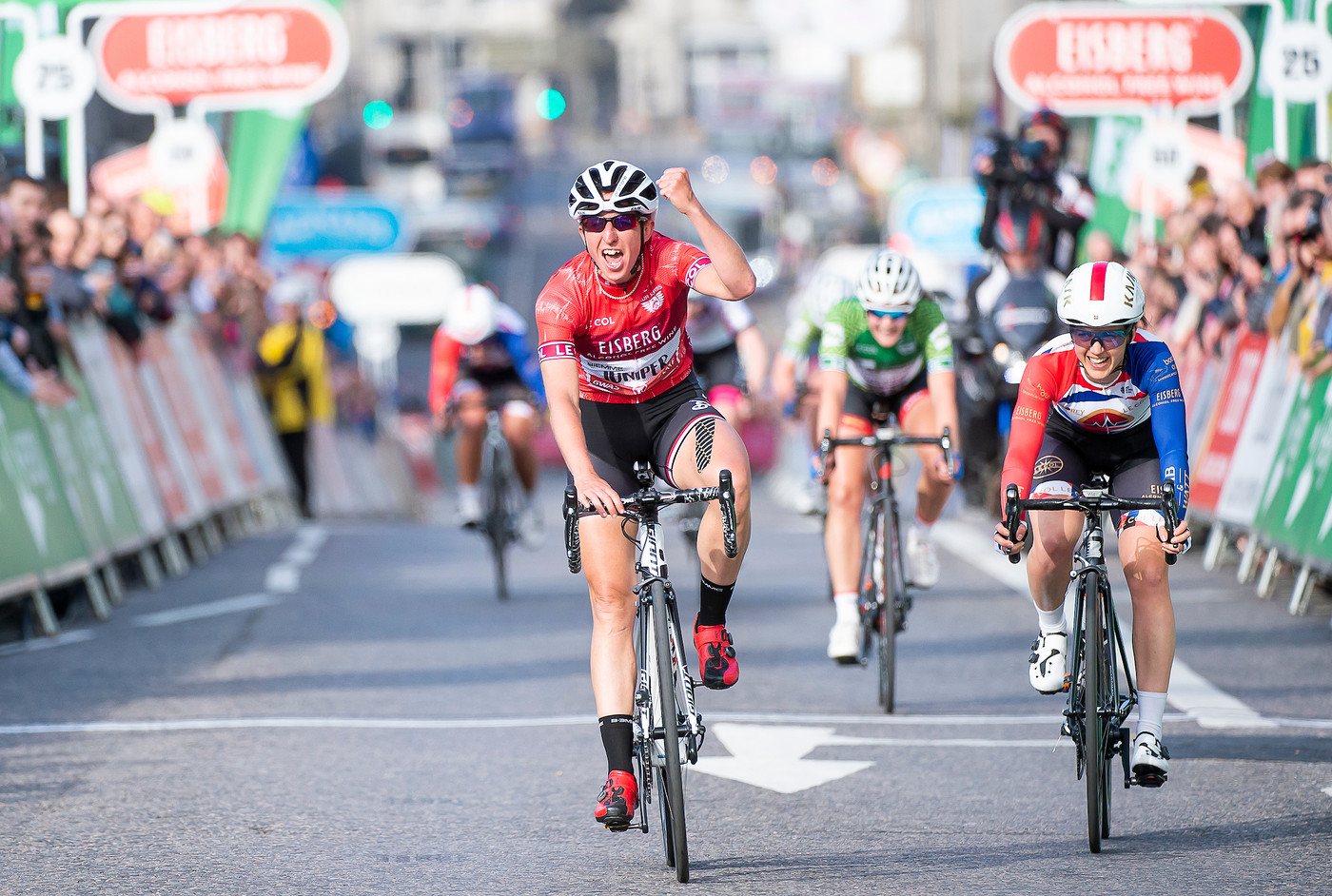 "It's an amazing feeling – it's been four years coming!" said Juniper (NJC-Biemme-Echelon) afterwards. "To come away with the individual victory for the first time was unreal. I think half of Aberdeen heard my roar. The Tour Series has never really worked out for me before; to be able to do it for my team-mates means more than the win personally. "We have no budget – my team-mates fund everything themselves. There are four of us in a car, paying for our own accommodation, so this shows that you don't need all the thrills to be able to perform well."
Juniper fought off a highly competitive six-rider move for the race victory, heading home a pair of former race winners in the Series - Rebecca Durrell and Jess Roberts - and also extending her lead in the Eisberg Points jersey classification.
Storey Racing took the team win on the night, mean just four points separate the top three teams, with Breeze leading the way on 29 points, ahead of NJC-Biemme-Echelon and Storey.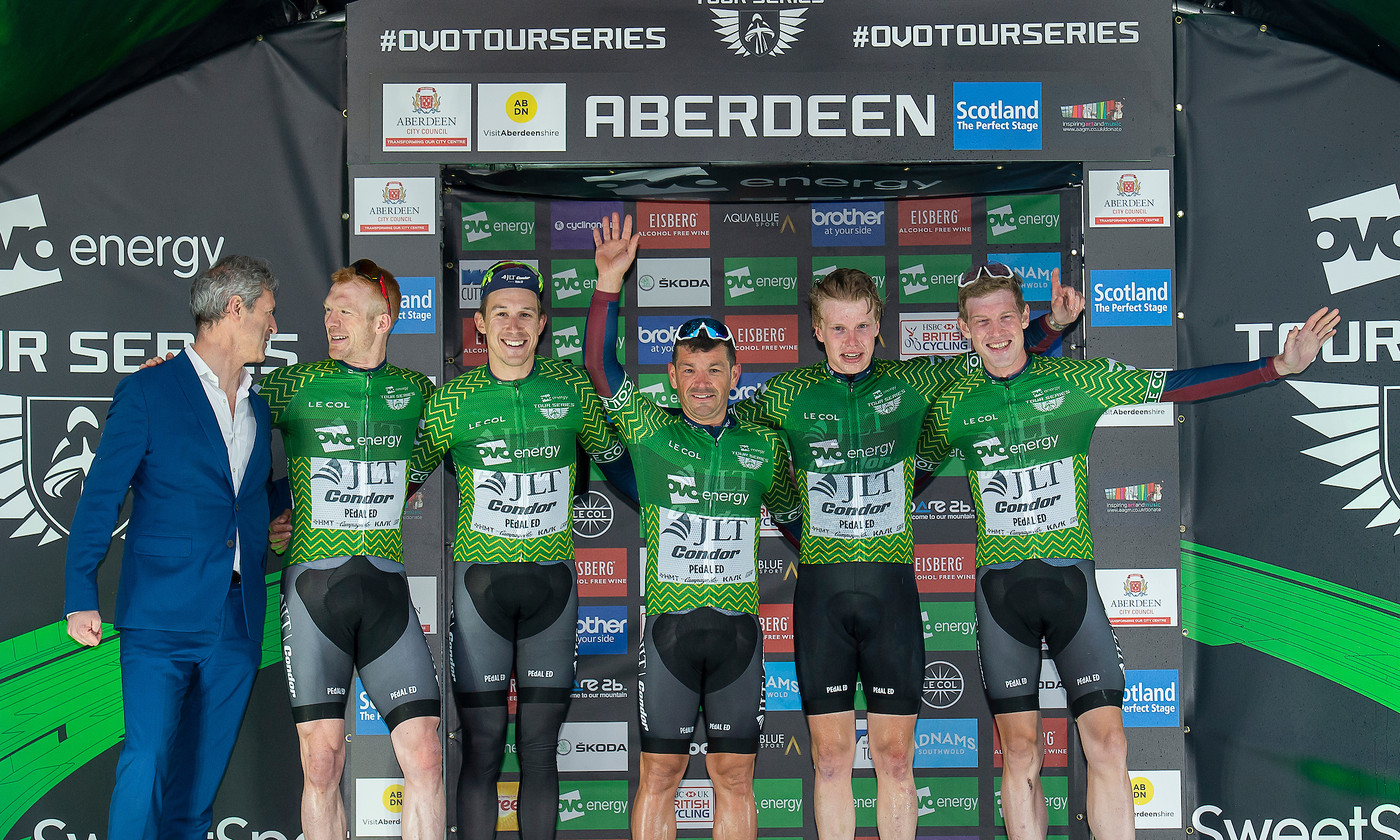 In the men's competition JLT Condor lead by a single point from Madison Genesis, with Canyon Eisberg third a point further in arrears, heading to Durham (Tuesday 22 May), where two sets of points will be available across an individual hill climb and circuit race.
Third on the night, Robert Scott moved into the lead of the Eisberg Points competition, with a slender one-point advantage over previous incumbent Matt Gibson and Harry Tanfield.
Just finishing outside the top six on the night and the final member of the seven rider lead group was Morvelo Basso's Mikey Mottram, recording both his and the team's best-ever Tour Series performance, helping the team remain sixth in the standings, ahead of UCI teams Vitus and Holdsworth.
Brother Fastest Laps on the night went to Durrell (Storey Racing) and Alistair Slater (JLT Condor).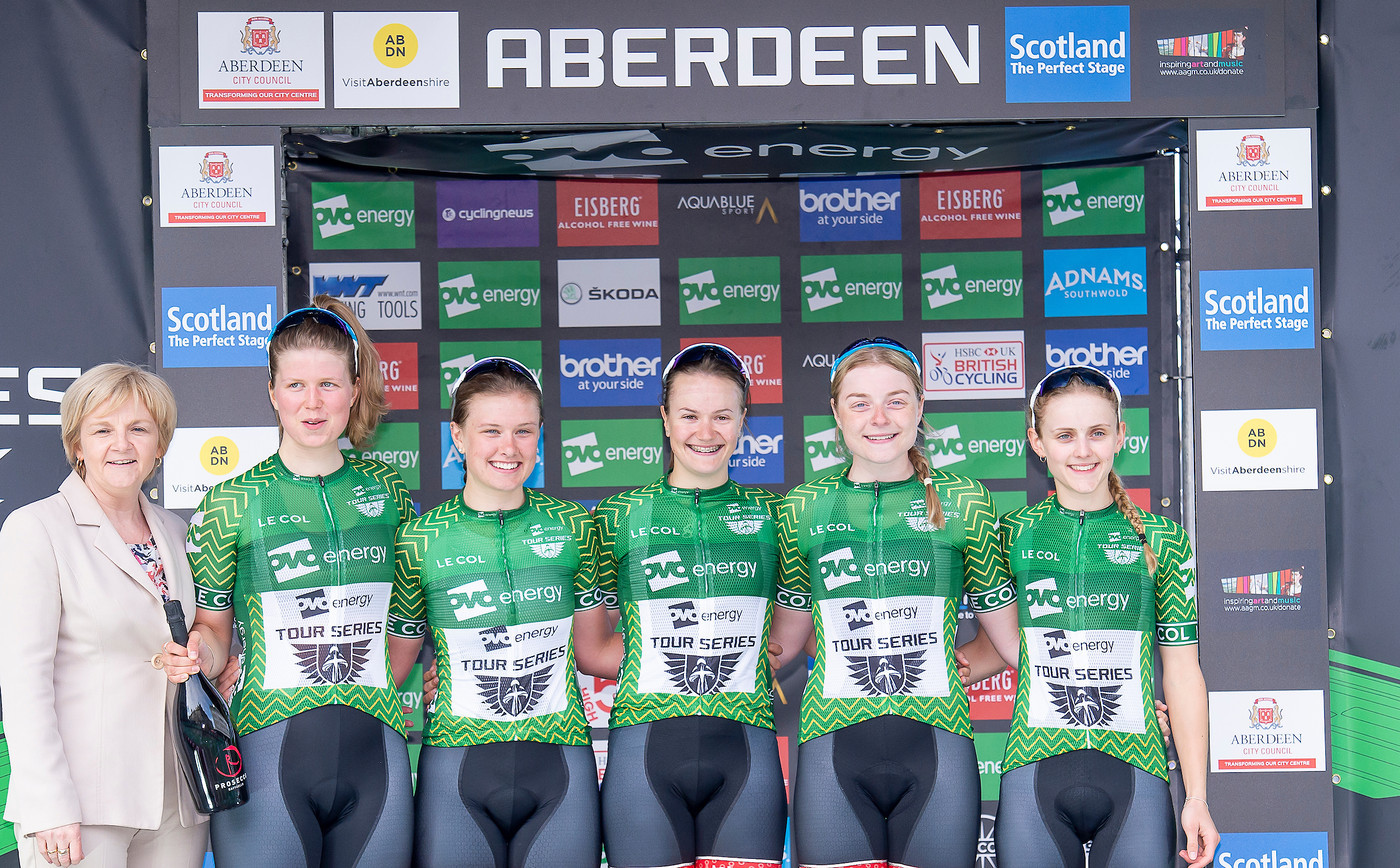 OVO Energy Tour Series, Round Three: Aberdeen, Thursday 17 May
Women's Team Result
1) Storey Racing, 10pts 2) Team Breeze, 9pts 3) NJC-Biemme-Echelon, 8pts 4) Torelli-Brother 7pts 5) YRDP, 6pts
Women's Individual Result
1) Nikki Juniper, GBR, NJC Biemme Echelon, 44:44.331 2) Rebecca Durrell, GBR, Storey Racing, + 0.157 3) Jess Roberts, GBR, Team Breeze, + 1.034 4) Charlotte Broughton, GBR, Admiral LIV AWOL, + 2.202 5) Neah Evans, GBR, Storey Racing, + 2.295
Eisberg Sprints Round Winner
Nikki Juniper, GBR, NJC-Biemme-Echelon, 15pts
Brother Fastest Lap
Rebecca Durrell, GBR, Storey Racing, 1:50.421
Women's Team Standings, post Round Three
1) Team Breeze, 29pts 2) NJC Biemme Echeleon, 26pts 3) Storey Racing, 25pts 4) YRDP, 17pts 5) Jadan – Weldtite Vive Le Velo, 15pts
Eisberg Sprints Leaders, post Round Three
Nikki Juniper, GBR, NJC-Biemme-Echelon, 37pts
Men's Team Result
1) Canyon Eisberg, 10pts 2) JLT Condor, 9pts 3) Madison Genesis, 8pts 4) ONE Pro Cycling, 7pts 5) Team WIGGINS, 6pts
Men's Individual Result
1) Ed Clancy, GBR, JLT Condor, 1:08:18.011 2) Tobyn Horton, GBR, Madison Genesis, + 0.627 3) Robert Scott, GBR, Team WIGGINS, + 1.041 4) Harry Tanfield, GBR, Canyon Eisberg, + 1.075 5) James Oram, NZL, ONE Pro Cycling, + 2.423
Eisberg Sprints Round Winner
Harry Tanfield, GBR, Canyon Eisberg, 15pts
Brother Fastest Lap
Alistair Slater, GBR, JLT Condor, 1:37.718
Men's Team Standings, post Round Three
1) JLT Condor, 28pts 2) Madison Genesis, 27pts 3) Canyon Eisberg, 26pts 4) Team WIGGINS, 20pts 5) ONE Pro Cycling, 19pts
Eisberg Sprints Leaders, post Round Three
Robert Scott, GBR, Team WIGGINS, 30pts
---
Series Informtion
OVO Energy Tour Series 2018
Thursday 10 May Redditch, Worcestershire
Tuesday 15 May Motherwell, North Lanarkshire
Thursday 17 May Aberdeen, Aberdeenshire
Tuesday 22 May Durham, County Durham
Saturday 26 May Aberystwyth, Ceredigion
Monday 28 May Stevenage, Hertfordshire
Tuesday 29 May Wembley Park, London
Thursday 31 May Salisbury, Wiltshire
Men's Teams
Canyon Eisberg
Holdsworth Pro Racing
JLT Condor
Madison Genesis
Morvélo Basso
ONE Pro Cycling
Team WIGGINS
Vitus Pro Cycling
Women's Teams
Admiral Liv AWOL
Boompods EDCO NRG
Jadan-Weldtite Vive Le Velo
NJC-Biemme-Echelon
Storey Racing
Team Breeze
Team OnForm
Torelli-Brother
Trek-Drops
YRDP Cycling Team