April 19, 2018
More More Mohoric
Stage 10: Penne to Gualdo Tadino, 244km
Matej Mohoric survived the longest stage of the Giro this year to claim a first Giro stage win. Yates gained time but lieutentant Chaves has bad day at the office and loses 25 minutes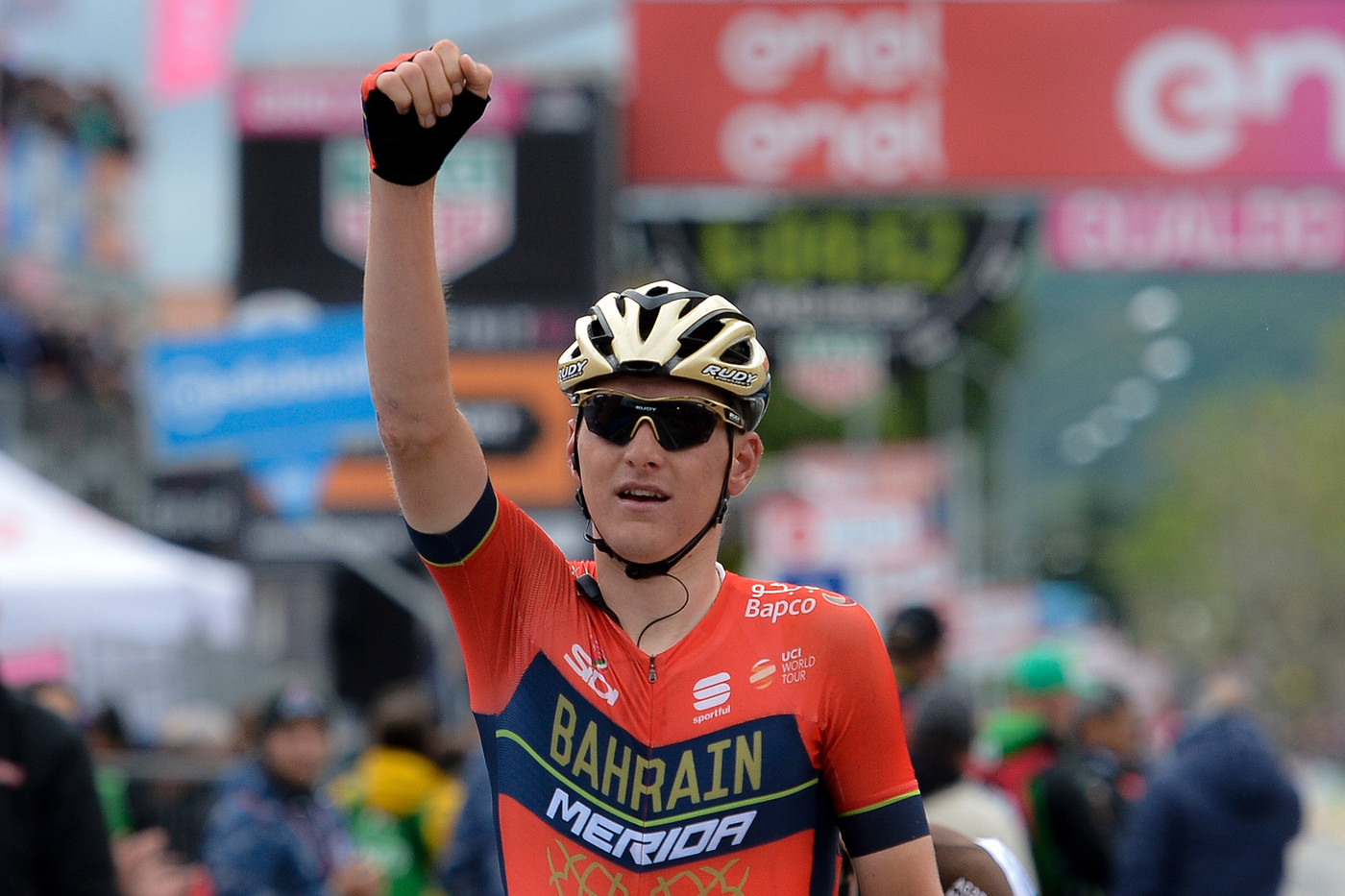 Former junior and U23 World Champion Matej Mohoric (Bahrain-Merida) took his first Giro d'Italia stage victory after opening his Grand Tours account at La Vuelta last year. The Slovenian and
The longest stage this year was an eventful one with runner-up Esteban Chaves (Mitchelton-Scott) losing contact with the main peloton on the first climb and finishing with a deficit of 25 minutes, whereas his teammate, Simon Yates, increased his overall lead as he won the intermediate sprint awarding a time bonus ahead of Thibaut Pinot (Groupama-FDJ).
As it happened
Marco Frapporti (Androni - Sidermec - Bottecchia) provided the day's supporting entertainment with a 80km solo break, extending his lead in the breakaway competition. While he maintained a lead of around 2'30" at the back of the race Esteban Chaves was having the worst of days and with 50km to go was over ten minutes down.
As the race passed through the area devastated by the 2016 eathquakes the situatiion began to change at the front of the race as Frapporti was caught and passed on the ascent of the final climb by Mohoric and Davide Villella (Astana), with Nico Denz (Ag2R) on their heels.
A tricky descent with sun having turned to rain gave the more confident Villella an advantage. Mohoric was soon back in contentiin as the route became less technical
Sunweb's Tom Dumoulin gave his team a moemntary fright when he pulled over in need of a bike change. Dumoulin seemed unfazed and was soon back in the maglia rosa group.
With less than 20km to go the peloton looked keen on pulling back the trio up front with Katusha doing a chunk of the pulling. The pace wasn't so high that it stopped Alessandro De Marchi (BMC) and Sergio Henao (Sky) make an attempt of their own to bridge the gap which was now 1'20" from Mohoric, Denz and Villella to the GC group
Mohoric was on a mission though and his pace proved too much for Villella. Denz though was more than up to the challenge and he and Mohoric could be seen agreeing to a partnership, allbeit one that would last until the line was in sight
With a kilometre remaining and still 42" in hand the peloton had been neatly outwitted. As they entered the finsihing straight Denz looked in the stronger position just behind Mohoric but when he came round to contest the sprint and momentarily took the lead Mohoric gought hard and eventually pulled back in fornt for the win. 34 seconds later Sam Bennett led home the peloton.
Simon Yates actaully managed to gain a few sconds during the day with a time bonus and extend his lead to 41" over Dumoulin, with Pinot in third spot at 46". As for Chaves, Yates was on the podium, and still the group containing the ailing Columbina were yet to arrive. When they did Chaves had lost 25 minutes, allowing Chris Froome to reappear in the top ten
The stage winner, Matej Mohoric, said: ďTodayís goal was to make the breakaway. I did at the beginning with 12 other riders but, unfortunately, because of what happened to Chaves, the peloton came across. After that, I remained close to Domenico Pozzovivo until I asked him if I could ride behind Villela since I felt very good. He gave me the green light. Iím delighted that I have taken this opportunity. I wasnít convinced I'd win the sprint against Nico Denz. Thatís why I tried to drop him a few times before. Maybe I pulled a bit more than him. It was a hard stage and subsequently a different sprint than if we had arrived fresh. Iím not very good in a sprint from a slow speed so I launched and I increased my speed as much as I could. We came to the Giro to win stages from breakaways with Giovanni Visconti and myself, and sprints with Niccolo Bonifazio, but our main goal remains to help Pozzovivo for the best overall ranking possible.Ē
The Maglia Rosa, Simon Yates, said: ďWe had an extremely difficult start. It was the most aggressive stage Iíve seen for a while. This usually happens in short stages only. But this was a long and ferocious race. The high speed never stopped. I first thought Esteban Chaves would be able to come back but it was a really crazy stage and Iím very disappointed for him as I know he's worked very hard for this. As for the tactics, Iíd prefer heíd still be there, so we could play more cards and tactics in the final. Iím not scared of the third week; Iím scared of the time trial. I know Iíll lose some time there. Thatís why I gained three seconds in an intermediate sprint today. If I keep gaining here and there, Iíll be happy. Iím confident that Iím going well and I have a great team to support me, but I know it wonít be easy. My rivals are very strong. Iím self confident as always and Iím understanding what Iím trying to achieve.Ē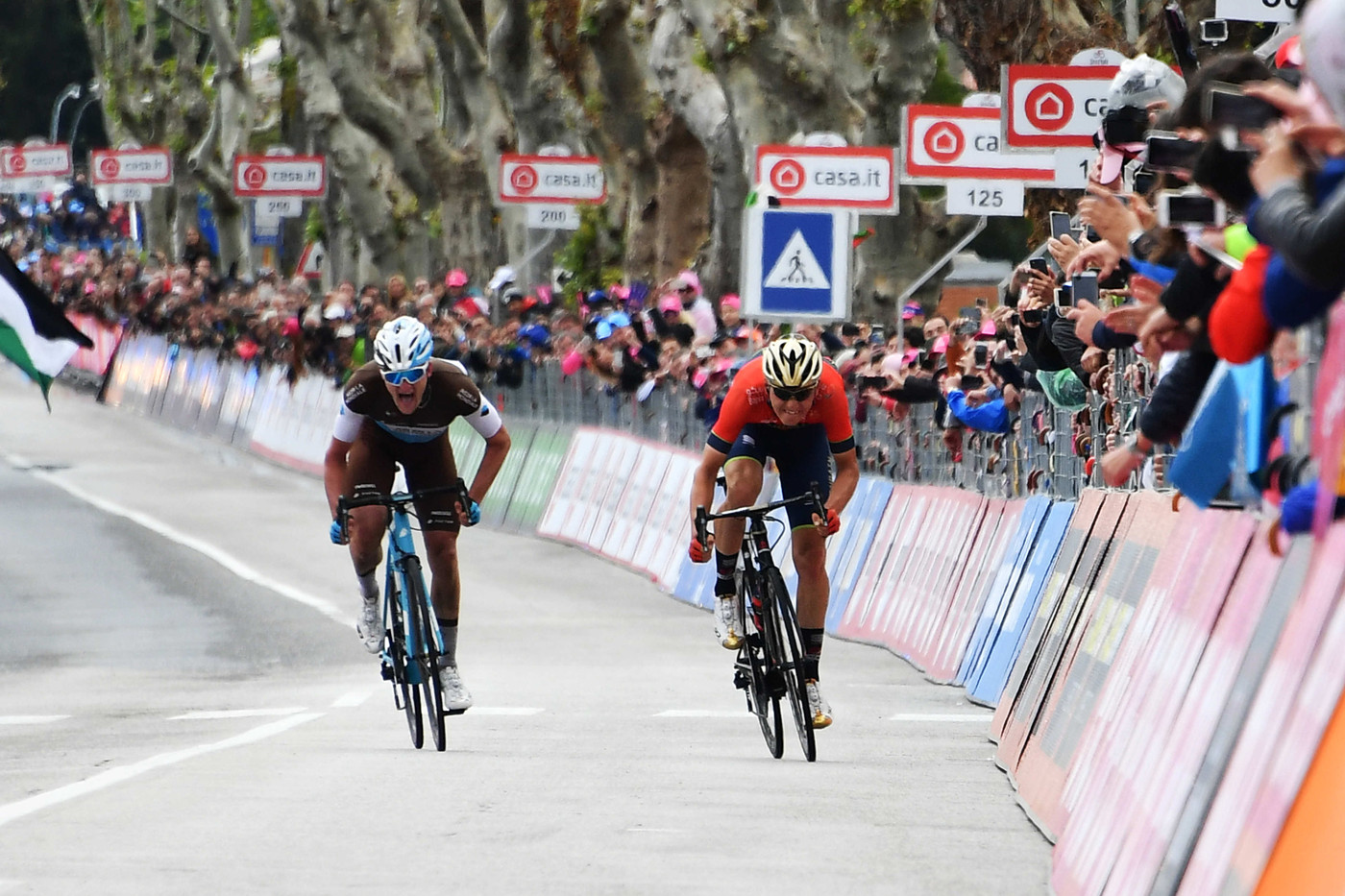 Race Results - Stage 10 and GC