April 19, 2018
Round 1: Redditch
JLT Condor win opening round of OVO Energy Tour Series in Redditch
JLT Condor kicked off their OVO Energy Tour Series title defence with victory at the opening round in Redditch, while Megan Barker gave Team Breeze the team lead in the women's OVO Energy Tour Series opener.
Report compiled using material supplied by the Tour Series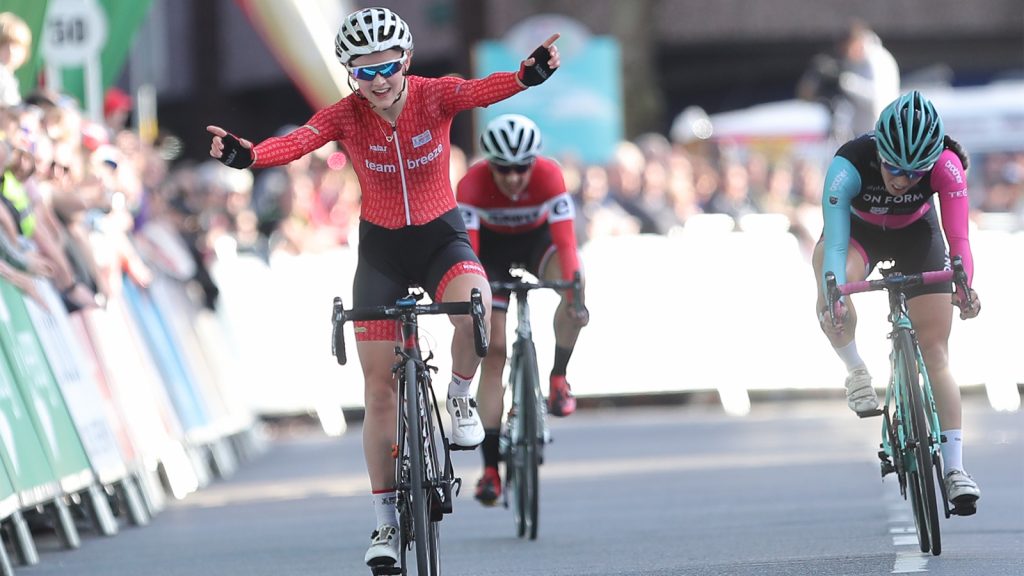 The men's win on the night went to Team WIGGINS' Gabriel Cullaigh, who outsprinted Tobyn Horton (Madison Genesis) and Tom Moses (JLT Condor) from a select group of six riders who contested the finish on the 1.4-kilometre Worcestershire circuit.
Cullaigh was full of praise for his team-mates, who returned to the Series after a year's absence, saying: "We rode aggressively as a team – you've got to ride like that in the Tour Series. We never missed a beat today.
"Getting into the final lap with the six of us together I knew I could win it – I just had to keep the pace high and lead coming out of the final corner. Tobyn was coming up quickly but I knew he wouldn't get past me."
For Cullaigh, Redditch is the first Tour Series race he has completed, having endured a baptism of fire with a young Great Britain team in 2015.
He added: "It feels mega. Three years ago I was racing here with the Great Britain team – I didn't really know I was going to be doing it until a few days before the Series started, so every race I had a horrible time. To come back this year with good form, and to be able to lay that ghost to rest, feels decent. I'm happy with that."
Cullaigh's win helped WIGGINS to fourth on the night, behind leaders JLT Condor, Madison Genesis and Canyon Eisberg.
Meanwhile, the women's OVO Energy Tour Series opener went to Megan Barker, who helped her Team Breeze take the team prize and the Series lead for the first time in their two years of competition.
Barker was one of three riders clear when the race was briefly neutralised after a crash, but the trio managed to retain their lead after the re-start, with Barker heading home Anna Henderson (Team OnForm) and Worcestershire-based Nikki Juniper (NJC-Biemme-Echelon).
Speaking afterwards about the mid-race interruption, Barker said: "It mixed it up a little bit! I wasn't sure what was going to happen but we basically had to commit and go from there.
"Up the hill I forced the other two to go a little bit – I think they panicked a little bit as I was telling them that we could get caught! I waited until the final bend and then I went for it.
"It was an attacking race from the start. My Team Breeze team-mates were getting involved brilliantly – I knew that if there was going to be a split one of us would be in it because we were always up there. I ended up making the move that stuck by counter-attacking one of my team-mates, so that worked really well. I was finding it tough so I thought everybody else would be, too, so I really dug in."
Team Breeze take the early lead ahead of NJC– Biemme- Echelon and Team OnForm, with seven further events to come.
The Brother Fastest Laps went to Chris Opie (Canyon Eisberg) and Rebecca Durrell (Storey Racing), while James Lowsley Williams (Canyon Eisberg) and Henderson took the Eisberg Points jersey for the intermediate sprints in
Race Results
Women's Team Result
1) Team Breeze, 10pts
2) NJC-Biemme-Echelon, 9pts
3) Team OnForm, 8pts
4) Storey Racing, 7pts
5) Trek-Drops, 6pts
Women's Individual Result
1) Megan Barker, GBR, Team Breeze, 45:50.254
2) Anna Henderson, GBR, Team OnForm, + 0.443
3) Nikki Juniper, GBR, NJC-Biemme-Echelon, + 1.305
4) Manon Lloyd, GBR, Trek-Drops, +25.656
5) Neah Evans, GBR, Storey Racing, + 26.040
---
Series Informtion
OVO Energy Tour Series 2018
Thursday 10 May Redditch, Worcestershire
Tuesday 15 May Motherwell, North Lanarkshire
Thursday 17 May Aberdeen, Aberdeenshire
Tuesday 22 May Durham, County Durham
Saturday 26 May Aberystwyth, Ceredigion
Monday 28 May Stevenage, Hertfordshire
Tuesday 29 May Wembley Park, London
Thursday 31 May Salisbury, Wiltshire
Men's Teams
Canyon Eisberg
Holdsworth Pro Racing
JLT Condor
Madison Genesis
Morvélo Basso
ONE Pro Cycling
Team WIGGINS
Vitus Pro Cycling
Women's Teams
Admiral Liv AWOL
Boompods EDCO NRG
Jadan-Weldtite Vive Le Velo
NJC-Biemme-Echelon
Storey Racing
Team Breeze
Team OnForm
Torelli-Brother
Trek-Drops
YRDP Cycling Team