March 5, 2018
UK Parliament Committee publishes report damning Team Sky and Bradley Wiggins for 'unethical' drug use.
In a report entitled 'Combatting Doping in Sport' the UK Parliament's Digital, Culture, Media and Sport Committee (DCMS) have accused Team Sky of [crossing] "the ethical line that David Brailsford says he himself drew for Team Sky."
The DCMS report examined claims that Team Sky had misused Therapeutic Use Exemptions (TUEs) for certain drugs, including the corticosteroid triamcinolone, to achieve performance enhancements.
Said it received "confidential material from a well-placed and respected source" about Team Sky's medical approach, including a whistleblower who worked at Team Sky in a senior position. Some have indentified this person as former Team Sky doctor Fabio Bartalucci.
Part of the rpeort dwelt on the claim that a jiffy bag containing an unknown drug was taken by Simon Cope to bradley Wiggins and the Criterium du Dauphine in 2011. While no evidence has been produced as to what the jiffy bag contained team Sky was criticised for it and British Cycling's failure ot keep adequate records, a situation that the team said it acknowledged in a statement published on its website:
"The Report details again areas in the past where we have already acknowledged that the Team fell short. We take full responsibility for mistakes that were made. We wrote to the Committee in March 2017 setting out in detail the steps we took in subsequent years to put them right, including, for example, the strengthening of our medical record keeping.."
Regarding the use of meidication to ennhace performance the statement said,
"...the Report also makes the serious claim that medication has been used by the Team to enhance performance. We strongly refute this. The report also includes an allegation of widespread Triamcinolone use by Team Sky riders ahead of the 2012 Tour de France. Again, we strongly refute this allegation. We are surprised and disappointed that the Committee has chosen to present an anonymous and potentially malicious claim in this way, without presenting any evidence or giving us an opportunity to respond. This is unfair both to the Team and to the riders in question. We take our responsibility to the sport seriously. We are committed to creating an environment at Team Sky where riders can perform to the best of their ability, and do it clean."
Pressure is mounting form certain quarters for Dave Brailsofrd to resign but the Team Sky boss insists that he and Team Sky had done nothing wrong.
British Cycling and Bradley Wiggins have issued statements regarding rhe report, including a tweet From Wiggins refuitng all allegations: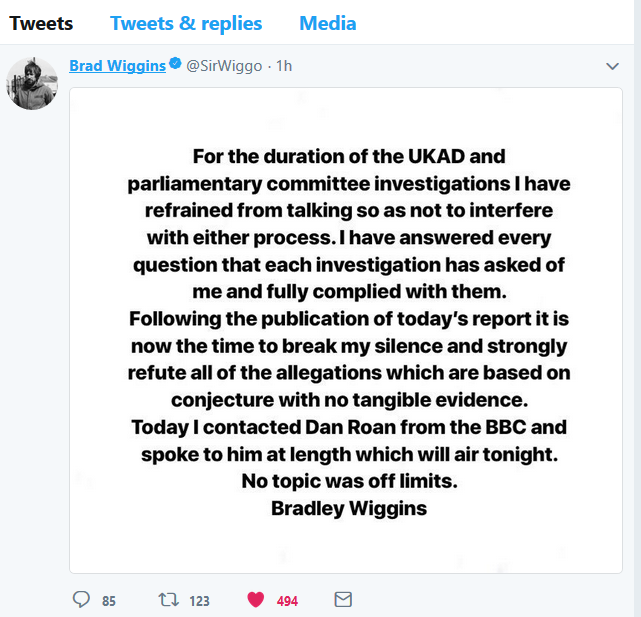 The interview with the BBC's Dan Roan is here