January 17, 2018
Women's Tour Down Under 2018
Australian Amanda Spratt (Mitchelton-Scott) has won her home tour, finishing the four-stage event 41" ahead of Lauren Stephens (Cylance pro Cycling) with Katrin Garfoot (UniSA-Australia) in third.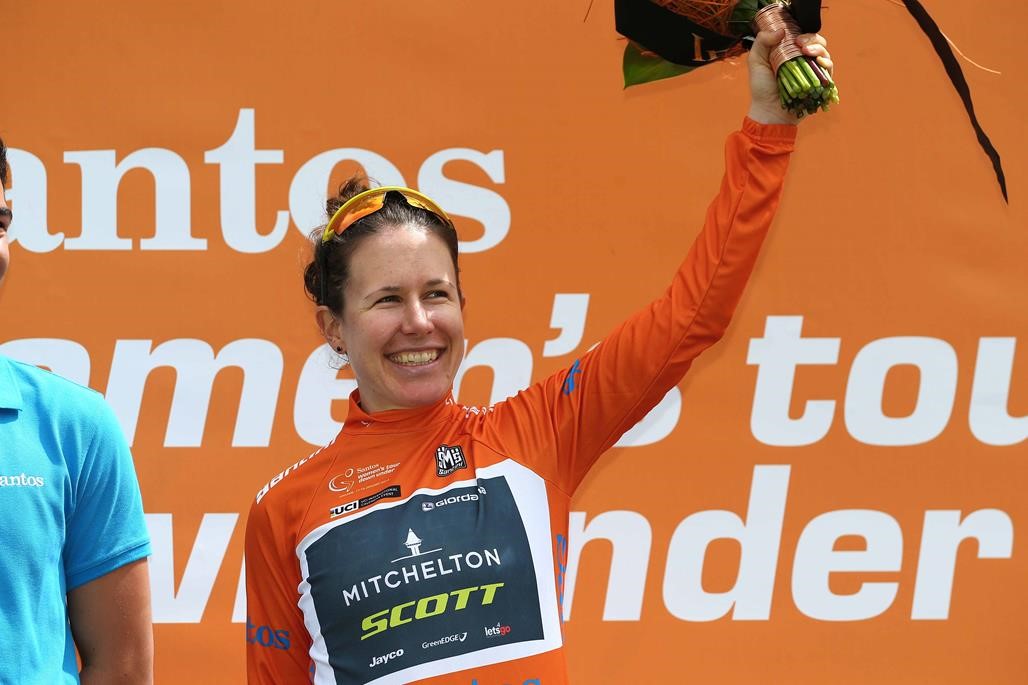 Photo © Michelton-Scott
It is Spratt's second win on the trot at the South Australia Event, which takes place as part of the Tour Down Under cycling festival.
The opening stage went to Annette Edmondson (Wiggle High5) who took a bunch sprint ahead of Giogia Bronzini (Cylance Pro Cycling) with Lauretta Hanson (UniSA-Australia in third).
Edmondson's tenure was to last just the one day after Garfoot took a two-up sprint from Lucy Kennedy (Michelton-Scott) on stage two with Spratt in third. The high pace on the short 102km stage spilled out riders at a high rate with nine riders out of the 93-woman pleloton eliminated.
Spratt stamped her authority ont herace with a solo win on stage three, enjoying a seven second advantage over Stephens with Grace Brown of Holden Team Gusto Racing a full 59 secodns down in third. Another day of tiorture saw a further six riders elimianted.
With the peloton seriously depleted and Spratt's rivals looking at deficits in the minutes there was only a small matter of finsihing the fiinal short 46km People's Choice criterium to finish and win. the stage eventaully went to Chloe Hosking (Ale Cipollini) with Bronzini enduring a second runner-up spot ahead if Edmondson.
Spratt finsied safely in the peloton in 19th spot to secure the overall but the race was not wihout incident. She was on of several GC riders involved in a large crash nleading into the second intermediate sprint. Fortunately she was able to rejoin hte race on the next lap without penalty.
Speaking after the win Spratt said, "I'm so happy, it's thanks to these girls they all did an amazing job and it has been a great few days for the team and to win this race for the second time is really special."
I" can't thank the girls enough for their help after the crash, I was really shaken up and panicking a bit, but Annemiek and Jess stopped with me and they said just try to calm down, follow my wheel and that was so important I can't thank them enough.
"It is a really big race for us in Australia and we have so much support in this race, there was people out all around the course cheering."
Route Maps- Stages 1-4
2018 Santos Tour Down Under Route Map
Teams
Mitchelton-Scott Women

| # | Rider Name (Country) Team |
| --- | --- |
| 1 | Amanda Spratt (Aus) |
| 2 | Annemiek Van Vleuten (Ned) |
| 3 | Sarah Roy (Aus) |
| 4 | Jessica Allen (Aus) |
| 5 | Lucy Kennedy (Aus) |
| 6 | Alex Manly (Aus) |
Waowdeals

| # | Rider Name (Country) Team |
| --- | --- |
| 11 | Jeanne Korevaar (Ned) |
| 12 | Anouska Koster (Ned) |
| 13 | Riejanne Markus (Ned) |
| 14 | Sabrina Stultiens (Ned) |
| 15 | Monique Van De Ree (Ned) |
| 16 | Rotem Gafinovitz (Isr) |
Wiggle High5 Pro Cycling

| # | Rider Name (Country) Team |
| --- | --- |
| 21 | Annette Edmondson (Aus) |
| 22 | Amy Cure (Aus) |
| 23 | Audrey Cordon-Ragot (Fra) |
| 24 | Eri Yonamine (Jpn) |
| 25 | Macey Stewart (Aus) |
| 26 | Rachele Barbieri (Ita) |
Ale Cipollini

| # | Rider Name (Country) Team |
| --- | --- |
| 31 | Chloe Hosking (Aus) |
| 32 | Soraya Paladin (Ita) |
| 33 | Anna Trevisi (Ita) |
| 34 | Roxanne Knetemann (Ned) |
| 35 | Mayuko Hagiwara (Jpn) |
| 36 | Karlijn Swinkels (Ned) |
Cylance Pro Cycling

| # | Rider Name (Country) Team |
| --- | --- |
| 41 | Giorgia Bronzini (Ita) |
| 42 | Marta Tagliaferro (Ita) |
| 43 | Rosella Ratto (USA) |
| 44 | Lauren Stephens (USA) |
| 45 | Jelena Eric (Srb) |
| 46 | Holly Marie Breck (USA) |
BePink

| # | Rider Name (Country) Team |
| --- | --- |
| 51 | Silvia Valsecchi (Ita) |
| 52 | Francesca Pattaro (Ita) |
| 53 | Katia Ragusa (Ita) |
| 54 | Maria Vittoria Sperotto (Ita) |
| 55 | Erica Magnaldi (Ita) |
| 56 | Lisa Morzenti (Ita) |
Trek-Drops Cycling

| # | Rider Name (Country) Team |
| --- | --- |
| 61 | Eva Buurman (Ned) |
| 62 | Kathrin Hammes (Ger) |
| 63 | Annasley Park (GBr) |
| 64 | Abigail Van Twisk (GBr) |
| 65 | Molly Weaver (GBr) |
| 66 | Tayler Wiles (USA) |
Team TIBCO-Silicon Valley Bank

| # | Rider Name (Country) Team |
| --- | --- |
| 71 | Shannon Malseed (Aus) |
| 72 | Kathryn Buss (USA) |
| 73 | Emma Grant (GBr) |
| 74 | Alison Jackson (Can) |
| 75 | Emily Newsom (USA) |
| 76 | Kendall Ryan (USA) |
Twenty20 presented by Sho-Air

| # | Rider Name (Country) Team |
| --- | --- |
| 81 | Erica Clevenger (USA) |
| 82 | Danielle Morshead (USA) |
| 83 | Marlies Mejias Garcia (Cub) |
| 84 | Shayna Powless (USA) |
| 85 | Scotti Lechuga-Wilborne (USA) |
| 86 | Margot Clyne (USA) |
Team Virtu Cycling

| # | Rider Name (Country) Team |
| --- | --- |
| 91 | Barbara Guarischi (Ita) |
| 92 | Emilie Moberg (Nor) |
| 93 | Katarzyna Pawlowska (Pol) |
| 94 | Linda Villumsen (NZl) |
| 95 | Louise Norman Hansen (Den) |
| 96 | Trine Schmidt (Den) |
Vantage New Zealand National Team

| # | Rider Name (Country) Team |
| --- | --- |
| 101 | Grace Anderson (NZl) |
| 102 | Mikayla Harvey (NZl) |
| 103 | Lydia Rippon (NZl) |
| 104 | Kate Smith (NZl) |
| 105 | Rylee Mcmullen (NZl) |
| 106 | Deborah Paine (NZl) |
Maaslandster International

| # | Rider Name (Country) Team |
| --- | --- |
| 111 | Desiree Ehrler (Sui) |
| 112 | Christel Van Loo (Ned) |
| 113 | Anna-Leeza Hull (Aus) |
| 114 | Amanda Jamieson (NZl) |
| 115 | Serene Lee (Sng) |
| 116 | Yasue Nakahara (Jpn) |
UniSA-Australia

| # | Rider Name (Country) Team |
| --- | --- |
| 121 | Katrin Garfoot (Aus) |
| 122 | Shara Gillow (Aus) |
| 123 | Rachel Neylan (Aus) |
| 124 | Tiffany Cromwell (Ausl) |
| 125 | Lauren Kitchen (Aus) |
| 126 | Lauretta Hanson (Aus) |
Holden Team Gusto Racing

| # | Rider Name (Country) Team |
| --- | --- |
| 131 | Erin Kinnealey (Aus) |
| 132 | Kimberley Wells (Aus) |
| 133 | Carlee Taylor (Aus) |
| 134 | Grace Brown (Aus) |
| 135 | Nicola MacDonald (Aus) |
| 136 | Rebecca Wiasak (Aus) |
Specialized Women's Racing

| # | Rider Name (Country) Team |
| --- | --- |
| 141 | Kate McIlroy (NZl) |
| 142 | Sharlotte Lucas (NZl) |
| 143 | Ashlee Ankudinoff (Aus) |
| 144 | Ella Bloor (Aus) |
| 145 | Lucy Bechtel (Aus) |
| 146 | Taryn Heather (Aus) |
TIS Racing

| # | Rider Name (Country) Team |
| --- | --- |
| 151 | Georgia Baker (Aus) |
| 152 | Chloe Moran (Aus) |
| 153 | Kristina Clonan (Aus) |
| 154 | Maeve Plouffe (Aus) |
| 155 | Briana Hargrave (Aus) |
| 156 | Jessica Mundy (Aus) |
Sydney Uni-Staminade Women's Cycling Team

| # | Rider Name (Country) Team |
| --- | --- |
| 161 | Megan Scott (Aus) |
| 162 | Angela Smith (Aus) |
| 163 | Jade Colligan (Aus) |
| 164 | Chloe Heffernan (Aus) |
| 165 | Gina Ricardo (Aus) |
| 166 | Georgia Whitehouse (Aus) |
Stages
11/1Stage 1 - Gumeracha › Gumeracha (115.7k) 1
2/1Stage 2 - Lyndoch › Mengler's Hill (102k)
13/1Stage 3 - The Bend Motorsport Park › Hahndorf (122.4k)
14/1Stage 4 - Wakefield Road › Wakefield Road (46k)