December 15, 2017
Chris Froome faces questions after Vuelta drugs test thows up adverse results for Salbutamol
A week in which many professional teams revealed their 2018 kit and clothing has been overshadowed by the disclosure that team Sky's Chris Froome was found to have had what the UCI descibes as an Adverse Analytical Finding (AAF) of Salbutamol at the 2107 La Vuelta.
The finding arose from a sample taken on 7 September 2017 after stage 18 from Suances to Santo Toribio de Liébana which showed the level of the anti-asthama drug Salbutamol in Froome's urine was 2000ng/ml, twice the level permitted by sports doping agency WADA
The UCI statement is below: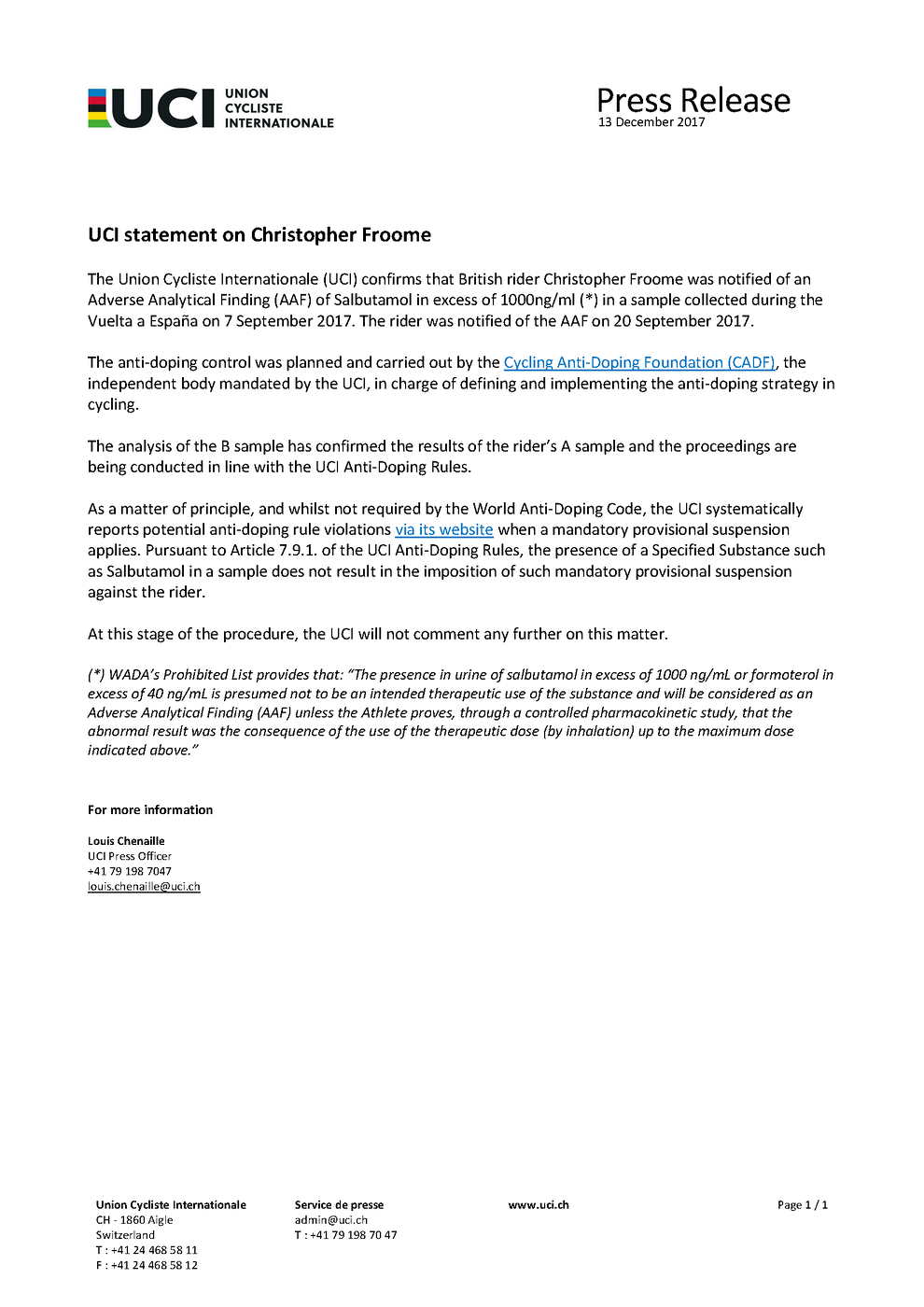 Salbutamol, which is marketed under the name Ventolin is used by millions of asthama suffers to relieve the symtoms of asthama. It is normally ingested usng an inhaler. Froome was a known sufferer and did not need what is called a TUE or Therapeutic Use Exemption in order to use Salbutamol. In order to not fall foul of WADA limits on usage he and his team however needed to enusre his usage stayed within permitted levels indicated by a urine concentration of no more than 1000ng/ml.
Just minutes before the UCI statement hit inboxes Team Sky had issued a statement of it own: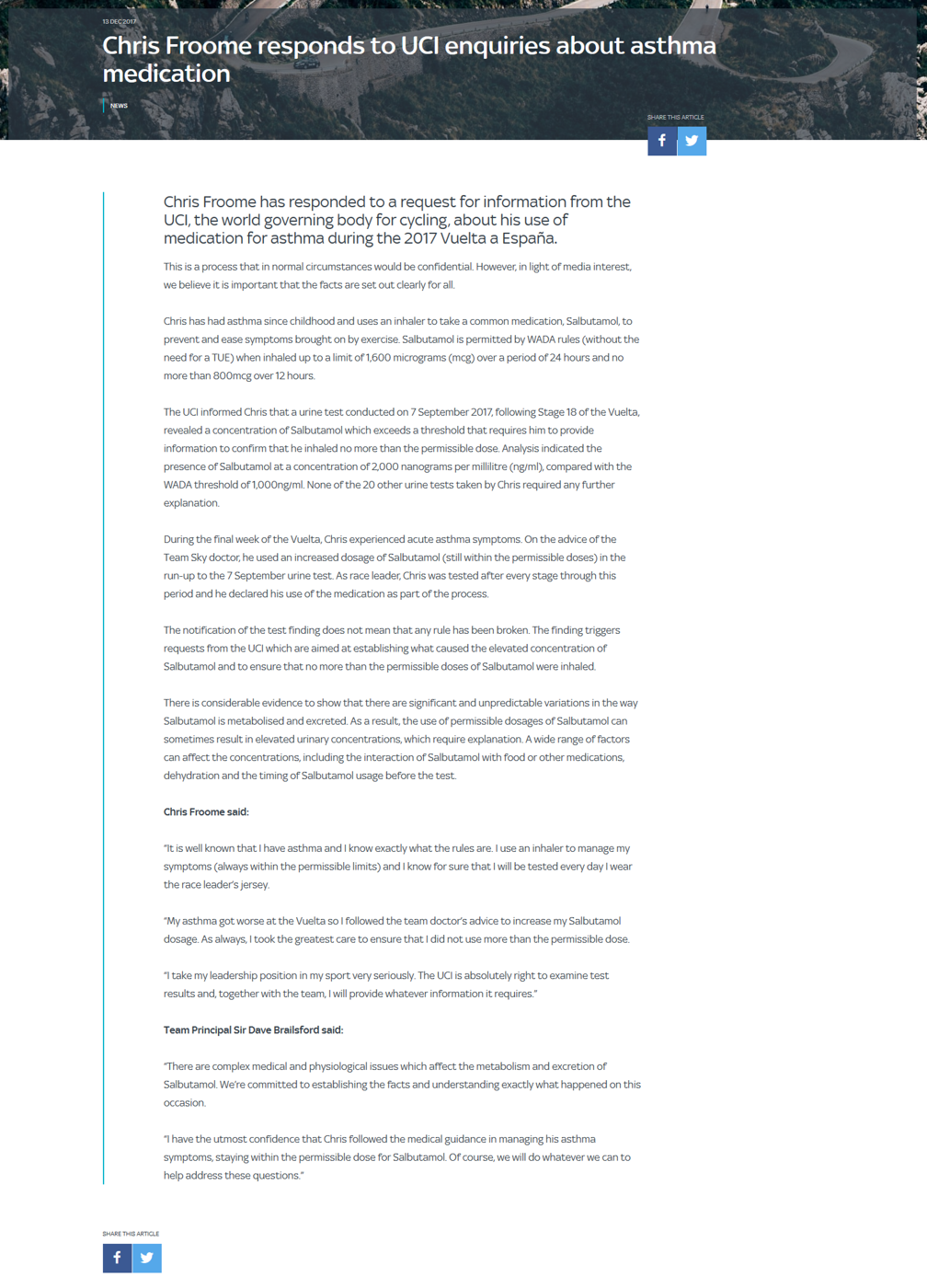 While many are surpised that Froome has not been suspended by Team Sky, as Salbutamol is not a banned substance but one with prescribed usage limits UCI rules in these circumstances do not mandate an automatic suspension. The rider is notified and allowed time to explain why the readings might have occurred legitimately.
Nornally the matter would stay private until the rider has done so or failed to do so. In Froome's case the AAF was made public following a joint investigation by The Guardian and Le Monde newspapers. The question as to how they received the information that triggered the investigation is a matter of conjecture and raises concerns over a possible leak, perhaos within the UCI or WADA.
Froome faces prospect of both a ban and losing his La Vuelta Title.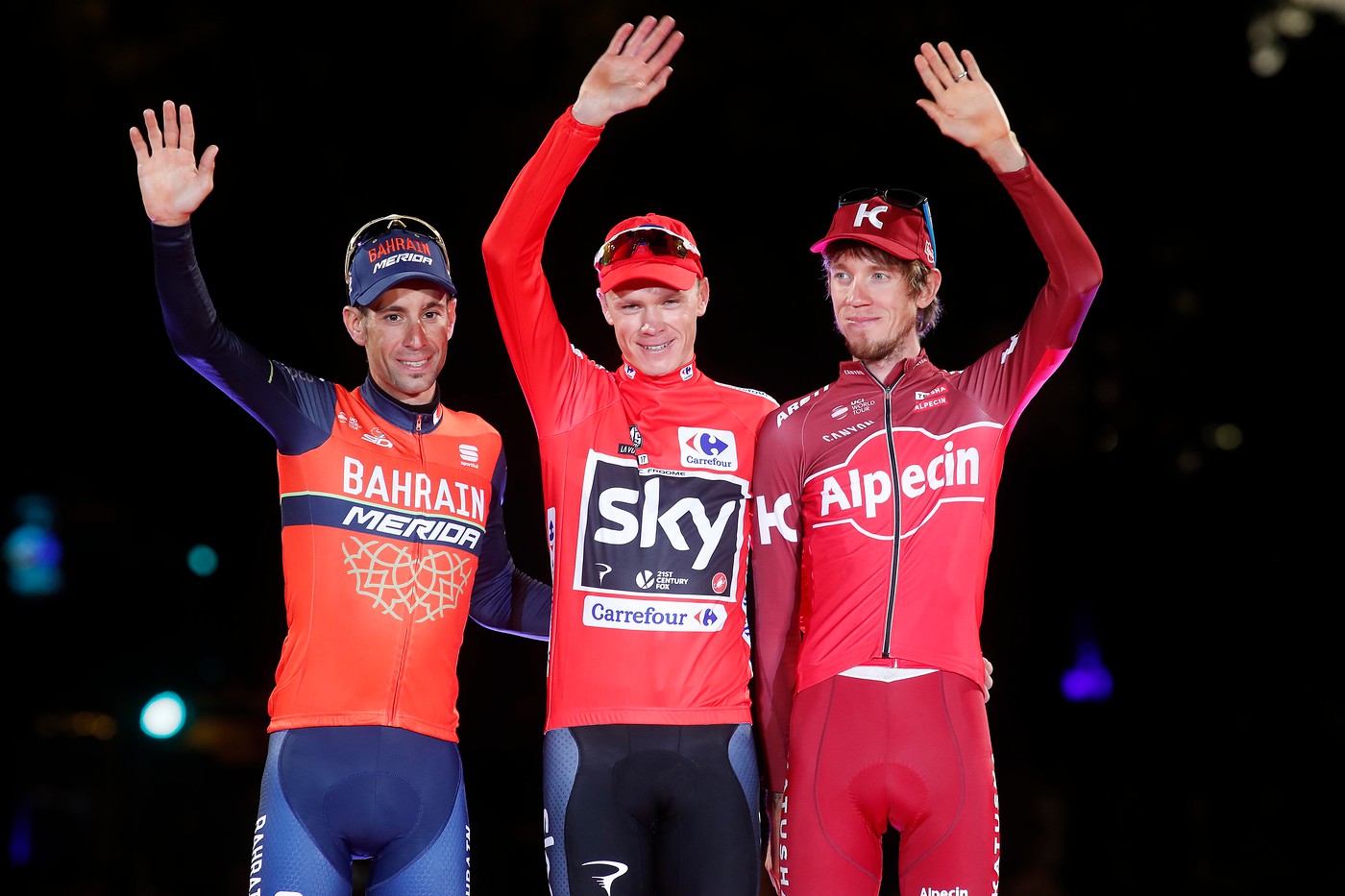 Unless Froome and his team can show that the levels of salbutamol in his urine could be achieved despite sticking to the limits on dosage the 2017 La Vuelta champion and four time Tour de France winner faces the propect of a ban and a having his La Vuelta title stripped from him. Whatever the outcome the reputaion of both Chris Froome and Team Sky is under immense pressure, especially with the spotlight of 'Jiffy-gate', the UK Anti-Doping Agency's expensive but abortive investigation into a the contents of a jiffy bag delivered to Bradley Wiggins Critérium du Dauphiné in 2011 still on full power in some sectors of the media and public.