December 4, 2017
Giro d'Italia Route 2018 Revealed
Starting in Israel and finish in Rome the 2018 Giro d'Italia offers up eight summit finishes and 44km of time trials, though no team time trial.
The 2018 Giro d'Italia will start on May 4th in the city of Jerusalem, the first time a Grand Tour has ever started outside Europe. The ancient city, fought over for millenia, will see three days of sporting competition. The opening stage will be a 9.7km ITT, dubbed the Tappa Bartali after the great Italian cyclist, before two road stages. Stage two will take the peloton from Haifa to Tel Aviv via Jaffa. It will be a rare opportunity for sprinters to shine on a Giro oriented towards the battle for the maglia rosa. Stage 3 presents the first opportunity ofr mountain points taking in the 40km wide Ramon crater, the largest on the planet.
Chris Froome was one of the first protagonists to confirm the Giro as his target. The 2017 Le Tour and Vuelta winner was long expected to headline the startlist.
The race returns to Italy with three stages in Sicily, before crossing the strits of Messina for a battle through Campania to Abruzzi. Sprinters will have a great opportunity on the 7th stage from Pizzo to Praia a Mare, entirely along the Tyrrhenian coast.
The late Michele Scarponi will be honoured on the stage from Assisi to Osimo which will pass the Filottrano Wall (Muro di Filottrano). The rest of the route follows an anti-clockwise circuit embracing the Dolomites and Western Alps before the finale in Rome on May 22nd.
This 101st edition, totalling 3,546.2km with 44,000 meters of vertical elevation, features two Individual Time Trials, seven low difficulty stages, six of medium difficulty, six high difficulty and a total of eight summit finishes.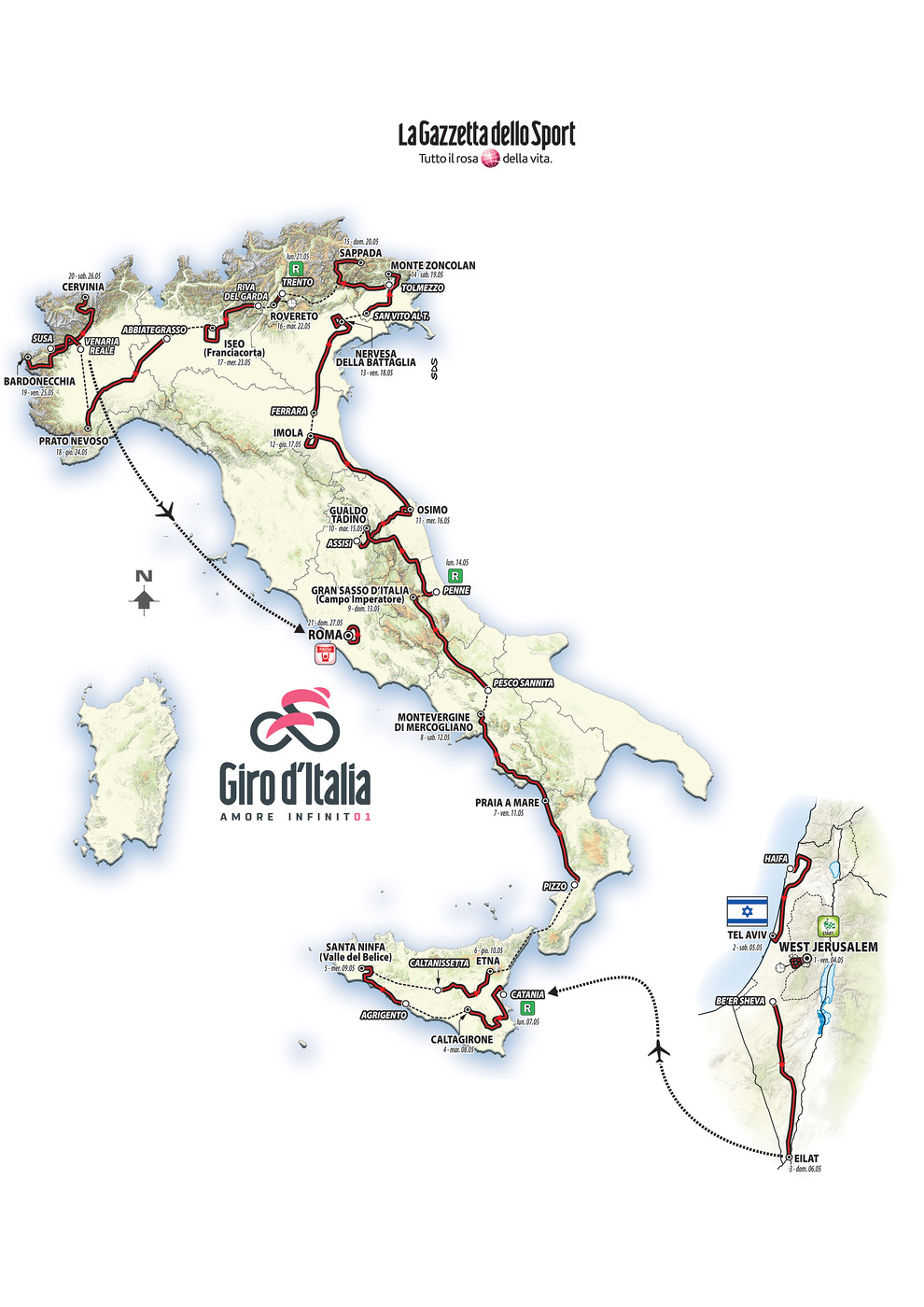 Giro D'Italia 2018 Route
2017 Champion Tom Dumoulin, gave his initial thpoughts on the route: "Last year it was amazing. I love all sorts of Time Trials and I like a Grand Tour to start this way, with an ITT, it will be the first opportunity to wear the Maglia Rosa. The mountain stages are always the ones to be careful about: the Zoncolan, but also the following day, stage 15 is really not to be underestimated. I like this Giro but I cannot say anything yet about my presence at the start in May... first I need to carefully study the route. I was the strongest in 2017, but 2018 is a different race. Froome is a strong rider and his presence makes the race harder and more interesting."
Video: Giro Preview