September 11, 2017
STAGE 21: Arroyomolinos to Madrid, 117.6 km
Froome completes the double with energy to grab the points jersey too. Contador bows out with solo salute to Madrid crowds.
Matteo Trentin (Quick-Step Floors) once again displayed his raw power on the final stage of La Vuelta 2017, dominating the ultimate bunch gallop to claim a fourth stage win. The Italian sprinter was faster than Lorrenzo Manzin (FDJ) and Soren Kragh Andersen (Team Sunweb) in the streets of Madrid. 11th of the stage,
Chris Froome (Team Sky) is the first British winner of La Vuelta and the third rider to win the Spanish Grand Tour and the Tour de France in the same year after Jacques Anquetil (1963) and Bernard Hinault (1978). He also claims the points classification ahead of Trentin.
Froome though wasn't content with the red jersey and was in the mix during the sprint finish, taking 11th spot and enough points ot deny Trentin the points jersey.
Alberto Contador (Trek-Segafredo) said farewell to his public after riding ahead of a crusing peloton as the race entered Madrid. The Spaniard enjoyed thunderous applause as he crossed the finsih line at the beginning of the eight circuits beofre pulling aside to let racing begin in earnest.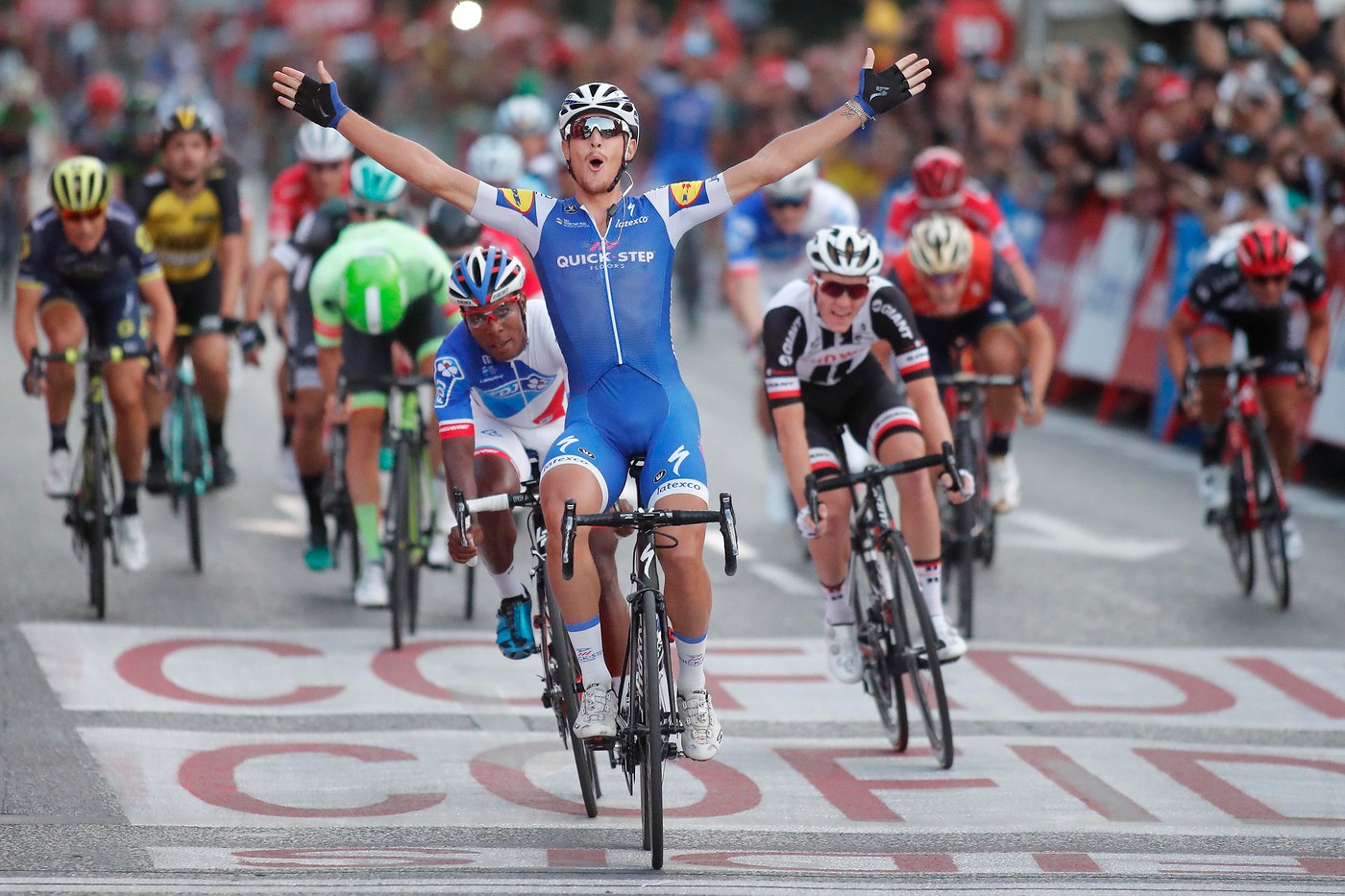 Stage winner Matteo Trentin © Photo credit : Unipublic/Photogomez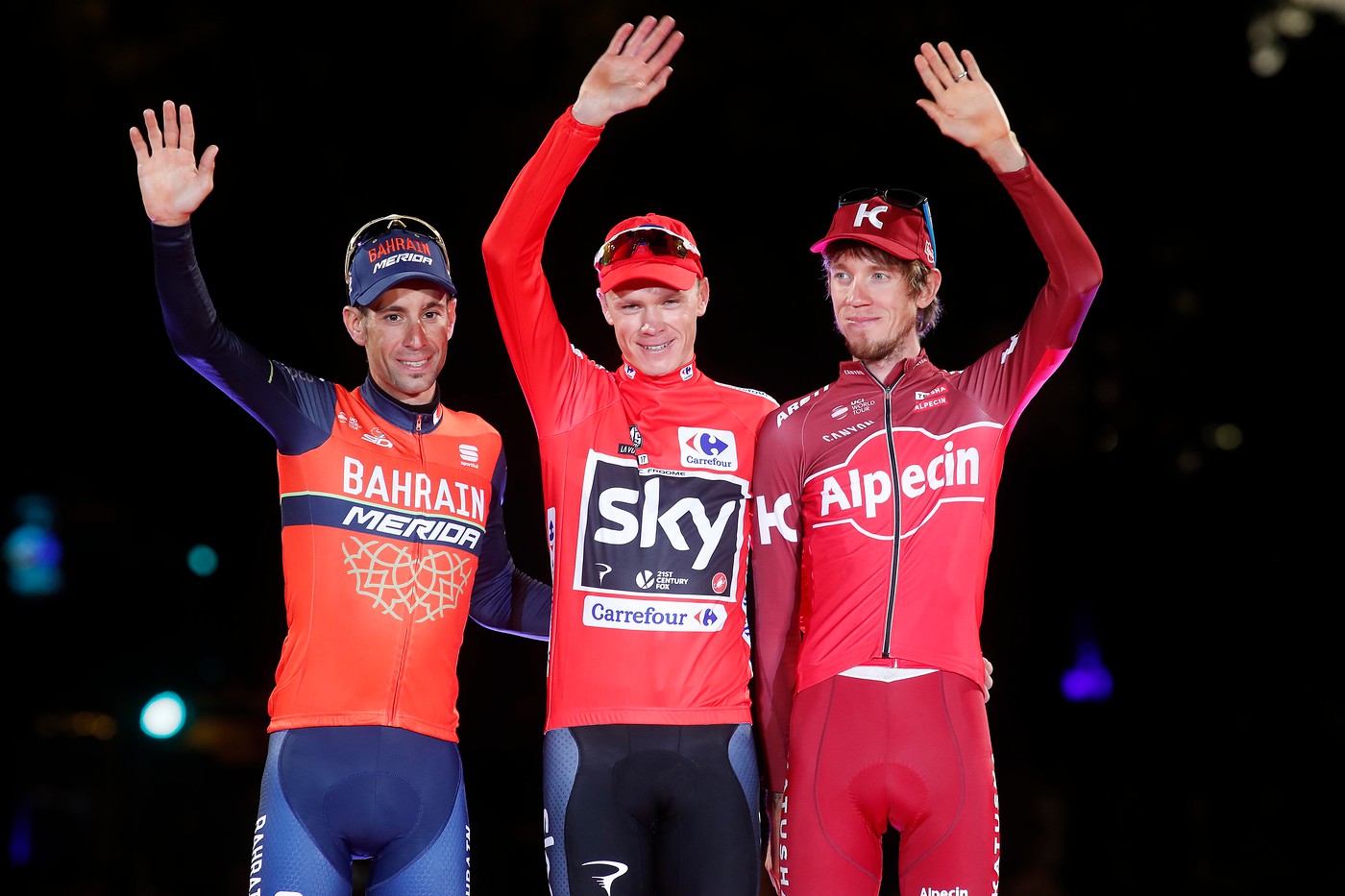 GC Podium - Nibali, Froome, Zakarin © Photo credit : Unipublic/Photogomez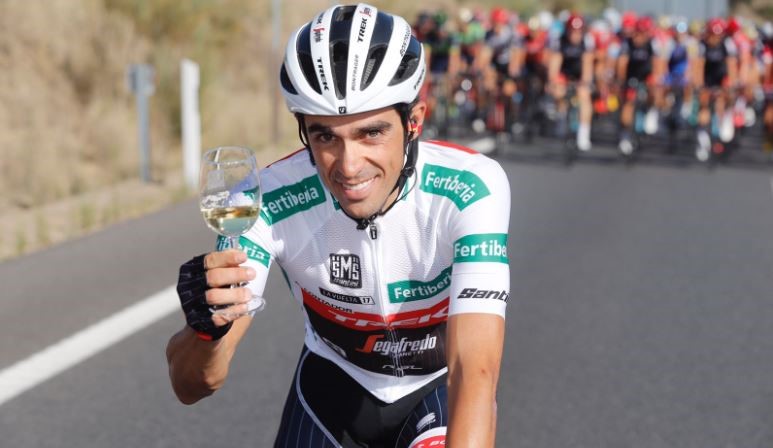 Alberto Contador © Photo credit : Unipublic/Photogomez
In Quotes:
After all but sealing his victory on the climb of L'Angliru on Saturday, Froome said:
"It's an amazing feeling. The team has just been incredible over the last few months. It's meant so much to me, the way they have supported us. I owe a massive thank you to all my teammates.
"I have to say that is probably the toughest Grand Tour I've ever ridden. There was something different happening every day. I've had good days and then I've been lying on the ground, bleeding, thinking my race might be over. It's been a rollercoaster – absolutely relentless. It's a relief now to finish and to be getting to Madrid.
"I think it probably is my greatest achievement, being the first person to win the Tour de France and then go on to win the Vuelta.
Runner-up Vincenzo Nibali (Bahrain-Merida): "It's not easy to bring the victory back home in each Grand Tour. But I think we've worked really well to deliver a great result. Second behind Chris Froome is a big result. He was the man to beat. Chris and his team have done a great job. We've fought till the end. We've looked for the occasions to get the win but it hasn't been simple. Honour to Froome for having won the Tour and La Vuelta.
"With podiums at the Giro and La Vuelta it makes for a positive season because I've always ridden at a high level. It's not easy to make the podium when we have to fight for 21 days. It's an emotion for me as well to see Alberto (Contador) stopping his career today. He's been a very instinctive rider. In races, he made you crazy because he was likely to attack any time. It's hard to find another rider like him in the bunch."
Alberto Contador, who was noticably moved by the raptuous reception in Madrid said, "I don't have words to explain the feeling I had in that moment. To cross the finish alone in front of my home public… Usually I train in the traffic, I don't have the road for me. And there after 15 very very hard years of fighting, today is a special day. It's a dream. I don't know a goodbye better than this. Now is the moment to stop.
"When I started as a professional, I said I wanted to finish at the top level. And I think that now is the perfect moment for this. I can only say: 'thanks, thanks and thanks' (to the public). I gave the maximum, 100% in the race. In the last 15 years, I did everything with my heart. It's important. Cycling is a sport where the most important is the victory but I also think the spectacle is important. I did everything I could during La Vuelta. And I thank Trek-Segafredo for giving me this opportunity to attack when I want."
Stage Summary Video
---
Results - Stage 21
Stages
19/8 Stage 1 (TTT) - Nimes › Nimes (13.7km)
20/8 Stage 2 - Nimes › Gruissan (203.4km)
21/8 Stage 3 - Prades Conflent Canigo › Andorra la Vella (158.5km)
22/8 Stage 4 - Escaldes-Engordany › Tarragona (198.2km)
23/8 Stage 5 - Benicàssim › Alcossebre (157.7km)
24/8 Stage 6 - Vila-Real › Sagunt (204.4km)
25/8 Stage 7 - Llíria › Cuenca (207km)
26/8 Stage 8 - Hellín › Xorret de Catí (199.5km)
27/8 Stage 9 - Orihuela › Cumbre del Sol (174km)
28/8

Rest day

29/8 Stage 10 - Caravaca Jubilar › Elpozo Alimentacion (164.8km)
30/8 Stage 11 - Lorca › Observatorio Astronómico de Calar Alto (187.5km)
31/8 Stage 12 - Motril › Antequera Los Dólmenes (160.1km)
1/9 Stage 13 - Coín › Tomares (198.4km)
2/9 Stage 14 - Écija › Sierra de La Pandera (175km)
3/9 Stage 15 - Alcala La Real › Sierra Nevada. Alto Hoya de la Mora (129km)
4/9

Rest day

5/9 Stage 16 (ITT) - Circuito de Navarra › Logroño (40.2km)
6/9 Stage 17 - Villadiego › Los Machucos. Monumento Vaca Pasiega (180.5km)
7/9 Stage 18 - Suances › Santo Toribio de Liébana (169km)
8/9 Stage 19 - Caso. Parque Natural de Redes › Gijon (149.7km)
9/9 Stage 20 - Corvera de Asturias › Alto de L'Angliru (117.5km)
10/9 Stage 21 - Arroyomolinos › Madrid (117.6km)