August 28, 2017
STAGE 7: Matej Mohoric takes solo victory for debut Grand Tour win. Barguil excluded by own team for disobedience.
Cuenca, Friday, August 25th – Matej Mohoric, a former Junior and U23 World champion, snatched his first Grand Tour victory coming in solo at the end of stage 7 of La Vuelta 2017, on Friday, beating Pawel Poljanski who had to settle for being runner up fro a successive day. Joaquin Rojas was third.
The Slovenian rider attacked from the gun and then dominated his breakaway companions for a brilliant solo win at Cuenca. He's the first rider from his country to win at La Vuelta since Borut Bozic in 2009. The remnants of the breakaway arrived in dribs and drabs over the next 2'40".
The crosswinds and a tricky final didn't prevent Chris Froome (Team Sky) from retaining the red jersey one more day whne the pleoton arrived 8'38" down on Mohoric. Froome has an 11" lead over Esteban Chaves (Orica Scott) with Nicolas Roche (BMC) at 13".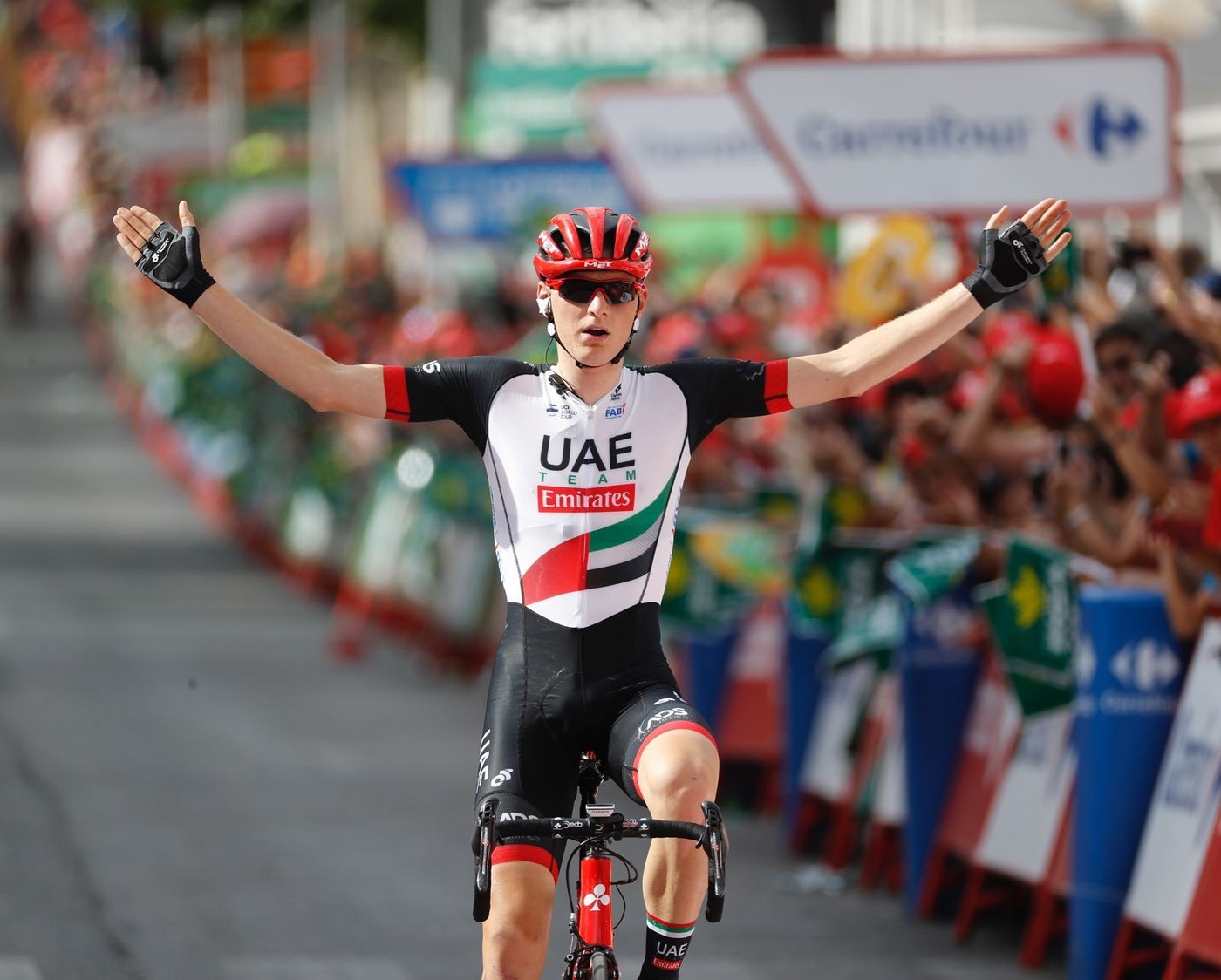 Matej Mohoric © Photo credit : Unipublic/Photogomez
Sunweb exclude Warren Barguil for disobeying orders
In a move that sent shockwaves throigh the pelton Team Sunweb have excluded Warren Barguil from the Vueltta after the French rider disobeyed orders to help team leader Wilco Keldeman. In a statement the team said, "The 25-year-old talented rider, a winner of two stages and the mountains jersey at the Tour de France, openly expressed that he didn't wish to conform to team goals, which left Team Sunweb with no other option than to take this decision,"
Barguil said: "I have to leave the Vuelta by the decision of the team. I feel very well and have good legs. I see myself in different a role and am eager to attack in the mountains, as I did in the Tour. The Vuelta is a great race and it is disappointing to leave but this is a decision from the team that I need to accept."
The decision will have drawn mixed reactions. Barguil finished stage seven one place higher agt 13th than Kelderman and could be perceived as the team shooting itself in the foot but equally the negative effects of an open rebellion could be foar more signifcant over the next two weeks.
Video of final two kilometres
---
Results - Stage 7
Stages
19/8 Stage 1 (TTT) - Nimes › Nimes (13.7km)
20/8 Stage 2 - Nimes › Gruissan (203.4km)
21/8 Stage 3 - Prades Conflent Canigo › Andorra la Vella (158.5km)
22/8 Stage 4 - Escaldes-Engordany › Tarragona (198.2km)
23/8 Stage 5 - Benicàssim › Alcossebre (157.7km)
24/8 Stage 6 - Vila-Real › Sagunt (204.4km)
25/8 Stage 7 - Llíria › Cuenca (207km)
26/8 Stage 8 - Hellín › Xorret de Catí (199.5km)
27/8 Stage 9 - Orihuela › Cumbre del Sol (174km)
28/8

Rest day

29/8 Stage 10 - Caravaca Jubilar › Elpozo Alimentacion (164.8km)
30/8 Stage 11 - Lorca › Observatorio Astronómico de Calar Alto (187.5km)
31/8 Stage 12 - Motril › Antequera Los Dólmenes (160.1km)
1/9 Stage 13 - Coín › Tomares (198.4km)
2/9 Stage 14 - Écija › Sierra de La Pandera (175km)
3/9 Stage 15 - Alcala La Real › Sierra Nevada. Alto Hoya de la Mora (129km)
4/9

Rest day

5/9 Stage 16 (ITT) - Circuito de Navarra › Logroño (40.2km)
6/9 Stage 17 - Villadiego › Los Machucos. Monumento Vaca Pasiega (180.5km)
7/9 Stage 18 - Suances › Santo Toribio de Liébana (169km)
8/9 Stage 19 - Caso. Parque Natural de Redes › Gijon (149.7km)
9/9 Stage 20 - Corvera de Asturias › Alto de L'Angliru (117.5km)
10/9 Stage 21 - Arroyomolinos › Madrid (117.6km)