June 1, 2017
JLT Condor and Drops cycling have been crowned champions of the Tour Series 2017
Compiled using material supplied by Tour Series
JLT Condor and Drops were the winners as the 2017 Tour Series reached a conclusion in Stevenage, rounding out a packed Bank Holiday Monday in the Hertfordshire town that had seen cycling activities taking place around the Old Town circuit for almost 12-hours.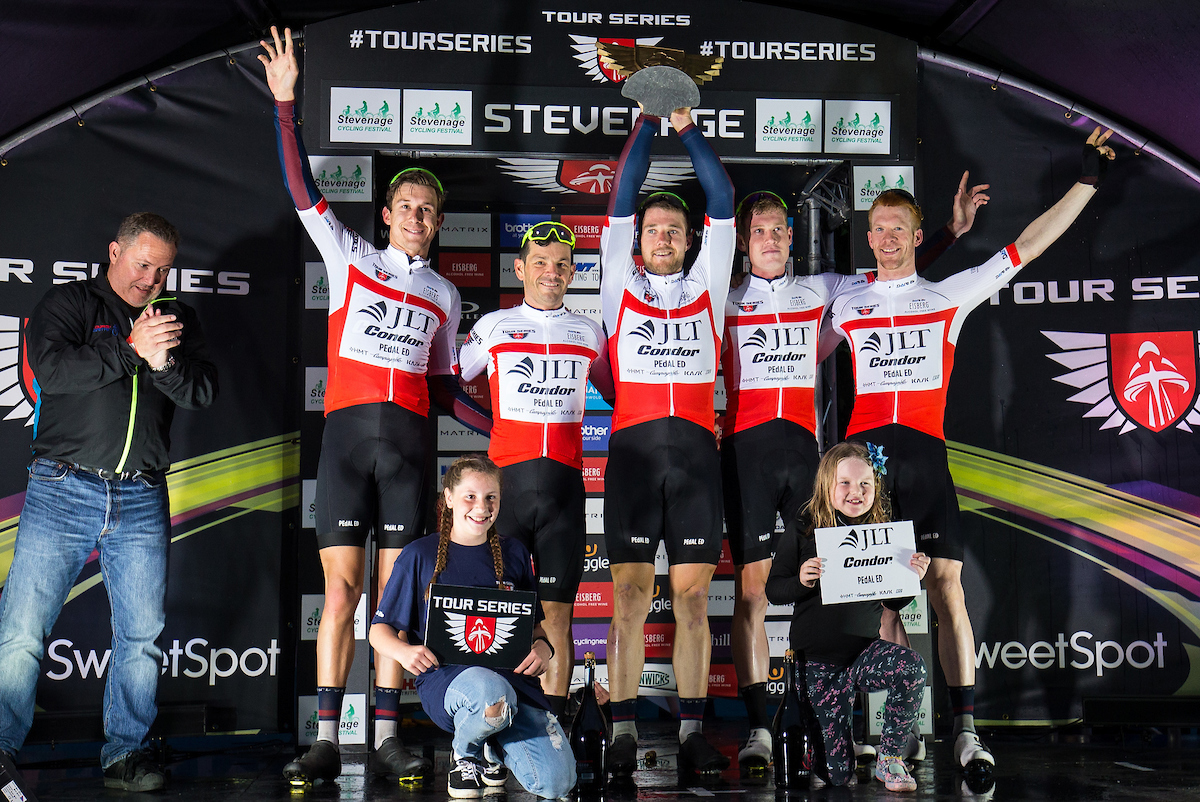 JLT Condor celebrate win © Alex Whitehead swpix.com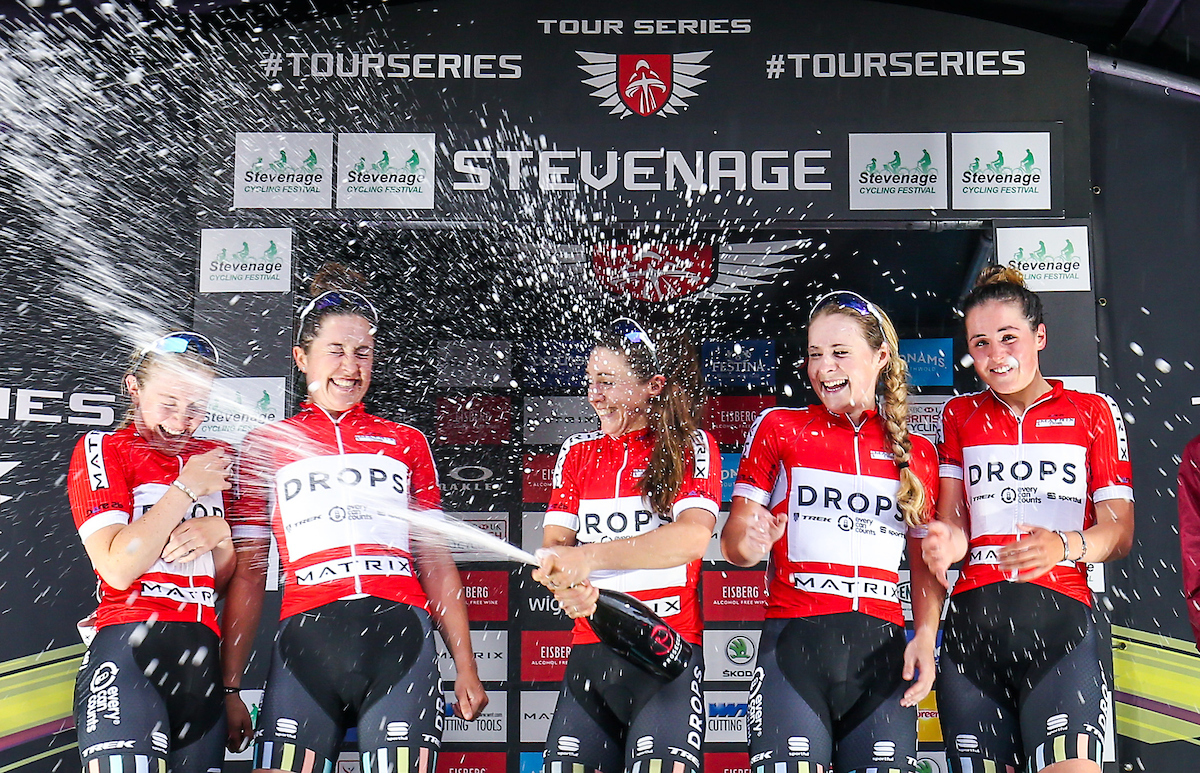 Drops celebrate victory © Alex Whitehead/SWpix.com
Tour Series
 
Connor Swift of Madison Genesis repeated his solo win from Bath in the final round of races the men's race, snatching an advantage with a handful of laps remaining to cross the line along and help his squad to the team victory on the night.  That trimmed JLT Condor's final advantage to just two-points, but more than enough to secure the team their fourth Tour Series title, and make them the first team to defend their title since the inception of the Series in 2009.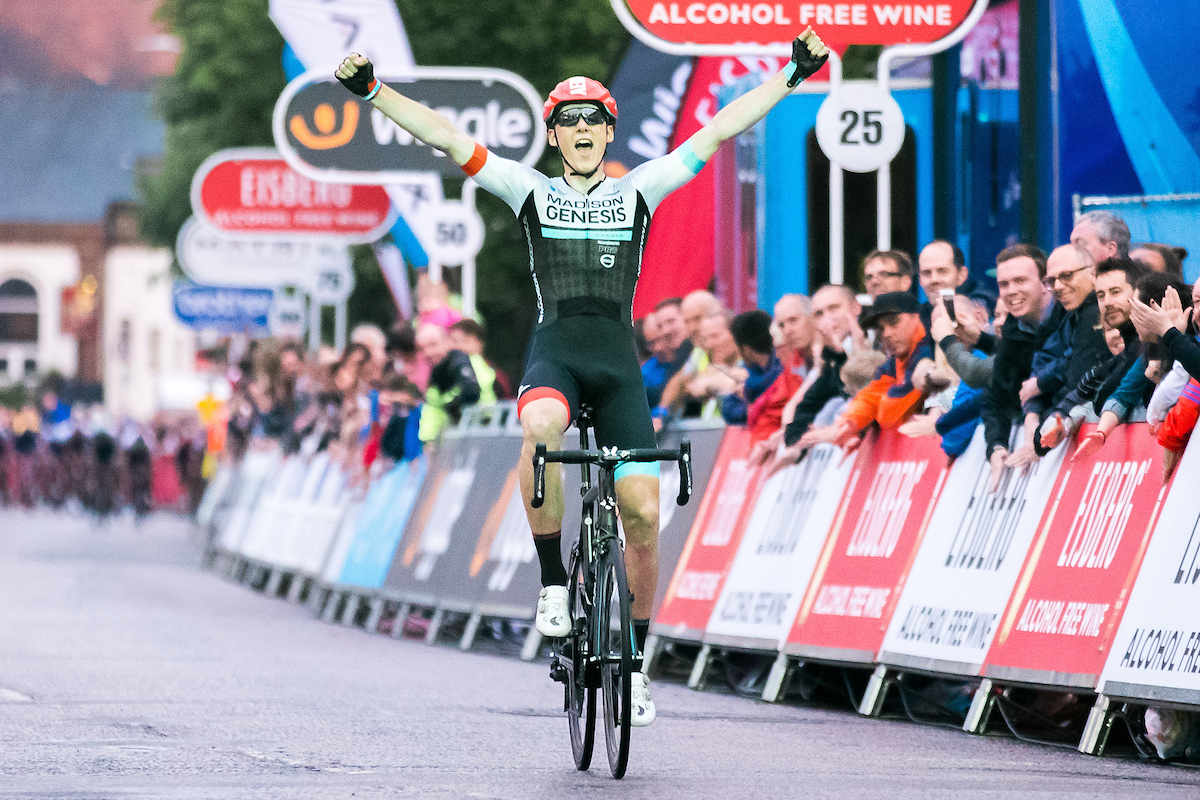 Connor Swfit solos to a second win © Alex Whitehead/SWpix.com
"It's been a tough three weeks and really tough week this week but I've managed to get an individual win and we've taken many team wins and that's the most important thing in this Series so we're really happy. We've gelled well as a team and bringing the new members in who've done really well, it's been great," said Graham Briggs afterwards, who has been a member of the team for all four victories.
 
Australian Brenton Jones was new to JLT Condor in 2017, winning two rounds (Stoke-on-Trent and Motherwell) and riding in all ten events.
 
"It's been fantastic! I heard a lot about The Tour Series coming into the team and to have finished the Series as overall winners and take a couple of round wins as well was a bonus! I've had an amazing time here and I'd definitely recommend the racing to many Australians back home and I'd love to come back and do it in the future."
 
Sebastian Mora of Team Raleigh GAC confirmed his grip on the Wiggle Points Jersey, taking the competition that he has led since Round One in Redditch, while Spirit Tifosi Racing won the final round guest team competition, against the winning teams from the South, North and Midlands areas.
Matrix Fitness Grand Prix Series
 
In the women's Matrix Fitness Grand Prix Series, it was an emotional afternoon with Drops taking their first title, having gone so close to victory a year previously.
 
Rebecca Durrell led the team to the title, winning the Stevenage race, her first ever round win, to confirm both the team and individual titles.
 
"Last year didn't finish as we'd hoped as we missed out on the team win in just the last few hundred yards," said Durrell talking afterwards.  "We did talk about that at bit in preparing for this race and we were all very honest in recognising mistakes we made and that perhaps last year we went into the race a bit too confident and so perhaps took some unnecessarily risks.  So this year we thought we'd ease it back a little bit, play a bit of a safe game but still be up there at the front of the race, getting in the mix of things.  But, it worked!"
 
Drops had led the Series since Round One at Redditch, with Durrell and teammate Annasley Park riding all eight events, and taking one and two in the individual standings, ahead of Team Breeze rider Manon Lloyd.
 
"I'm just so chuffed with our result tonight," said Team Manager Tom Varney afterwards.  "We said at the start of this year's Matrix Series that we were determined to win and that's exactly what we've done.  Becky really deserved her win tonight, she's worked so, so hard over the winter.  She's had highs and lows and tonight is certainly a high for Becky and a high for the team".
 
Also celebrating was Ejay Harris of Storey Racing who added the Eisberg Sprints jersey to her earlier race win in Croydon. Storey Racing took fourth in the standings, behind Drops, Team Breeze and Team WNT, who took the top three spots.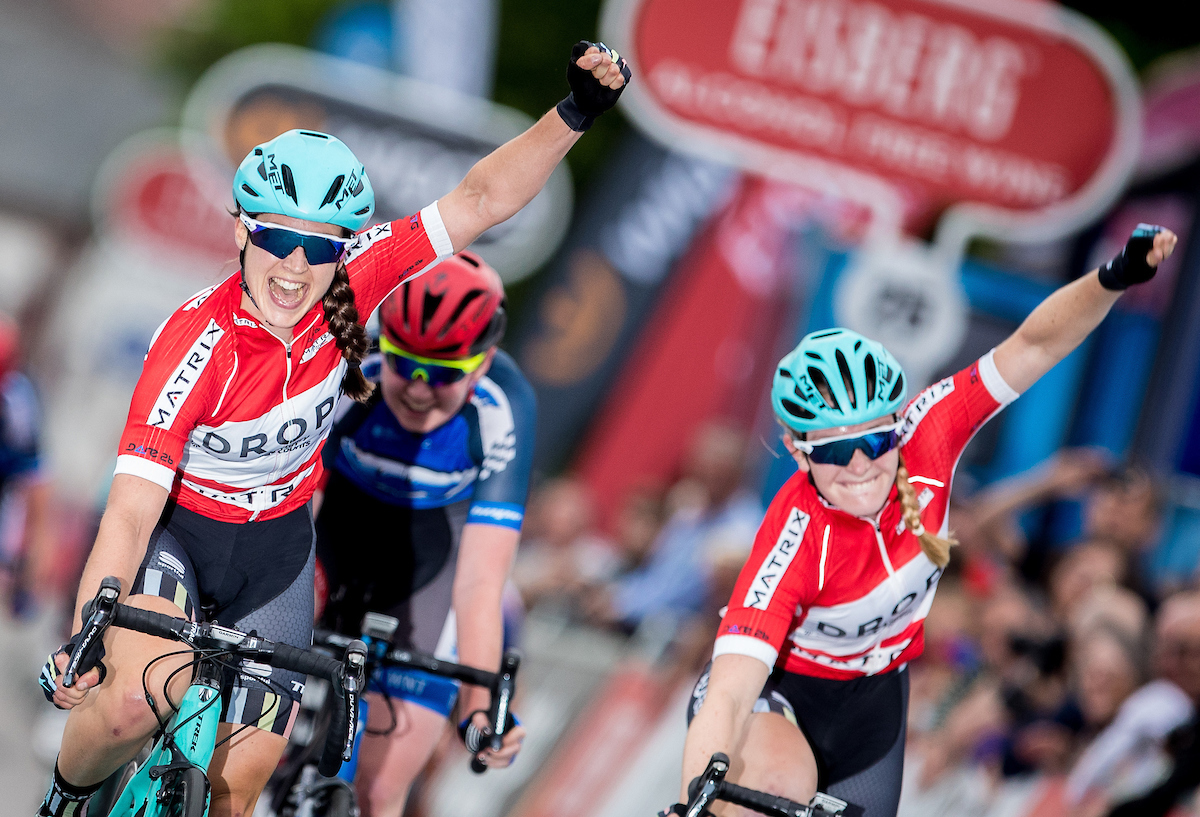 Drops' Rebecca Durrell (L) celebrates winning with team-mate Lucy Shaw (R) © Alex Whitehead/SWpix.com
Individual Race Result
1, Connor Swift, GBR, Madison Genesis, 50-laps, 1:05:30.801
2, Steele Von Hoff, GBR, ONE Pro Cycling, + 9.0893,
Graham Briggs, GBR, JLT Condor, + 9.379
4, Brenton Jones, AUS, JLT Condor, + 11.093
5, Enrique Sanz, ESP, Team Raleigh GAC, + 11.180
6, Marcus Burnett, GBR, Spirit Racing Tifosi, + 11.529
7, Tobyn Horton, GBR, Madison Genesis, + 11.530
8, Bertie Newey, GBR, Metaltek Kuota, + 12.267
9, James Lowsley-Williams, GBR, BIKE Channel Canyon, + 12.401
10, Alex Paton, GBR, Madison Genesis, + 12.454
Brother Fastest Lap
Connor Swift, GBR, Madison Genesis, 1:11.974

Team Standings, post-Round ten
1, JLT Condor, 101pts
2, Madison Genesis, 99pts
3, BIKE Channel Canyon, 83pts
4, ONE Pro Cycling, 82pts
5, Team Raleigh GAC, 72pts
6, Metaltek Kuota, 55pts
7, Morvelo Basso, 47pts
Wiggle Points Standings, post-Round Ten
1, Sebastian Mora, ESP, Team Raleigh GAC, 84pts
2, James Lowsley-Williams, GBR, BIKE Channel Canyon, 54pts
3, Brenton Jones, AUS, JLT Condor, 50pts
---
2017 Matrix Fitness Grand Prix Series
Individual Race Result
1, Rebecca Durrell, GBR, Drops, 32-laps, 44:44.323
2, Lucy Shaw, GBR, Drops, + 0.088
3, Katie Archibald, GBR, Team WNT, + 0.195
4, Elinor Barker, GBR, Team Breeze, + 0.460
5, Charlotte Broughton, GBR, Team Ford EcoBoost, + 0.574
6, Ellie Dickinson, GBR, Team Breeze, + 0.715
7, Gaby Shaw, GBR, Team WNT, + 1.373
8, Anna Henderson, GBR, Team On Form, + 1.544
9, Ejay Harris, GBR, Storey Racing, + 1.644
10, Amy Hill, GBR, Team On Form, + 1.591

Brother Fastest Lap
Rebecca Durrell, 1:15.238

Final Team Standings, post-Round Eight
1, Drops, 719pts
2, Team Breeze, 666pts
3, Team WNT, 659pts
4, Storey Racing, 494pts
5, Team On Form, 439pts

Final Individual Standings, post-Round Eight
1, Rebecca Durrell, GBR, Drops, 254pts
2, Annasley Park, GBR, Drops, 205pts
3, Manon Lloyd, GBR, Team Breeze, 199pts

Final Eisberg Sprints Standings, post-Round Eight
1, Elizabeth Jane Harris, GBR, Storey Racing, 41pts
2, Rebecca Durrell, GBR, Drops, 22pts
3, Ellie Dickinson, GBR, Team Breeze, 21pts

Race Series
| | | |
| --- | --- | --- |
| Round One | Tuesday 9 May | Redditch* |
| Round Two | Thursday 11 May | Stoke-on-Trent* |
| Round Three | Friday 12 May | Northwich* |
| Round Four | Tuesday 16 May | Wembley* |
| Round Five | Thursday 18 May | Croydon* |
| Round Six | Saturday 20 May | Bath* |
| Round Seven | Tuesday 23 May | Motherwell* |
| Round Eight | Thursday 25 May | Aberdeen |
| Round Nine | Saturday 27 May | Durham |
| Round Ten | Monday 29 May | Stevenage* |