May 29, 2017
Dumoulin strikes back to take final Maglia Rosa and Giro crown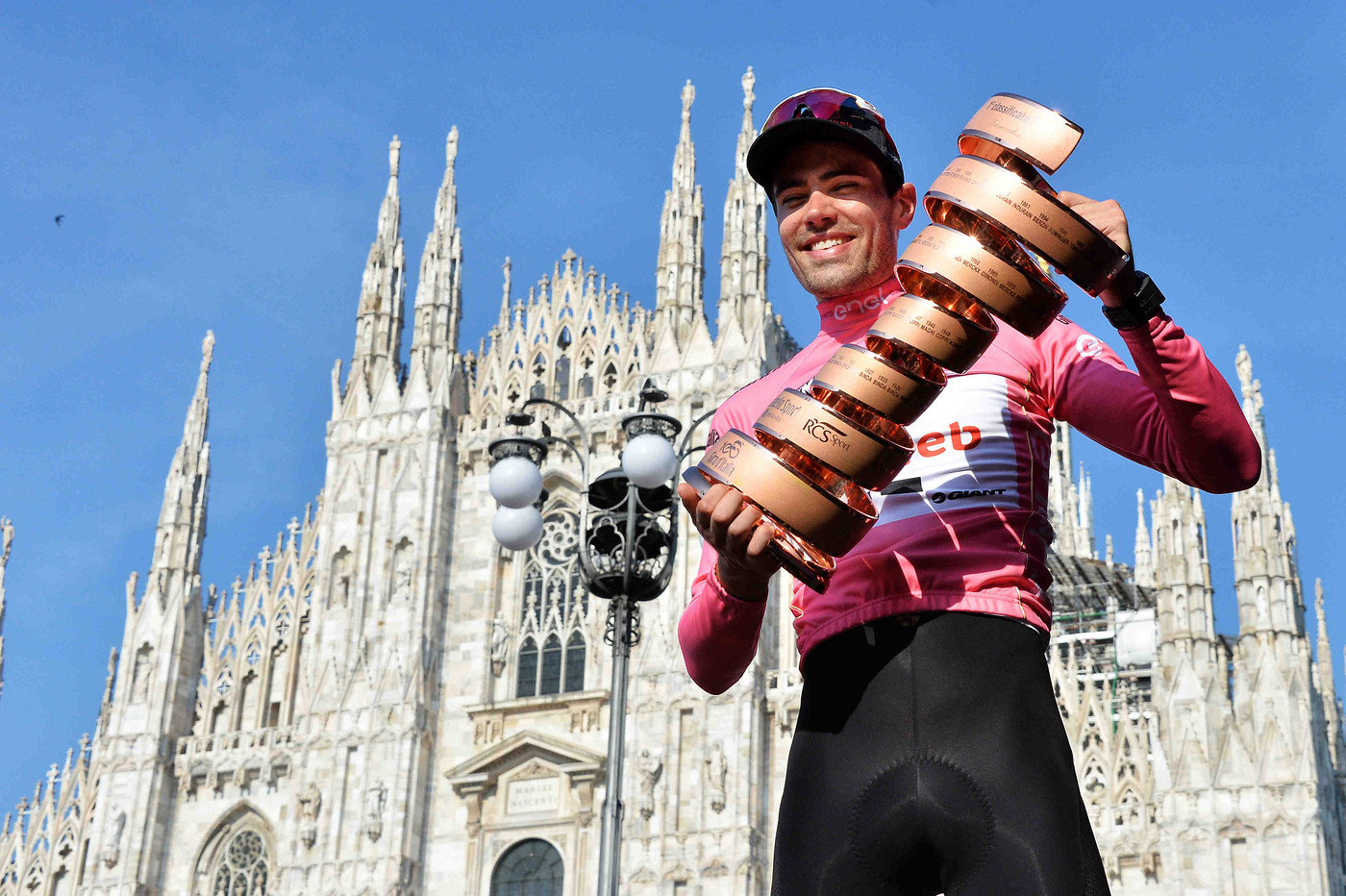 Maglia Rosa Tom Dumoulin © Photo LaPresse - Gian Mattia D'Alberto
it took until Niaro Quintana (Movistar) to be within 500m of the line in Milan for Tom Dumoulin (Sunweb) to know he had secured one of the most dramatic comebacks in Grand Tour history. The Dutchman had started the day in fourth spot on GC, 53" adrift of Quintana and with ace time trialist Vicenzo Nibali in a strong position in second spot, just 39" back.
Dumoulin had the disadvantage of starting ahead of his rivals and specifically asked his Directeur Sportif to refrain from time checks. Riding blind he set consistently faster times which no one but eventual stage winner and fellow Dutchman Jos van Emden (Team LottoNL-Jumbo) who set off 42nd from last.
Flying Dutchmen
Emden could only sit and watch with his heart pounding as rider after rider fell away. While Dumoulin came closest nobody seriously challenged the 32 year old who still finished with a 15" advantage over a flying Dumoulin, with Manuel Quinziato (BMC) third.
In the final reckoning, Quintana who seemed to be out of sorts preserved enough time to salvage a second spot with a 27th place at 1'39". Vicenzo Nibali ( 13th at 1'09") taking up third. Thibaut Pinot arguably suffered most seeing his third spot disappear with a ride that saw him arrive 28th 1'42" down.
TT Result
1 - Jos van Emden (Team Lotto NL - Jumbo) - 29.3km†in 33í08Ē,†average speed 53.058km/h
2 -†Tom Dumoulin (Team Sunweb)†at 15"
3 -†Manuel Quinziato (BMC Racing Team) at 27"
GENERAL CLASSIFICATION
1 - Tom Dumoulin (Team Sunweb)
2 - Nairo Quintana (Movistar Team) at 31"
3 -†Vincenzo Nibali (Bahrain - Merida) at 40"
4 -†Thibaut Pinot (FDJ) at 1'17"
5 -†Ilnur Zakarin (Team Katusha Alpecin) at 1'56"

In Quotes
The Maglia Rosa, winner of the 100th Giro d'Italia, Tom Dumoulin†said:
ďWhen I crossed the finish line, everyone congratulated me. I was celebrating my victory but in the tent, I saw there were only three seconds difference between Nairo Quintana and myself. I became angry with everyone who congratulated me. I was super nervous. Iíve had the most nervous moments of my whole life.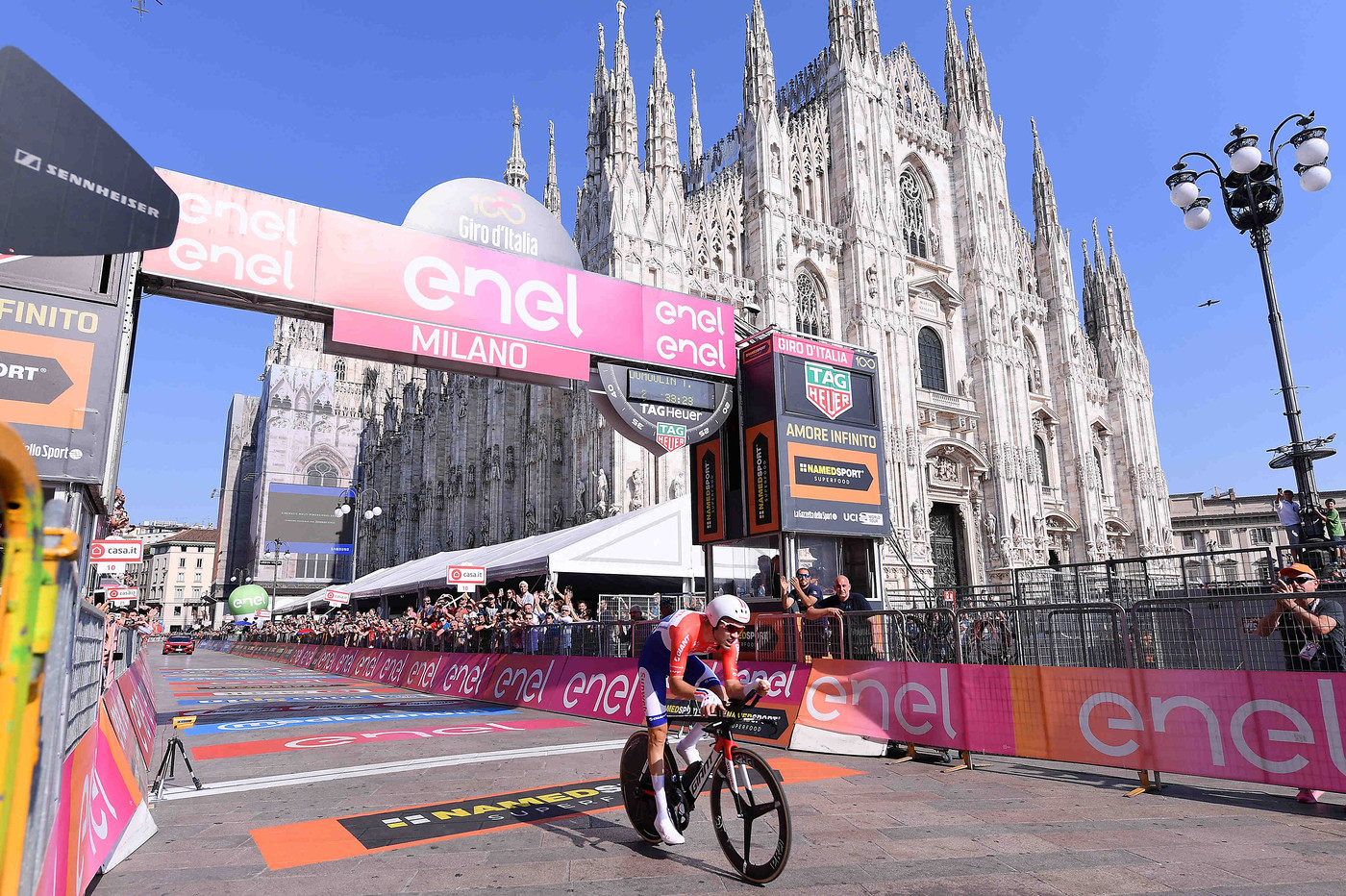 Maglia Rosa Tom Dumoulin finishes ITT © Photo LaPresse - Gian Mattia D'Alberto
ďYouíre never sure of winning, you always doubt. I think everybody does. I wasnít really nervous at breakfast. I was happy with my night before this time trial considering the stress. The recce was good, I had a mattress to relax on at the back of the bus. At lunch I was nervous, my metabolism was really high in the bus. But I could always stay focused. Iíve done a lot of TTs under pressure before. That experience paid a lot today.
ďIím not the first TT rider who can do well in the mountains. Miguel Indurain is five steps ahead of me. There are guys like Bradley Wiggins, but I donít want to compare myself to anyone. Itís just an amazing day. Iím really happy. I was never a bad climber. I always had that in me. I never trained in the hills really when I was young. There are no long climbs around Maastricht. But now I do more training camps in the mountains, in Tenerife and Sierra Nevada. Iíve also made a switch mentally. I suffer more now. I didnít lose much weight, Iím maybe two kilos lighter than I was three†years ago.
ďThe hardest stage of the Giro was three days ago when they attacked me in downhill. After the intestinal troubles I had, I knew I would have some food problems. The good thing is that on a bad day like that I lost only one minute. I had the experience of losing much more at the Vuelta. I stayed calm and I limited the losses this time.
" Everything was very quick after the finish so I canít realize whatís happening in the Netherlands now, but I will always stay the same person. Maybe people will approach me differently, but I really hope I can walk around in Maastricht without being treated like a superhero. I can ride my bike fast but I also want to keep having a normal life. Itís amazing when you see all the names on the [endless] trophy. Itís an honor to be part of this long list of champions. I donít feel myself like a champion, but I almost feel like it when I see my name on the trophy. Itís very special. Jan Janssen was the first Dutchman to win the Tour and the Vuelta, Iím the first Dutchman to win the Giro. I hope for more in the future but for now Iím just happy to be here. The Giro victory is not going to change my whole life. I hope to stay the same person with the same character. I won a very special race.
ďI didnít really have childhood heroes. I was around 15 years old when I started to ride and follow cycling. Michael Boogerd was big in the Netherlands at that time, so when I went watching our home race, the Amstel Gold Race with parents, we were cheering for guys like Boogerd.Ē
Today's stage winner Jos van Emden said:
ďAn overall win is much bigger but for me itís great to win this stage at the Giro. Last year I was riding for the Maglia Rosa in the Netherlands and I had some bad luck but if I didnít crash, I would have been on 4th or 5th place. This time I had more power in the legs. Itís the biggest achievement in my career. Itís a big day for Dutch cycling. Itís the first time in history that a Dutchman has won†the Giro. Iím happy to be part of this special day. I love Italy, I love the Giro, Iíve done six of them, Iíve even had the Maglia Nera but Iím not a specialist†in being last in the Giro! Iíve also come 5th here in a time trial.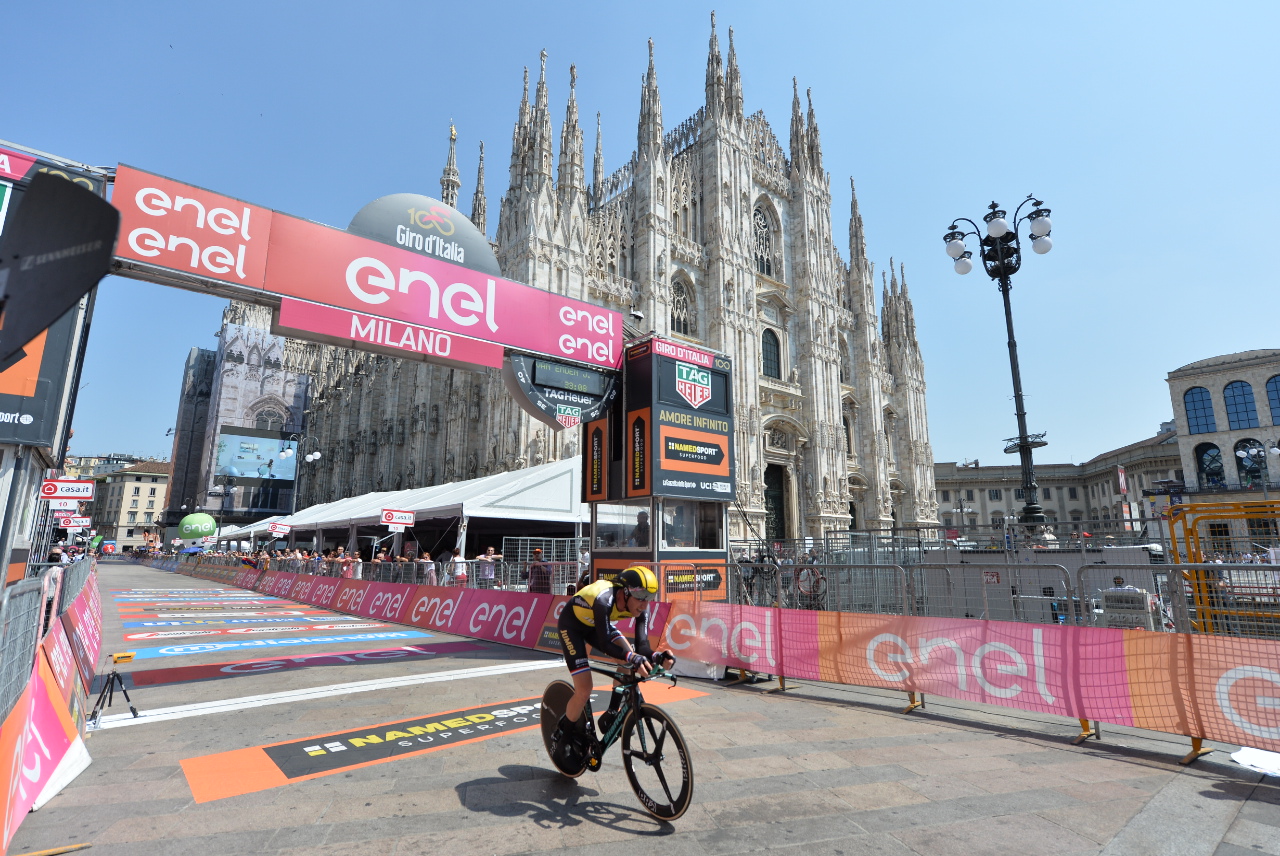 Stage winner Jos van Emdenn © Photo LaPresse - Gian Mattia D'Alberto
ďI had in my mind a list of about five guys who could win this time trial today. Three of them were starting around me and they were slower. I thought maybe Bob Jungels could beat me but the main competitor was Tom [Dumoulin]. By now Iím experienced in waiting on the hot seat. My blood was cooking today. The disappointment of losing a time trial at the very end of the race is big but the joy of winning it is even bigger.
ďI think Iíve known Tom for six years. We live 10km from each other, I live in Veldwezelt, Belgium, just across the border. Thereís no competition between us. Six weeks ago, I became a father. Iíve seen my son Bram only two weeks before coming to the Giro but I found a small Maglia Rosa that I sent home. Last night I sent picture of my son dressed in pink to Tom, saying Ďmy home is also cheering for youí. He gets thousands of messages but he replied to me straight away, saying ĎI hope to be with you on the podium tomorrowí. I appreciated that he kept in mind my little piece of the cake. He made big steps as a climber. Itís a real big achievement, from TT specialist to Grand Tour winner. The work heís done is awesome.Ē
Video Highlights (Italian Commentary)
JERSEYS
Maglia Rosa†(pink), general classification leader, sponsored by Enel - Tom Dumoulin (Team Sunweb)

Maglia Ciclamino†(cyclamen), sprinter classification leader, sponsored by Segafredo - Fernando Gaviria (Quick-Step Floors)

Maglia Azzurra†(blue), King of the Mountains classification leader, sponsored by Banca Mediolanum - Mikel Landa Meana (Team Sky)

Maglia Bianca†(white), young rider general classification leader, sponsored by Eurospin - Bob Jungels (Quick-Step Floors)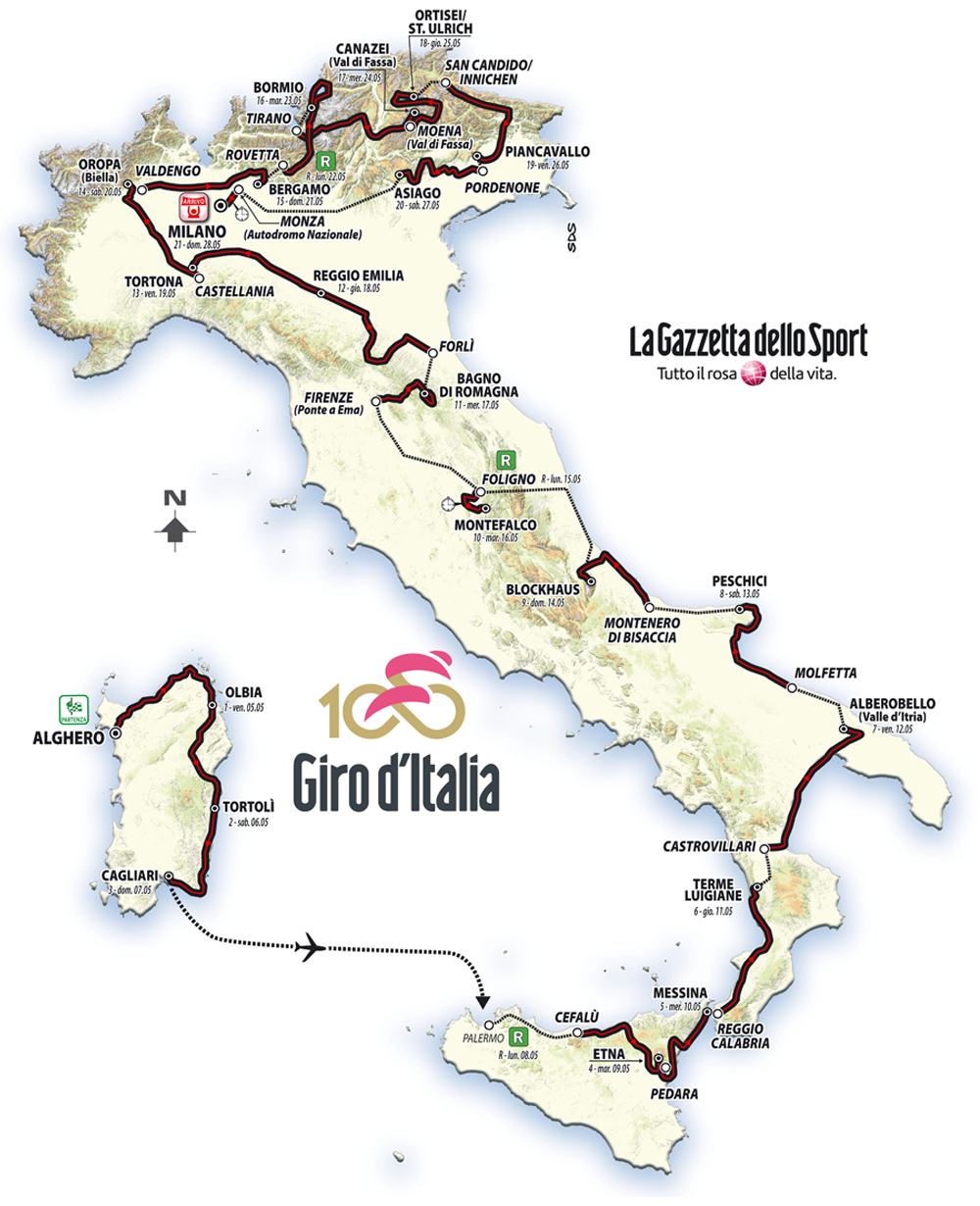 Stage 21 Results and Final GC