May 10, 2017
Graham Briggs helps JLT Condor edge further ahead with Round Five victory in Croydon
Compiled using material supplied by Tour Series
Hardy fans braving the rain in Croydon witnessed another hard fought contest for Tour Series supremacy, with Graham Briggs ensuring an outcome in favour of the JLT Condor, ONE Pro Cycling's George Harper second and Madison Genesis' Tobyn Horton third The fast man notched up his sixth win to put him third in the all-time list behind teammates Jon Mould and Ed Clancy.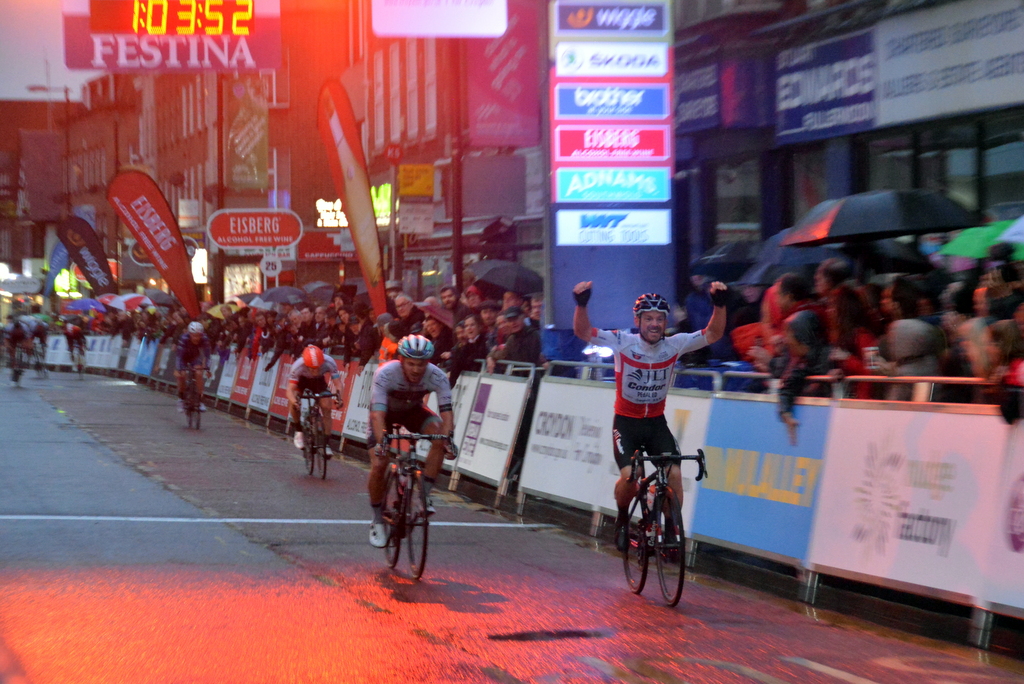 Graham Briggs wins Round 5 © Mark Sharon DP
The team win, ahead of Madison Genesis edges JLT Condor's lead to two-points at the halfway stage, with Round Six at Bath coming next on Saturday 20 May.
Matrix Fitness Grand Prix Series
In the women's Matrix Fitness Grand Prix Series Drops remain top at the standings, and have now increased their lead over Team Breeze thanks to another strong rider with Annalsey Park, Rebecca Durrell and Alice Barnes.
 
On the night though it was Storey Racing claiming the individual glory, their first of 2017, with Elizabeth Jane Harris leading teammate Neah Evans to a one-two, in a race again run off in wet conditions.
 
Rory Townsend and Harris were the Brother Fastest Lap winners, while the Wiggle Points and Eisberg Sprints jerseys remain on the shoulders of Sebastian Mora (Team Raleigh GAC) and Ellie Dickinson (Team Breeze) respectively.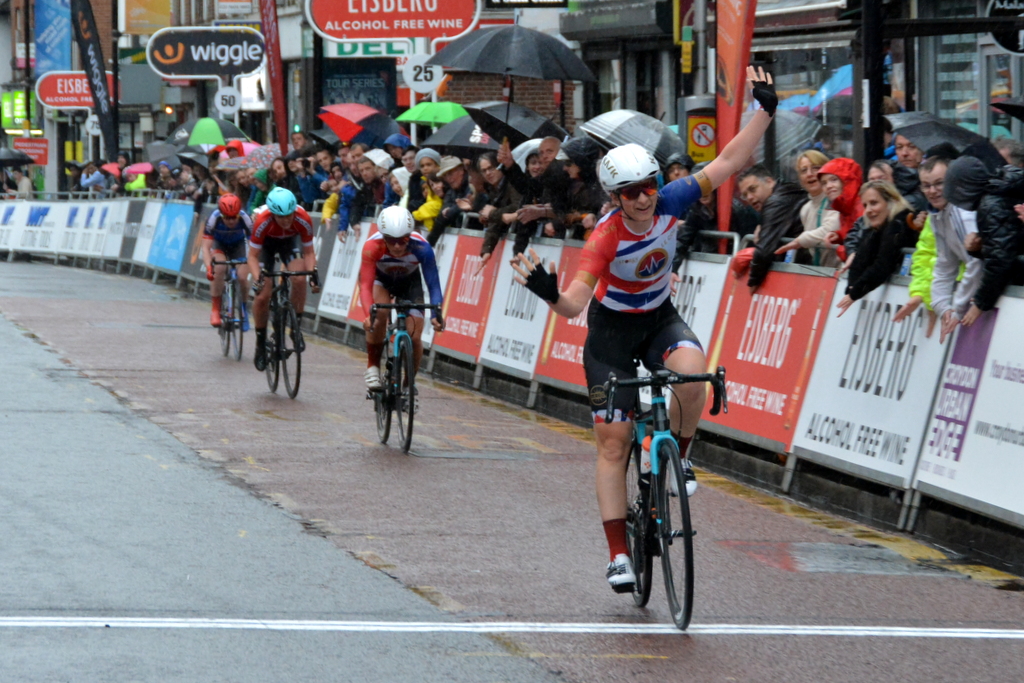 Elizabeth Jane Harris © Mark Sharon DP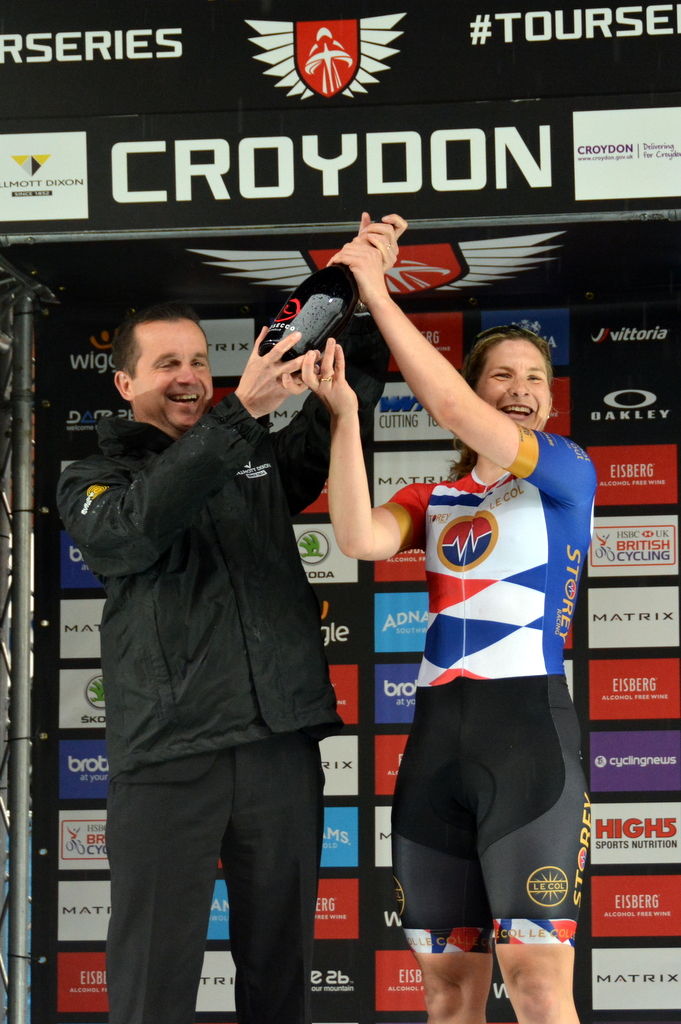 Elizabeth Jane Harris © Mark Sharon DP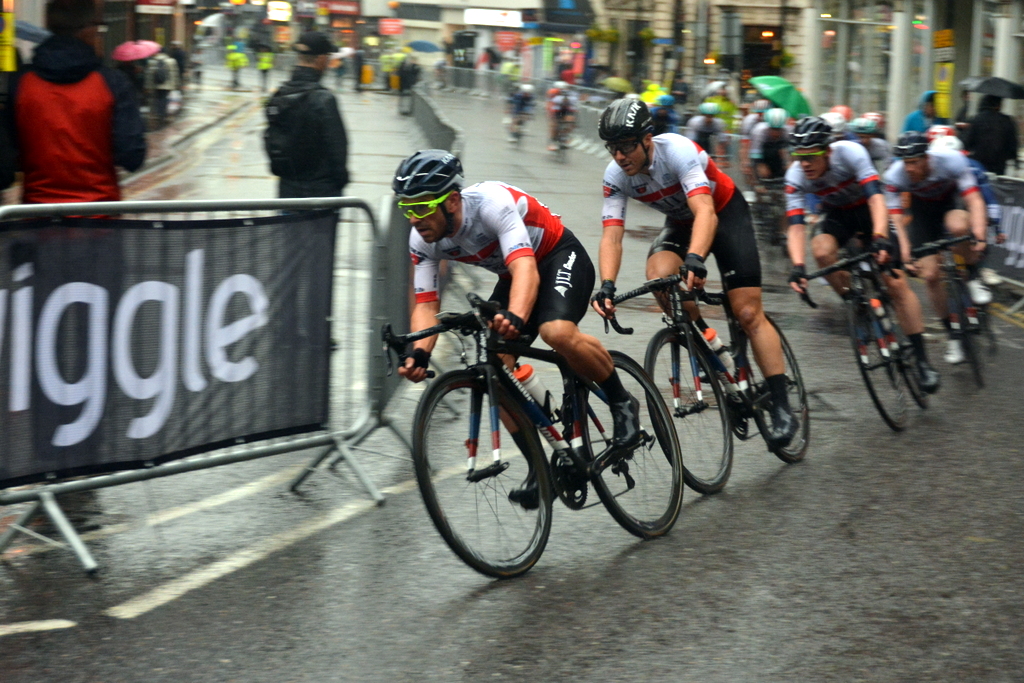 Tour Series in wet conditions © Mark Sharon DP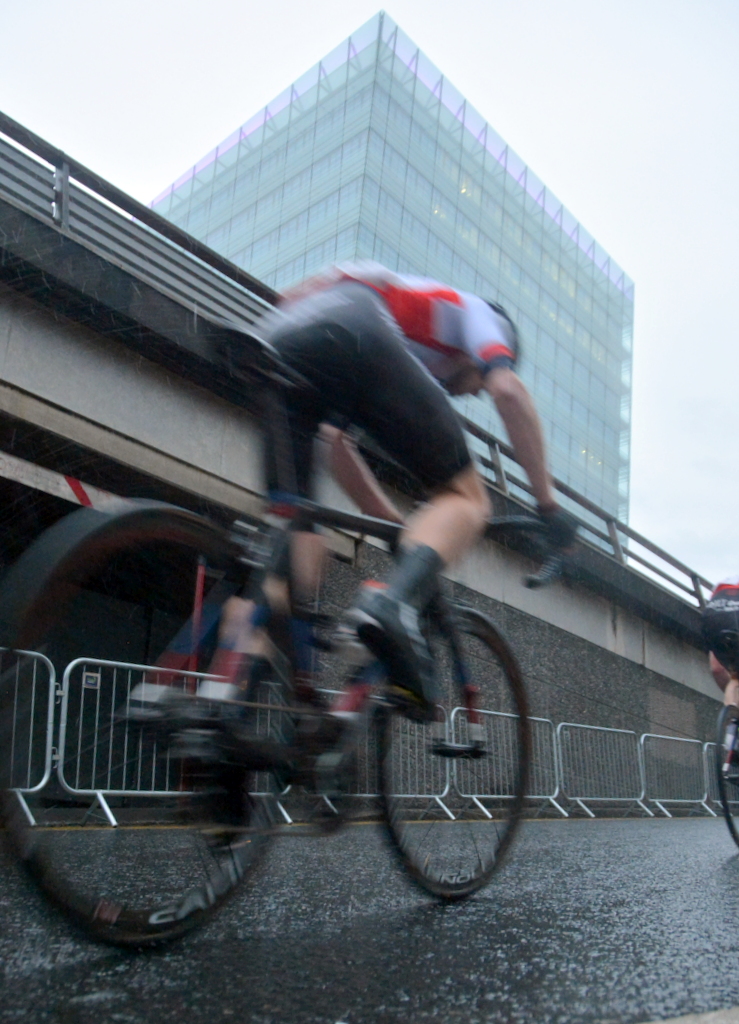 Action in Croydon © Mark Sharon DP

Individual Race Result
1, Graham Briggs, GBR, JLT Condor, 33-laps, 1:03.528
2, George Harper, GBR, ONE Pro Cycling, + 0.120
3, Tobyn Horton, GBR, Madison Genesis, + 1.094
4, Rory Townsend, GBR, BIKE Channel Canyon, + 2.166
5, Brenton Jones, GBR, JLT Condor, + 3.497
6, Alex Paton, GBR, Madison Genesis, + 4.669
7, Enrique Sanz, ESP, Team Raleigh GAC, + 4.697
8, Will Harper, GBR, ONE Pro Cycling, + 4.988
9, Tom Stewart, GBR, ONE Pro Cycling, + 5.020
10, James Lowsley-Williams, GBR, BIKE Channel Canyon, + 5.854

Brother Fastest Lap
Rory Townsend, GBR, BIKE Channel Canyon, 1:47.735

Team Standings, post-Round Five
1, JLT Condor, 56pts
2, Madison Genesis, 54pts
3, BIKE Channel Canyon, 43pts
4, ONE Pro Cycling, 43pts
5, Team Raleigh GAC, 42pts
6, Metaltek Kuota, 32pts
7, Morvelo Basso, 24pts

Wiggle Points Standings, post-Round Five
1, Sebastian Mora, ESP, Team Raleigh GAC, 56pts
2, Brenton Jones, GBR, JLT Condor, 26pts
3, Rory Townsend, GBR, BIKE Channel Canyon, 21pts

Guest Team South Standings
1, Richardsons Trek, 10pts
2, Spirit Racing Tifosi, 7pts
3, Catford CC Equipe/Banks, 7pts
4, Nuun - Sigma Sport - London, 4pts

---
2017 Matrix Fitness Grand Prix Series
Individual Race Result
1, Elizabeth Jane Harris, GBR, Storey Racing, 19-laps, 42:54.186
2, Neah Evans, GBR, Storey Racing, + 0:810
3, Annasley Park, GBR, Drops, + 1.271
4, Lydia Boylan, IRL, Team WNT, + 1.797
5, Rebecca Durrell, GBR, Drops, + 1:12.327
6, Charlotte Broughton, GBR, Team Ford EcoBoost, + 1:12.673
7, Alice Barnes, GBR, Drops, + 1:13.736
8, Anna Henderson, GBR, Team OnForm, + 1:14.095
9, Ellie Dickinson, GBR, Team Breeze, + 1:14.941
10, Manon Lloyd, GBR, Team Breeze, + 1:15.561

Brother Fastest Lap
Elizabeth Jane Harris, GBR, Storey Racing, 2:01.983

Team Standings, post-Round Five
1, Drops, 469pts
2, Team Breeze, 442pts
3, Team WNT, 409pts
4, Storey Racing, 294pts
5, Team OnForm, 242pts

Individual Standings, post-Round Five
1, Rebecca Durrell, GBR, Drops, 159pts
2, Emily Nelson, GBR, Team Breeze, 148pts
3, Lydia Boylan, IRL, Team WNT, 147pts

Eisberg Sprints Standings, post-Round Five
1, Ellie Dickinson, GBR, Team Breeze, 18pts
2, Elizabeth Jane Harris, GBR, Storey Racing, 17pts
3, Rebecca Durrell, GBR, Drops, 16pts

Race Series
| | | |
| --- | --- | --- |
| Round One | Tuesday 9 May | Redditch* |
| Round Two | Thursday 11 May | Stoke-on-Trent* |
| Round Three | Friday 12 May | Northwich* |
| Round Four | Tuesday 16 May | Wembley* |
| Round Five | Thursday 18 May | Croydon* |
| Round Six | Saturday 20 May | Bath* |
| Round Seven | Tuesday 23 May | Motherwell* |
| Round Eight | Thursday 25 May | Aberdeen |
| Round Nine | Saturday 27 May | Durham |
| Round Ten | Monday 29 May | Stevenage* |