May 10, 2017
JLT Condor move back into Tour Series lead after Wembley Park race
Compiled using material supplied by Tour Series
JLT Condor moved back into the lead of The Tour Series with a convincing victory at the Wembley Park presented by Jurys Inn round, although they were denied the individual win on the night as ONE Pro Cycling's Steele Von Hoff powered to victory.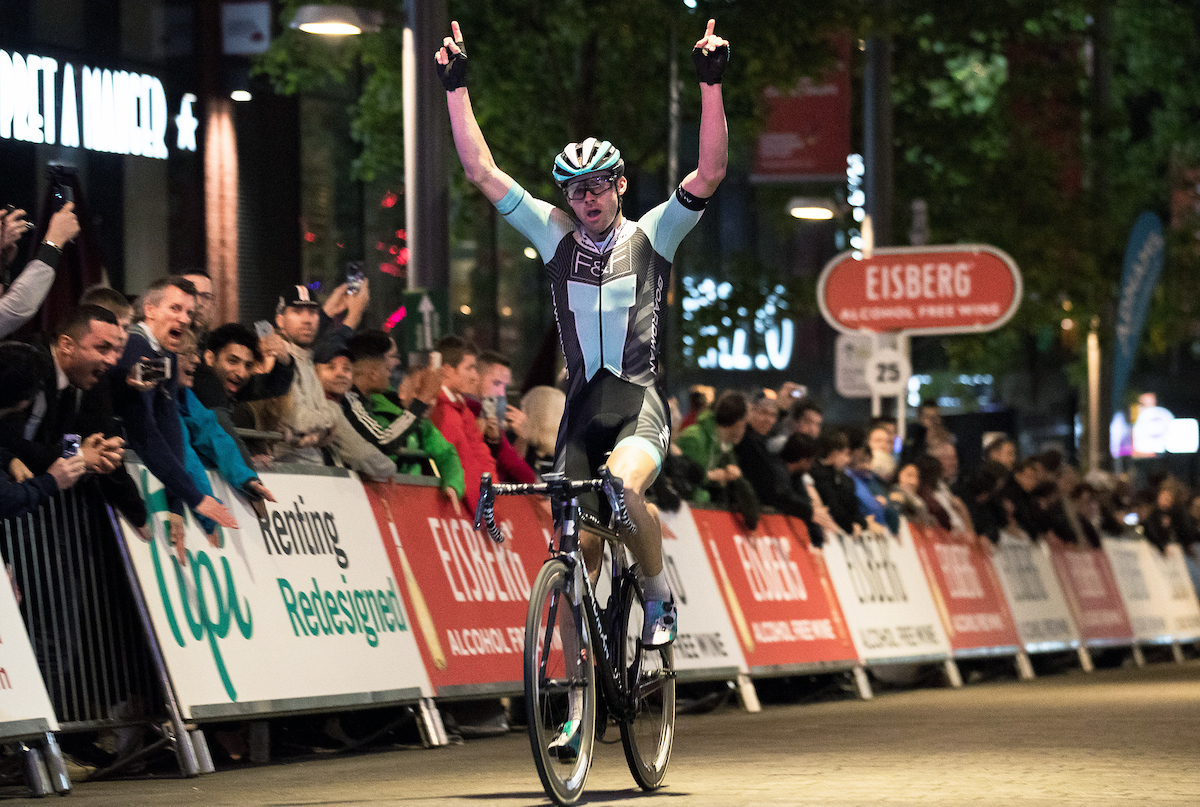 Steele Von Hoff powered to victory © Simon Wilkinson - simon@swpix.com
Von Hoff, a previous winner of the Tour Series at Canary Wharf, was a member of a select seven rider group at the front of the race, with the Australian jumping clear to overcome the JLT Condor train, who placed four riders in the top eight.
Matrix Fitness Grand Prix Series
Meanwhile in the women's Matrix Fitness Grand Prix Series the Drops team extended their lead at the top of the standings as Jess Roberts of the Liv Epic Coaching team took an impressive individual win to leave the teams battle for the top prize in her wake.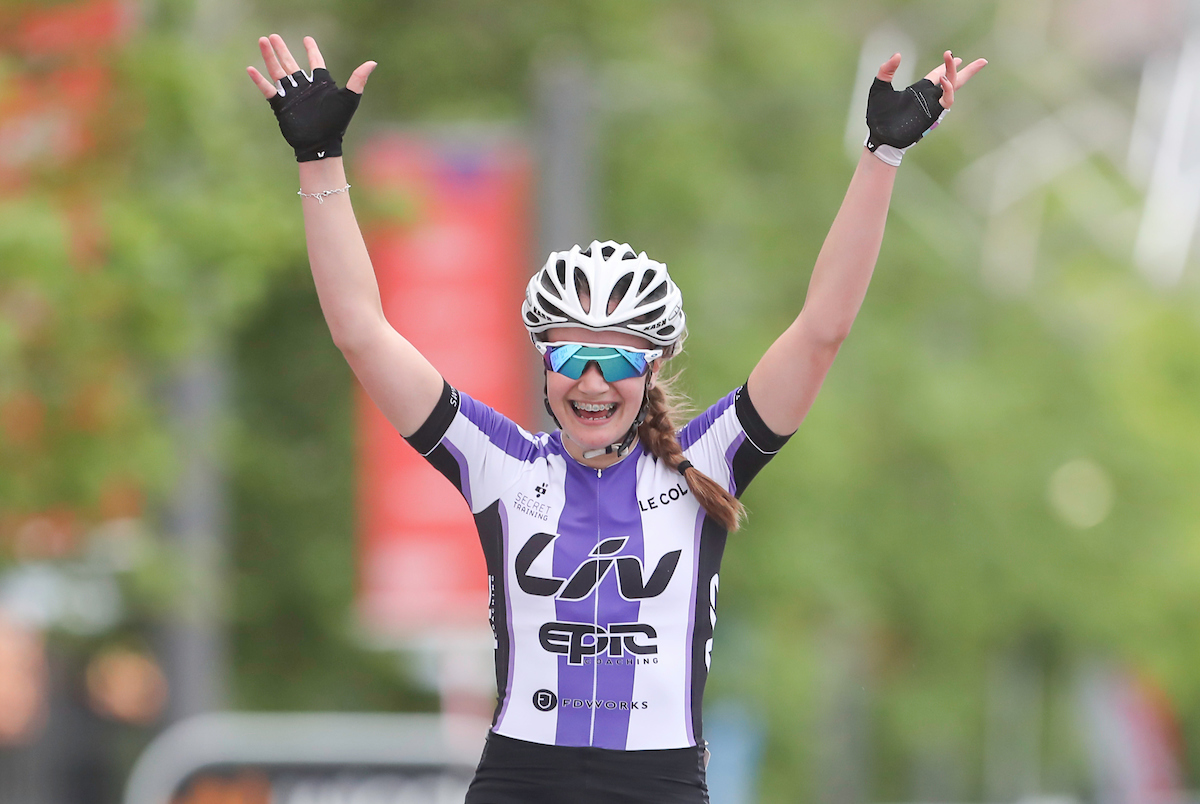 Jess Roberts of the Liv Epic Coaching team © Alex Whitehead/SWpix.com
Roberts went clear alone with a handful of laps to go, taking a fine solo win outside the London Designer Outlet, as Drops did enough in the chasing group to pull clear of Team Breeze and Team WNT in the battle for the Series title. The team now have a nine-point lead, the largest so far of their 2017 campaign.
For JLT Condor it is just a one-point lead over Madison Genesis, with The Tour Series looking set to be a two-horse race as it nears the halfway point, with BIKE Channel Canyon seven points further back. In the sprints competitions Sebastian Mora has a commanding 26-point lead over Rory Townsend in the Wiggle Points Jersey, while on the women's side Ellie Dickinson is two points ahead of Rebecca Durrell in the fight for the Eisberg Sprints Jersey.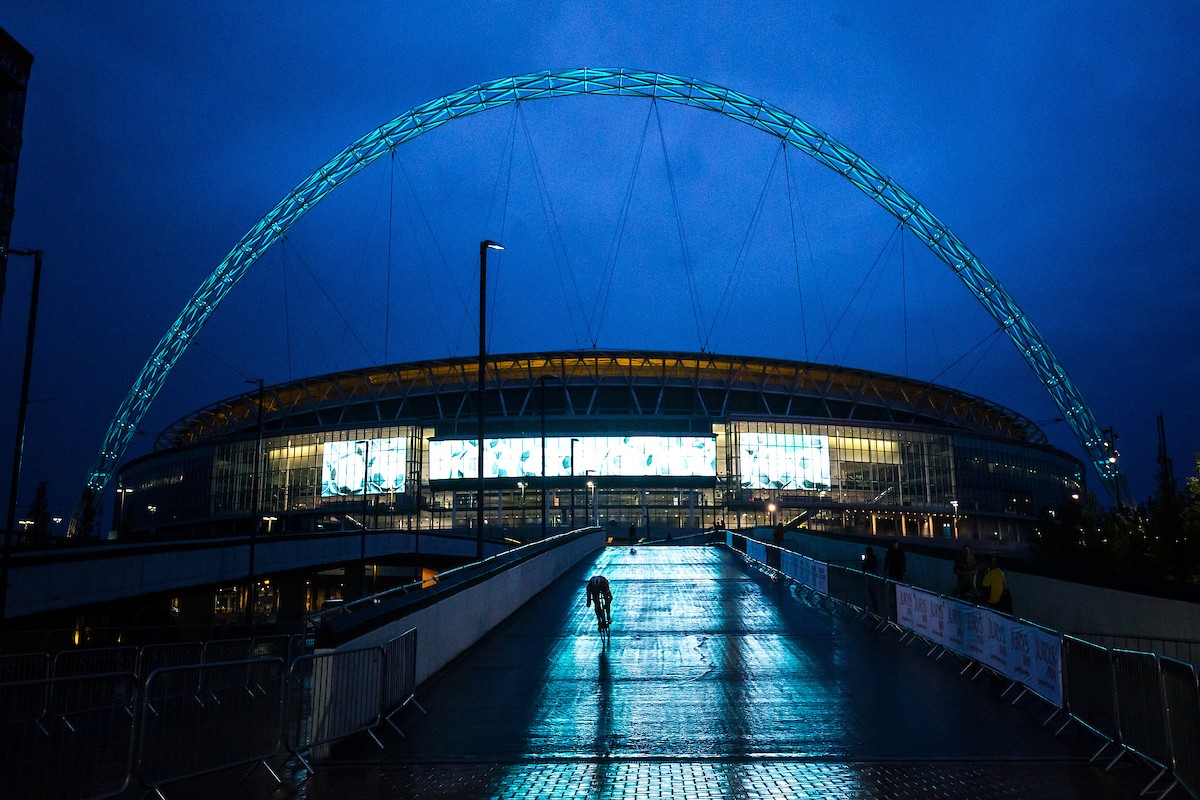 Action in Front of Wembly Stadium © Simon Wilkinson - simon@swpix.com
There was further success for ONE Pro Cycling in the curtain raising Brother UK Corporate Grand Prix, as the team's rider Samuel Williams helped the team from Vittoria Tyres to victory in the corporate Pro-Am relay event.
The action remains in London for both the men and women's Series which resume in Croydon on Thursday 18th May. It will be the third year that the London borough has hosted The Tour Series, with an afternoon of community and support events prior to the women's Matrix Fitness GP Series race at 17:30 and the men's Tour Series event at 19:30.

Individual Race Result
1, Steele Von Hoff, AUS, ONE Pro Cycling, 29-laps, 1:11.592
2, Enrique Sanz, ESP, Team Raleigh GAC, + 2.784
3, Brenton Jones, AUS, JLT Condor, + 2.848
4, James Lowsley-Williams, GBR, BIKE Channel Canyon, + 4.030
5, Sebastian Mora, ESP, Team Raleigh GAC, + 7.898
6, Graham Briggs, GBR, JLT Condor, + 8.339
7, Ed Clancy, GBR, JLT Condor, + 12.693
8, Jon Mould, GBR, JLT Condor, + 37.775
9, Jack Pullar, GBR, BIKE CHannel Canyon, + 37.836
10, Taylor Gunman, NZL, Madison Genesis, + 38.192

Brother Fastest Lap
Steele Von Hoff, AUS, ONE Pro Cycling, 2:14.504

Team Standings, post-Round Four
1, JLT Condor, 46pts
2, Madison Genesis, 45pts
3, BIKE Channel Canyon, 38pts
4, Team Raleigh GAC, 35pts
5, ONE Pro Cycling, 35pts
6, Metaltek Kuota, 26pts
7, Morvelo Basso, 20pts

Wiggle Points Standings, post-Round Four
1, Sebastian Mora, ESP, Team Raleigh GAC, 45pts
2, Rory Townsend, GBR, BIKE Channel Canyon, 19pts
3, Brenton Jones, AUS, JLT Condor, 18pts

---
2017 Matrix Fitness Grand Prix Series
Individual Race Result
1, Jess Roberts, GBR, Liv Epic Coaching, 18-laps, 49:09.661
2, Rebecca Durrell, GBR, Drops, + 8.439
3, Emily Nelson, GBR, Team Breeze, + 8.597
4, Alice Barnes, GBR, Drops, + 8.751
5, Lydia Boylan, IRL, Team WNT, + 9.768
6, Manon Lloyd, GBR, Team Breeze, + 10.130
7, Gaby Shaw, GBR, Team WNT, + 11.471
8, Lizzie Banks, GBR, Sunsport Velo, + 12.237
9, Megan Barker, GBR, Team Breeze, + 12.526
10, Annasley Park, GBR, Drops, + 12.821

Brother Fastest Lap
Alice Barnes, GBR, Drops, 2:34:330

Team Standings, post-Round Four
1, Drops, 376pts
2, Team Breeze, 367pts
3, Team WNT, 335pts
4, Storey Racing, 192pts
5, Team OnForm, 184pts

Individual Standings, post-Round Four
1, Rebecca Durrell, GBR, Drops, 128pts
2, Emily Nelson, GBR, Team Breeze, 126pts
3, Lydia Boylan, IRL, Team WNT, 115pts
4, Manon Lloyd, GBR, Team Breeze, 106pts
5, Megan Barker, GBR, Team Breeze, 104pts

Eisberg Sprints Standings, post-Round Four
1, Ellie Dickinson, GBR, Team Breeze, 18pts
2, Rebecca Durrell, GBR, Drops, 16pts
3, Alice Barnes, GBR, Drops, 14pts

Race Series
| | | |
| --- | --- | --- |
| Round One | Tuesday 9 May | Redditch* |
| Round Two | Thursday 11 May | Stoke-on-Trent* |
| Round Three | Friday 12 May | Northwich* |
| Round Four | Tuesday 16 May | Wembley* |
| Round Five | Thursday 18 May | Croydon* |
| Round Six | Saturday 20 May | Bath* |
| Round Seven | Tuesday 23 May | Motherwell* |
| Round Eight | Thursday 25 May | Aberdeen |
| Round Nine | Saturday 27 May | Durham |
| Round Ten | Monday 29 May | Stevenage* |