April 30, 2017
This piece on a 16 year old Chad Young, was first published on 29th December 2011. We are re-publishing it in dedication to Chad who sadly succumbed to injuries several days after a crash during the 'Gila Monster' on Sunday 23 April 2017. At the time of his crash Chad was fulfilling what he described as a 'dream goal' - to be on a professional team. Chad's story was and is an inspiration to all riders.
---
Chad Young Aims High
by Christopher Fauske
New England Cyclist doesn't just climb Mt. Washington
Chad Young is 16 years old, lives in Newmarket, NH, and as well as riding for his high school club is starting to get talked about on the roads in the area, perhaps because, as he puts it, "the best way to learn skills about racing for me was to go on a ride way over my head, and fight it out until I got dropped. "It's an attitude that has got him involved with
CCB Racing, based on the North Shore of Boston. "These guys took me under their wing after I showed up to a local ride and they have been really invaluable ever since. They have taught me everything that I know about cycling and racing," Young says.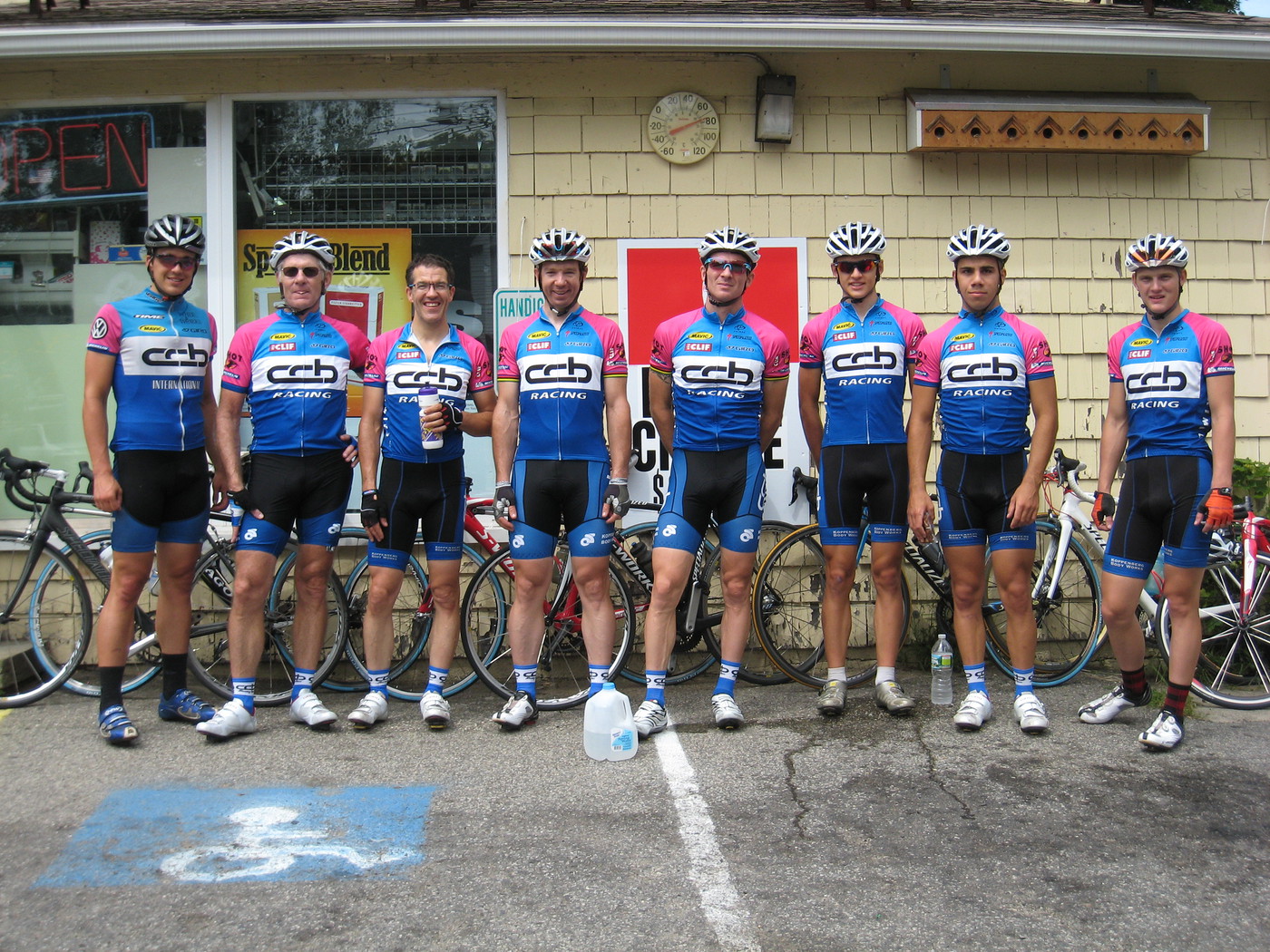 Chad Young (3rd from right) with CCB Teammates ©Barry Boyce /CCB Racing
It's one thing to show up to a ride, but you have to have started somewhere. "According to my parents," Young says, "I learned to ride without training wheels around three-and-a half years old. After that, it was a constant 'Mom, can we go out for a bike ride?' I got my first road bike, a Specialized Allez Double, in sixth grade. I didn't ride all that much, maybe once a week. It was not until my high school,
St. Thomas Aquinas, Dover, NH, started a cycling club that I suddenly started riding all the time. I had to balance cycling with my other major sport, jump roping, but it didn't last long until I left jumping behind to be a full-time cyclist."
Young's refrain is familiar, but that doesn't make it any less personal: "Riding a bike always symbolized independence for me. The feeling was nothing short of magical when I was first able to go beyond the neighborhood and ride around the seacoast. I also have a large attraction towards nature and exercise. Racing my bike is just an excuse to indulge in these things.
"I try to have fun in everything I do with cycling, and I probably wouldn't be doing it if it wasn't fun. Thankfully, training to me is lots of fun, something that I do for leisure. I suppose it could be compared to some people playing video games or reading a book. Most of my riding is on the road, so when I get an opportunity to ride off road I love to take advantage of it, especially if it is particularly challenging, like riding MTB rides."
CCB is Young's road club, but "for cross, I ride with Raleigh/Gus' CX Team. It's a grassroots cross team in southern New Hampshire, mostly cat 3 and 4 riders. These guys helped me start racing cross this year, and, more importantly, introduced me to the wonderful world of heckling. Overall, riding with a club has really helped me get more involved in racing and become a more rounded athlete."
It might be early in his career, but that hasn't stopped Young twice tackling the "one race that I particularly enjoy, and it isn't even a real road race, the various variations on the Mt. Washington Auto Road Bicycle Hillclimb, up the Mt. Washington, NH, auto road. The first time I did it was June 2010, and I had a time of 1:21. I did it later that year and got a 1:16, and then a 1:10.
"Earlier this year, I did it in 1:07, and then finally, this August, I did it in 1:04, and finished in 12th out of about 500 people. Luckily, every time I have done it the weather has been dry and there has been no wind, so the conditions have been perfect. Typically, you are fighting wind and rain to make it to the top.
"I love this race because it is a fantastic way to measure progress. I was barely able to pass [Marti Shea, the returning women's champion, who won her division again in 2011]. I caught her in the last 50m sprint @ 22%. In 2010, she beat me by a great margin, and she is only getting faster.
"Overall, the race is just a good time. I see one of my strengths as climbing, and the race is a perfect place to test it out."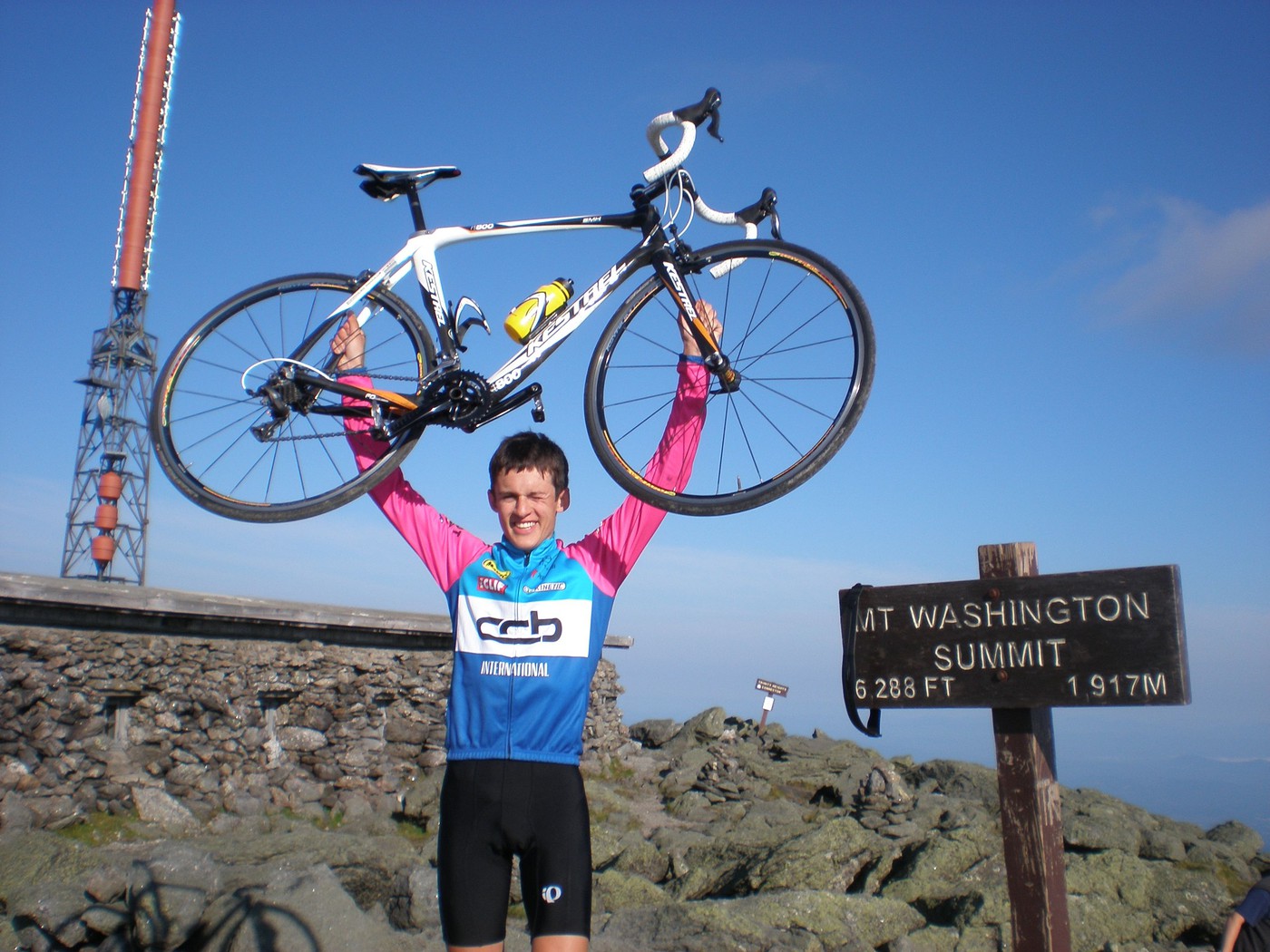 Chad Young atop Mt Washington
"Hi Steve (Pucci), just got back from the practice ride at mt. washington this
morning. I did it in 1:06, 4 mins better than last time. there was some
awesome weather, i got a picture at the sunny summit with my bike.
I'll be racing my first 1/2/3 race tomorrow in yarmouth, that should be
fun."
One benefit of starting "way over my head" on the road, Young says, is that it "taught me to save energy where ever possible and to ride smart. Once I could do this, it lead to riding in the break and learning what a real race is like It was a great tool for learning to race and knowing what to expect when it came to a breakaway or a crazy fast race, like the GP of Beverly or the Witches' Cup.
"I also went to a few USA Cycling camps this year that helped me learn handling skills and how other juniors race. The camp in San Diego was especially helpful when it came to learning about riding competitively with other juniors. They were all pretty successful and riding with them gave me some cool knowledge about their experiences in racing in Europe. Hopefully I'll be able to use this knowledge sometime soon!"
Ambition aside, Young notes that "Whenever I think of my future in bicycle racing I have to remind myself that I am still new to racing and that I still haven't raced in Europe to compare myself to others in the same situation as me. With this in mind, I feel like I would like to keep racing for CCB as a junior and keep learning about racing in the category one and two fields, and then if the opportunity presents itself, get on to a U23 team.
"Off of the bike, I hope to keep up a good GPA and get into a school for engineering. My parents and I are looking at some colleges in Canada to go to right after high school. With their schedule, I would be able to start racing in the U.S. around April and then go back to school sometime in September, allowing me to do all the racing that New England offers.
"A 'so-long-term-it-isn't –even-relevant" ' goal for me is to keep racing out of college and get onto a professional team, but again, that's more of a dream goal, rather than a realistic one."