December 12, 2016
Astana Pro Team reveals 2017 roster
Astana Pro Team revealed its roster for the 2017 season at a launch event this weekend in Astana, the capital of Kazakhstan
Taling at the start of the event general manager Alexandr Vinokurov said,"I believe, we spent a very successful season. Together with Vincenzo Nibali we won the famous Giro d'Italia, while in total we scored 34 victories and 30 podium places in the most prestigious races around the world. I am especially happy with the fact that 7 wins and 4 podiums were scored by our Kazakhstan riders. Anyway, the year is over and now we are looking forward to the upcoming season. With full confidence we can say that our project is on the right way. There will be some important changes in Astana in 2017: in the roster, in cycling clothing, bikes and other technical things. We are sure that all these changes will lead to a new step of development, both, of the team and the entire project. Today, we are presenting the renewed team to give you an opportunity to be proud of us in the next season."
Riding for Astana Pro Team in 2017 are 28 riders from nine countries of Kazakhstan, Italy, Denmark, Spain, Belgium, Ukraine, Estonia, Colombia and Russia:
2017 Roster:
Fabio Aru, Zhandos Bizhigitov, Pello Bilbao, Matti Breschel, Michael Valgren, Oscar Gatto, Andriy Grivko, Dmitriy Gruzdev, Laurens De Vreese, Artyom Zakharov, Andrey Zeits, Arman Kamyshev, Dario Cataldo, Tanel Kangert, Bakhtiyar Kozhatayev, Miguel Angel Lopez, Alexey Lutsenko, Riccardo Minali, Moreno Moser, Luis Leon Sanchez, Michele Scarponi, Nikita Stalnov, Paolo Tiralongo, Ruslan Tleubayev, Daniil Fominykh, Jacob Fuglsang, Jesper Hansen and Sergei Chernetckii.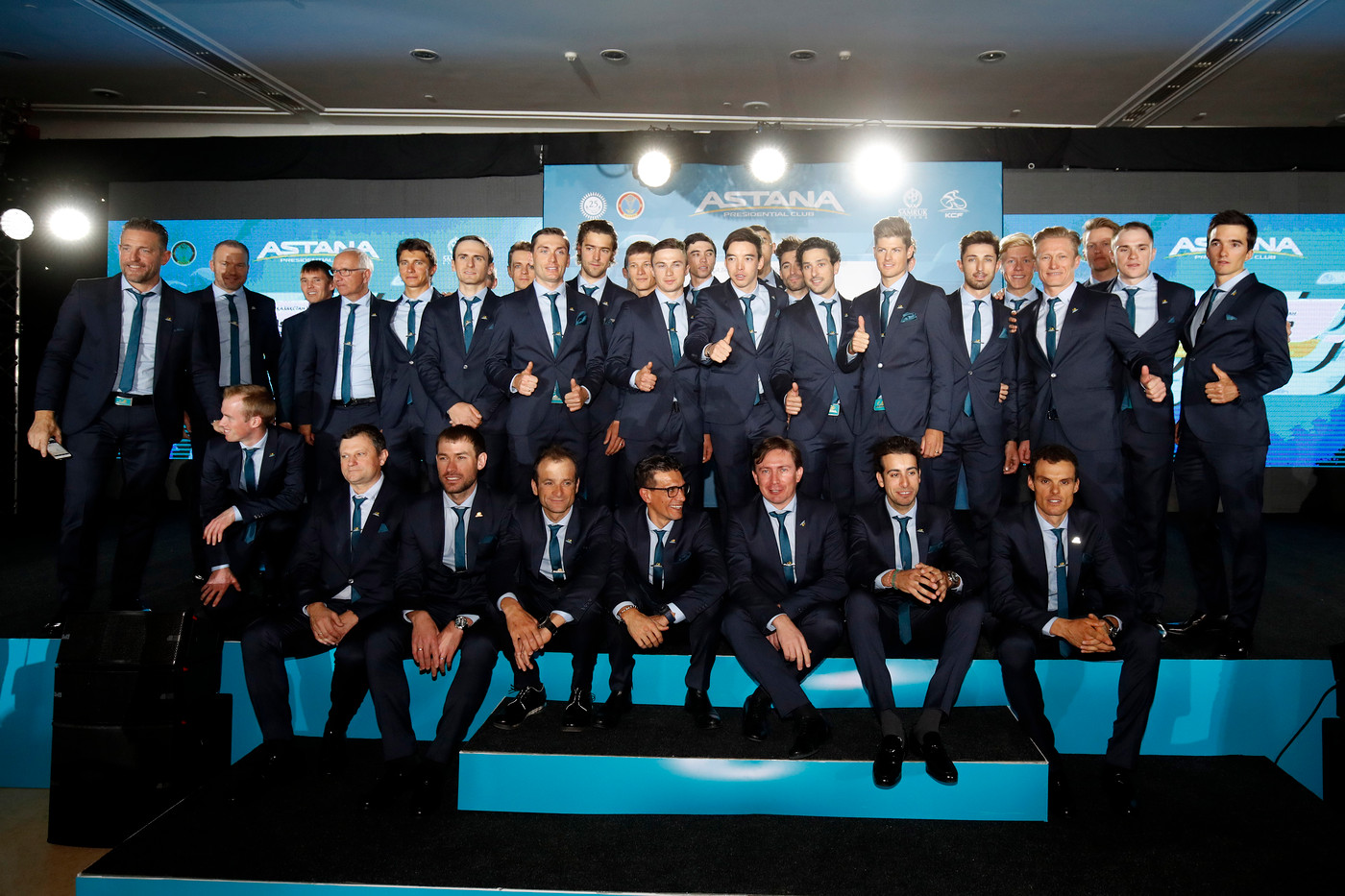 Goals for 2017
Astana general manager Alexandr Vinokurov highlighted the main goals of the team in 2017: "Traditionally, Astana Team will focus on successful performance in the Grand Tours. This is our strong side, during our history we won 8 Grand Tours, so we are exciting to strive for the new successes. We have a strong leader Fabio Aru and the team will be built around him. Besides, we have a number of young, but very ambitions riders, who can surprise. Of course, we are planning Kazakhstan riders for the Grand Tours too. First of all, we are talking about Alexey Lutsenko, Andrey Zeits, Dmitriy Gruzdev and Bakhtiyar Kozhatayev, but, maybe, we will try Daniil Fominykh and Artem Zakharov too. However, besides the Grand Tours, there are a lot of prestigious races in the new UCI WorldTour calendar, which will be another goal for Astana. First of all, we are talking about week stage races, but also we would like to get some good results during the classic season"