Paris, October 19, 2016
Route unveiled for the 104th Edition of the Tour de France
With two ITT, and fewer climbs, an updated mountains points classification, the Tour de France due to start in Dusseldorf on July 1st next year, is designed to be as unpredictable as possible - so how will Chris Froome win his fourth Tour?
ASO is continually pondering how do keep the bookies second guessing, but only time will tell whether the 104th edition of the Grand Boucle whose route was unveiled to the great and the good in Paris this week, will be a quantum leap or as Sky Principal Dave Brailsford might say, a 'marginal gain'.
We already knew it would start in Dusseldorf, but beyond that was speculation coupled with the usual ASO press releases denying the rumours. When the route was finally released into the wild the collective reponse was probably 'certainly no slouch', mountainous despite apparently losing three climbs from the 2016 total.
Here is the route. Look forward to detailed analysis in the coming days.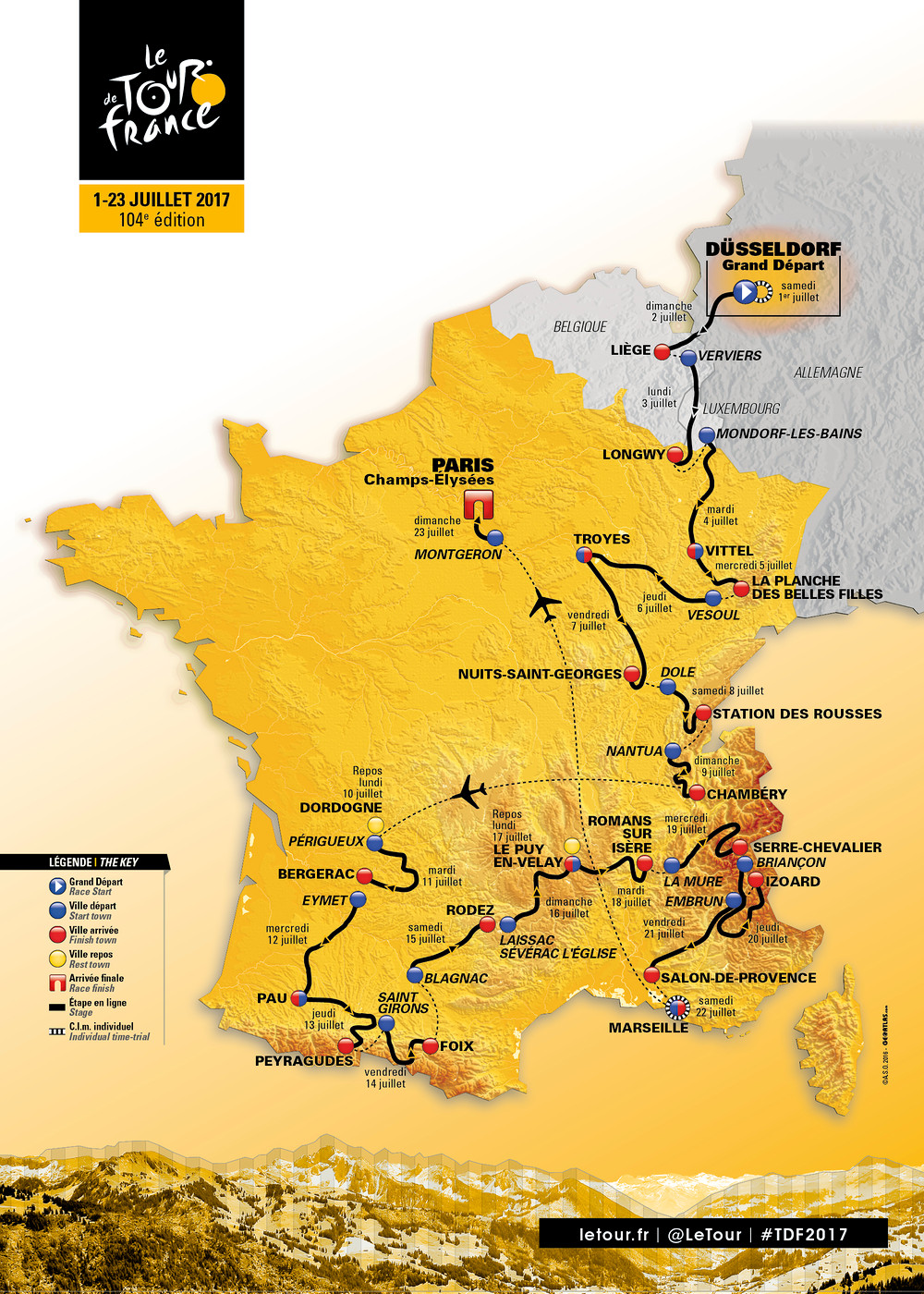 Stage List
Stage 1: 1 July - Dusseldorf - Dusseldorf (time trial), 13km
Stage 2: 2 July - Dusseldorf - Liege (Belgium), 202km
Stage 3: 3 July - Verviers (Belgium) - Longwy, 202km
Stage 4: 4 July - Mondorf-Les-Bains (Luxembourg) - Vittel, 203km
Stage 5: 5 July - Vittel - La Planche des Belles Filles, 160km
Stage 6: 6 July - Vesoul - Troyes, 216km
Stage 7: 7 July 7 - Troyes - Nuits-Saint-Georges, 214km
Stage 8: 8 July 8 - Dole - Station des Rousses, 187km
Stage 9: 9 July - Nantua - Chambery, 181km
First rest day: 10 July
Stage 10: 11 July - Perigueux - Bergerac, 178km
Stage 11: 12 July - Eymet - Pau, 202km
Stage 12: 13 July - Pau - Peyragudes, 214km
Stage 13: 14 July - Saint-Girons - Foix, 100km
Stage 14: 15 July - Blagnac - Rodez, 181km
Stage 15: 16 July - Laissac-Severac L'Eglise - Le-Puy-en-Velay, 189km
Second rest day: 17 July
Stage 16: 18 July - Le-Puy-en-Velay - Romans-sur-Isere, 165km
Stage 17: 19 July - La Mure - Serre-Chevalier, 183km
Stage 18: 20 July - Briancon - Izoard, 178km
Stage 19: 21 July - Embrun - Salon-de-Provence, 220km
Stage 20: 22 July - Marseille - Marseille (time trial), 23km
Stage 21: 23 July - Montgeron - Paris Champs-Elysees, 105km