Giro d'Italia 2013 - If Bradley Wiggins is to survive what has become a cycling version of the Hunger Games and win the Giro d'Italia he needs a combination of better weather, renewed confidence, and a display of ruthlessness with his own teammates during the second half of the race.
See the route of the Giro here
---
Arise Sir Bradley - Mind the Gap
In 2012 Bradley Wiggin came off 'a Big year' to end big years - first British winner of the Tour de France,  Olympic Time Trial Champion, and to cap it all an enormous gong from Her Majesty.
So it was Sir Bradley (you are not supposed to say the Wiggins bit) who mounted his steed, buckled on his helmet, girded his loins and re-entered the fray come 2013.
Now Sir Bradley is a jolly fine chap, err bloke, and as deserving of a knighthood as any of his peers, Sir Chris of the Hoy, Dame Vicky of the Pendleton. It is just that being a superstitious type I do have my concerns about giving any sportsperson such an accolade while they still have a large chunk of career ahead of them. 
I can see the reasoning, he is hot property and politicians do have short attention spans, but it is like painting a massive target on someone's back for the Fates to shoot at. Sport unlike say the Arts or Science, Acting or Medicine is so much more subject to the vagaries of life, so much more precarious. Knights in other professions tend to be that much older, less susceptible to the equivalent of a spot of diesel on the road, or a dodgy derailleur, certain bankers excepted.
So it is with a certain sense of a mix of emotions that one watches Wiggo's trials during the first nine days of the Giro d'Italia  - a crash here, a bike change there - and instead of being resplendent in pink he has having to fight tooth and nail to keep his fourth place on GC.
 Now Wiggins would scoff at any suggestion that a knighthood or even a peerage would alter his approach to racing, and he would be right to. He is also not a man to succumb to airs and graces, and plaudits will rest as lightly on his shoulders as the stokes of HM swaord. This is a man after all who answered my question about what he was going to do to relax after a summer of daring-do with 'a gin and tonic, probably two'. But something has changed since 2012.
In various newspaper articles today Wiggins is quoted as saying he 'descended like  a girl' on stage 9, notably off the Vallombrosa, a comment that generated almost as many column inches of retort from women cyclists. It was an honest assessment though, and wholly understandable.
Lost Mojo
What has changed since 2012 is in fact not the that difficult to guess at - Wiggins has been spooked. Of course the crash on stage 7 with 5km to go that cost him the minute plus will be playing through his head every time he goes down hill in the wet, but so perhaps was his collision with a van back in November last year. There will also be a sense of luck simply not being on his side. Hardly a day has gone by without some sort of challenge, from being forced to chase for 12 kilometres to rejoin after being held behind a crash on Stage 6, and even then he was in the wrong place because of a mechanical problem, to again being forced to change bikes on the Individual Time-Trial, a delay that certainly cost him the win.
To an intelligent and highly analytical rider like Wiggins brushes with mortality and bad luck are not easily disregarded. His confidence  is taking a knock from another quarter though, from within his own team. It was clear early on in the race that Rigoberto Uran and Sergio Henao either came into the race with their own agenda, or sensing an opportunity developed it on the fly once Wiggins showed a chink in his armour.
Hunger Games
He might even understand their motives, but one senses that they are being tacitly if not actively encouraged by the team management - dog-eat-dog - very Brailsford. He might be as tough as nails but Wiggins cannot but be demoralised by such politicking within the team, which may yet play straight into the hands of Sky's rivals.
So what does the future hold for Wiggins in the second half of the race? If I knew I wouldn't be writing this, I'd be down the bookies, but it is obvious that Wiggins has to get a better grip on his own fortunes. A display of mea culpa in an interview might be good for a laugh, but it won't be doing anything to remove the taint of blood from the waters.
The irony is that in stressing his problems it is easy to overlook that Wiggins is arguably the best rider in the race. He should be in pink. He is in fourth place through some very hard riding, but it always in the need to play catch-up, literally. It might already be too late to bring Uran and Henao back into the fold, but perhaps he doesn't need them if he can eliminate the one weakness haunting his race. As strong as he is he cannot rely on a massive effort to close the gap to Nibali and Evans, et al, after every descent if it happens to rain. He knows he has to do it, he just has to starting believing in himself again.
As they say in the Hunger Games "may the odds be ever in your favour".
---
Tuesday's stage 10 is 167km of high mountains from Cordenons to Altopiano del Montasio.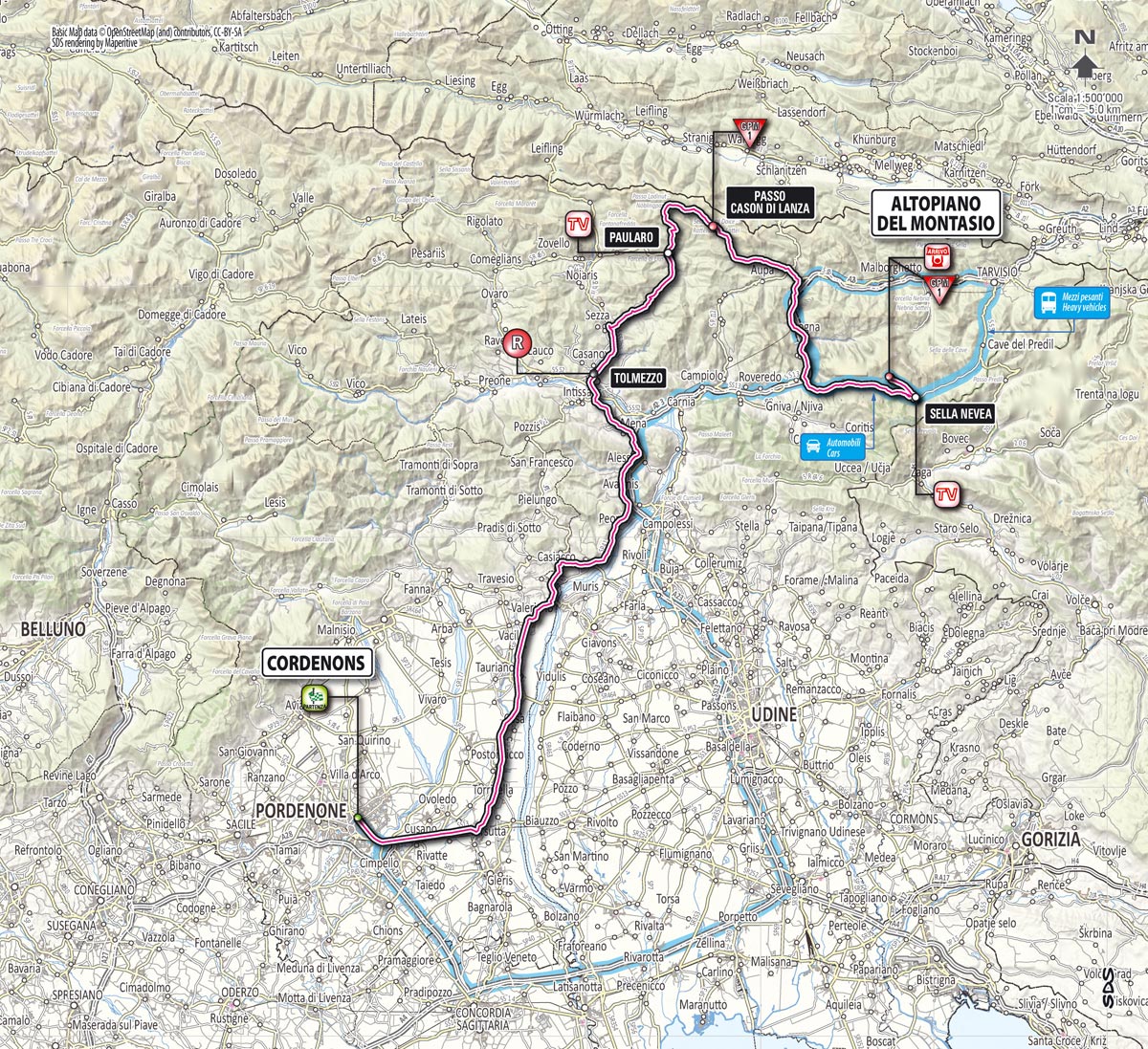 Stage 10 Map © Gazetta dello Sport
---
Giro 2013 Route © Gazetta dello Sport
Links
---
SHARE THIS:
Support the Daily Peloton


Celebrating our 12th year!