London, 21 March 2013: Chain Reaction Cycles back cyclist James Golding for World Record rides
---
Chain Reaction Cycles has announced that they will support charity-fundraising sensation James Golding on his World Record attempts in 2013 and 2014.
James Golding has previously cycled across America, completing 3,473 miles in 24 days. His next challenge is to attempt to break the 7-day cycling world record of 1546.8 miles to raise funds for charity and become the first official person to break this record since 1940. He will head to Australia to do so.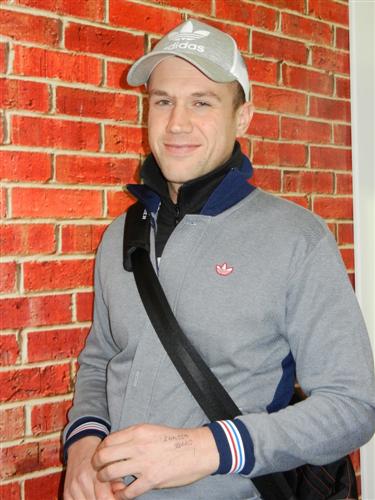 James Golding © Mark Sharon 2013
Golding, 32, has amazed both the cycling community and medical professionals. In 2008, doctors found an 11.5cm cancer tumour wedged between his spine, kidney and bowel; he developed septicaemia and peritonitis and was given less than 5% chance of survival by doctors. He dropped from 14st to 6st in weight, and after coming out of a coma, he defied the odds and embarked on an incredible and inspirational journey.
A video of his journey so far is here: https://vimeo.com/59932727 
It started with learning how to walk again. In 2010, he set off to ride from LA to Miami to raise money for the people that helped him and his family during his time. On day 22, he was hit by a truck just outside New Orleans, which put him back in hospital. Not being one to give up, after he recovered he returned in 2011 and started again from the beginning, this time completing the 3,473-mile journey in 24 days.
James Golding ©James Golding/Fusion Media
In 2011, his cancer returned. But after more surgery, chemotherapy and radiotherapy, he was given the all clear by doctors. Golding will use the support from Chain Reaction Cycles to attempt the 7-day World Record, the furthest distance cycled in a 7-day period; using the event as platform leading to 2014 where he plans to break the Round the World Cycling Record, currently set at 105 days.
He will raise funds for the Right To Play charity, whose vision is to create a healthy and safe world through the power of sport and play. The agreement with ChainReactionCycles.com will mean Golding has access to the best support and the most comprehensive array of products available.
James Golding said:
"Through my life I have been lucky enough to have some great people around me, supporting me to reach my ambitious goals. The support from Chain Reaction Cycles means that I can focus on raising money, raising awareness and showing people that there is so much you can do in life."
Damien Duggan, Marketing Manager of Chain Reaction Cycles, said:
"We're delighted to support James in his efforts to raise awareness for these charities. It's a fantastic cause and a huge challenge as he completes these two World record attempts. CRC are pleased to be a part of this project supporting James One Step at a time."
---
For more information on James Golding, please visit: www.jamesgolding.org.
For more information on Chain Reaction Cycles, please visit: www.chainreactioncycles.com
---
SHARE THIS:
Support the Daily Peloton


Celebrating our 12th year!