LE TOUR DE LANGKAWI 2013 - Orica-GreenEdge join the lineup at LTDL.

---
Australian team Orica-GreenEdge follows Astana and Garmin-Sharp as the third ProTour team to signup for LTDL2013, which takes place from February 21 to March 2.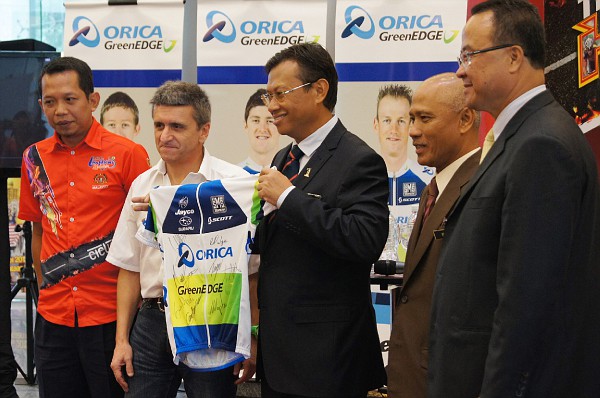 Orica GreenEdge signs up to LTDL2013
It is the first time Australia's first ProTour team has competed at LTDL but Orica-GreenEdge team manager Shayne Bannan explains the link between Australian teams and the LTDL goes back to the beginning of the race:
"Our common history is a pretty long one", said Orica-GreenEdge team manager Shayne Bannan who previously directed the high performance program of Australian cycling via the Australian Institute of Sport (AIS). In fact, the first team ever to win LTdL was Giant-AIS back in 1996.
Bannan himself was the directeur sportif of the Australian national team at the 1998 LTdL. "That's where our connection with the Mapei team and their training center in Italy started", Bannan said. A financial director of Mapei at the time, Italian Alvaro Crespi now holds the same position with Orica-GreenEdge. He's no stranger to Malaysia and paid a visit to Kuala Lumpur to introduce the team for the 2013 Le Tour de Langkawi.
Minister of Youth and Sports YB Dato' Sri Ahmad Shabery Cheek expressed in his speech today that the race have seen positive response from ProTour teams this year and the popularity of LTdL is gradually picking up.
"Indeed, we are proud to have with us the 3rd Protour team for our next race, after Garmin and Astana. I was made to understand that the responses for this year's participation is much greater than the previous years." said Dato' Sri Ahmad Shabery.
"The organiser of LTdL and Malaysians hope that Orica GreenEdge would have their first experience in LTdL as their best experience in competing in any cycling tours in the world, and return for many years to come." he added.
Orica GrenEdge have put together a strong line-up for the race.
Cameron Meyer has strong credentials as a favourite for the overall win. With multiple world championships from the track, an overall win at the 2011 Tour Down Under, and acknowledged climbing abilities his all-rounder status is unchallenged, while Travis Meyer, Cameron's younger brother will occupy a domestique role.
Pure climbing ability is provided by Pieter Weening who remains the last Dutchman to have won a stage at the Tour de France, back in 2005, though has since worn the pink jersey leader of the Giro d'Italia for four days in 2011. Luke Durbridge, with eight victories, including the prologue of the World Tour event Criterium du Dauphine, was at 21 amongst the most successful of the neo-pros in the world through 2012.
Sprinting power comes in the form of Aidis Kruopis from Lithuania who won four races for the Australian team in 2012, including a stage of the World Tour event Tour of Poland. He will be supported ably by New Zealander Sam Bewley who won a bronze medal at London 2012 in the team pursuit.
"To welcome Orica-GreenEdge is the pinnacle of our long lasting relationship with Australia", enjoyed the chief operating officer of Le Tour de Langkawi Emir Abdul Jalal. "As the first Pro Team from Oceania, they perfectly fit into our event. We understand that they won't only come to participate but they are putting together a strong team for winning the overall classification and a few stages."
The race, which is a major part of the UCI Asia Tour calendar, is in its third year of being organised by the Ministry of Youth and Sports, via the National Sports Council (NSC) in association with the Malaysian National Cycling Federation (MNCF).
THE Orica GreenEdge Team for the 2013 LE TOUR DE LANGKAWI:
Pieter WEENING (NED), Luke DURBRIDGE (AUS), Cameron MEYER (AUS), Sam BEWLEY (NZL), Aidis KRUOPIS (LTU) and Travis MEYER (AUS)
---
Race Route for 2013
2013 Tour de Langkawi Route © LTDL2013
22 teams, including UCI Pro Teams Astana and Garmin-Sharp, have confirmed participation in the race.
LE TOUR DE LANGKAWI 2013 ROUTE 20/02/13 - 2/3/2013:
Stage 1 – Thursday 21 February 2013 : Kangar – Kulim (163.7 Km)
Stage 2 – Friday 22 February 2013 : Serdang – Kuala Kangsar (116.0 Km)
Stage 3 – Saturday 23 February 2013 : Sungai Siput – Cameron Highlands (145.5 Km)
Stage 4 - Sunday 24 February 2013 : Tapah – Kapar (168.0 Km)
Stage 5 – Monday 25 February 2013 : Proton – Genting (108.0 Km)
Stage 6 – Tuesday 26 February 2013 : Mentakab – Kuantan (212.8 Km)
Stage 7  - Wednesday 27 February 2013 : Kuantan – Dungun (149.8 Km)
Stage 8 – Thursday 28 February 2013 : Kuala Terengganu – Tanah Merah (164.5 Km)
Stage 9 – Friday 1 March 2013 : Pasir Puteh – Kuala Berang (123.6 Km)
Stage 10 – Saturday 2 March 2013 : Tasik Kenyir – Kuala Terengganu (114.8 Km)
TOTAL DISTANCE : 1466.6km
Links
2013 Tour de langkawi Official Website

Support the Daily Peloton


Celebrating our 11th year!