London - "Change Cycling Now" Delegate Andy Layhe of Bike Pure hails inaugural conference
---
Set up by Australian entrepreneur Jaime Fuller CEO of SKINS Change Cycling Now describes itself as "Change Cycling Now is an organisation committed to creating an opportunity for EVERYONE to help generate positive changes for the future of professional cycling."
It has produced what it has dubbed the Charter of the Willing, published on its website.
It kick started its campaign with an inaugural conference in London over the weekend with a delegate list that included Fuller, Greg Lemond, Paul Kimmage, Gianni Bugno, Jonathan Vaughters and Andy Layhe, amongst others.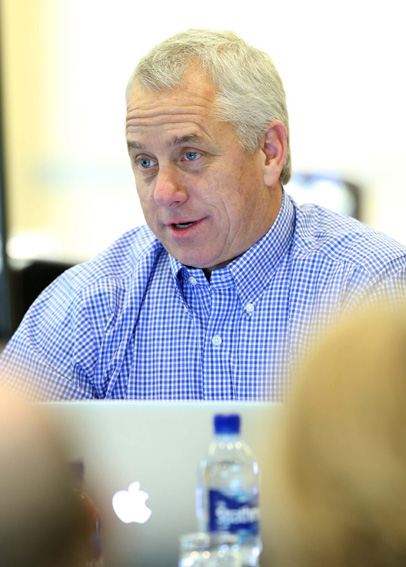 Greg Lemond
A key element of its campaign is a petition on its website to "to send a clear message of no confidence in the UCI leadership of President Pat McQuaid and Honorary President, Hein Verbruggen." Greg lemond particulallry has been an outspoken critic of McQuaid and his handling of various cycling scandals.
Andy Layhe (L) and Paul Kimmage
Speaking after Monday's press conference Layhe described, "We (Bike Pure) feel strongly about the issues raised at today's first sit down meeting. It was a highly constructive day and evident from the offset that the energy and passion for urgent transformation of the way in which the sport is governed was going to be the catalyst for the day's agenda. Off the back of the Lance Armstrong scandal, the sport sits in a precarious position, where the desire for a new way forward has to be grasped urgently. Someone has to take responsibility at the top of the chain for what has happened in recent weeks, the UCI have ignored fundamental issues and must be held accountable for the damage that has been incurred. If this were a government scandal or failings at the top of a multi national company, people would have been fired, lost their jobs for the complete mishandling of the situation.
"Cycling has seen numerous fresh starts, new beginnings and strong vocal support for change but being present in today's meeting it's clear that this present group of individuals have an awful lot to offer in regards substantial and long lasting change for the better of the sport. The desire and feeling emanating from the meeting room today was more than satisfying to see and this will be evident in the proposals put forward during Monday afternoon's press conference.
"We have a fundamental opportunity, and all those associated with the sport can do their part. Once proposals are published, we urge cycling fans to get behind the proposals for change and do their own part in shaping a sport that they can be be proud of, which will hopefully produce productive leadership and change."
Links for Change Cycling Now:
Web : http://www.changecyclingnow.org/
Facebook : http://www.facebook.com/ChangeCyclingNow
Twitter : https://twitter.com/cyclingchange

Celebrating our twelfth year!