Interview: Elinor Barker
Interview with 18 year old Elinor Barker. The Welsh rider took the Junior ITT World title in Valkenburg last month ending her season on a high including several European junior track titles and medals at the Junior Track World Championships.
On September 18, Elinor Barker powered to the World title in the Junior-Women individual time-trial in Valkenburg. The 18 year Welsh rider finally took the gold medal after finishing second in Copenhagen the year before. A few days ago we spoke to Barker who will become an Elite rider next year.

Barker had a very good year both on the road and on the track considering her ITT World Title, European track titles, national track titles and medals at the World Track Championships. With double Junior World road champion Lucy Garner, she is the most talented rider of their age category in the United Kingdom. Since her World title nothing has really changed in her life. "Some things have changed, I have definitely been doing a lot more interviews than before! But my friends and family don't treat me any differently, and I wouldn't want them to. Obviously they were very happy for me and it was great to celebrate with them for a few days but it hasn't changed anything."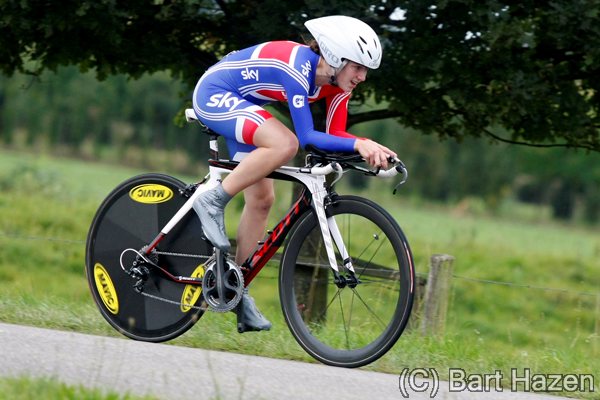 Elinor Barker powers to the gold medal in the Junior ITT at the World Championships in Valkenburg. Photo © 2012 Bart Hazen

In several interviews Barker told that she was pretty much dedicated the past year to reach her goal to become the Junior ITT World Champion. She explains that she did everything for it she could. "I didn't eat any junk, watched my diet and didn't stay up late for months, I made sure my training was as specific as it could be to the course and working on my weaknesses. I didnít know how the competition would be so I was really worried. There were so many strong riders there.."
Living this kind of life in the months before the event didn't bother her too much. I was really determined to take that gold medal. "After coming second so many times all I wanted to do was win." Although she has to admit that it annoyed her a little that she didn't see her friends as much as she wanted to be. "It got a bit annoying when it meant I didn't get to see my friends for a while because they were going out partying or to festivals, but compared to the experiences I've had this year that's nothing! I'm lucky enough that I have great friends who understand how much cycling means to me and are really supportive."

The happy winner. Photo © 2012 Bart Hazen
Barker, who is studying an PE in Biology and English literature, took up cycling as a 10-year-old with the Maindy Flyers club in Cardiff after originally going to Maindy Pool to swim with her sister. "I tried most things when I was young and enjoyed pretty much everything from football to piano, but swimming lessons every week was the one thing I hated. We found out that cycling was on at the same time at the leisure centre and as soon as we started we got hooked! It pretty much took over everything else from then on.". A detail double Olympic gold-medallist Geraint Thomas (Team Sky) is another cyclist who learnt to ride at the club in Cardiff.
Barker, who is a massive fan of singer/songwriter Ed Sheeran ("I probably know the words to every song he's done!") continues "as a young cyclist I have many role models in sport. People Like Lizzie Armitstead and the Olympic women's team pursuit team are such great ambassadors for women's sport in Britain and their success' have done so much to highlight the importance of equality in sport. I hope I can have my share in that too in the future."

Barker finally took the gold medal after taking the silver medal in 2011. Photo © 2012 Bart Hazen
Barker turns an elite-rider in 2013. She has stated in previous interviews that she will try to make the team for the 2016 Olympic Games in Rio de Janeiro but knows that it will be a tough challenge the next four years. On short term, more precisely the coming winter, she will be racing for a Welsh Track Cycling Team called SWI WC. About the coming Track season she says: "I will be racing for a Welsh Cycling trade team (SWI WC) at the world cups over the winter which is really exciting. As it's my first winter as a senior rider I'm not expecting any results, I just want to go and make the most of the experience and learn as much as possible. I'll also be against girls who are full time so are able to fit in a lot more training than me and have proper recovery between sessions which will definitely make things more difficult!" Her 2013 road team will be announced soon but she already says "From March onwards I will be racing on the road. I probably wonít be in the really big prestigious races yet but I will be trying to get abroad as much as I can around school really.Ē

For the future she doesn't know yet if she still will be competing on both the road and the track "At Junior level I've been lucky enough to be able to compete in both at World Championship level, at senior this will be more difficult but definitely possible."

Celebrating our tenth year!
Help Support the Daily Peloton