2012 Road World Championships - Valkenburg: Elite-Women RR
Marianne Vos finally takes second World title in her career after five consecutive second places. Dutch star soloes to impressive win. Rachel Neylan and Elisa Longo Borghini silver and bronze. Photos...

Marianne Vos soloes to second world title (on the road) in her impressive career. Photo © 2012 Bart Hazen
Result
1 Marianne Vos (Netherlands) 3:14:29
2 Rachel Neylan (Australia) 0:00:10
3 Elisa Longo Borghini (Italy) 0:00:18
4 Amber Neben (United States of America) 0:00:33
5 Anna Van Der Breggen (Netherlands) 0:00:55

Rachel Neylan and Elisa Longo Borghini second and third. Photo © 2012 Bart Hazen

6 Rossella Ratto (Italy) 0:03:40
7 Linda Villumsen (New Zealand) 0:04:37
8 Judith Arndt (Germany)
9 Emma Johansson (Sweden)
10 Paulina Brzezna-Bentkowska (Poland)

Amber Neben leads the break of the day with Rachel Neylan, Anna van der Breggen, Rossella Ratto and Charlotte Becker. Photo © 2012 Bart Hazen

11 Annemiek Van Vleuten (Netherlands)
12 Ashleigh Moolman (South Africa)
13 Joelle Numainville (Canada)
14 Alena Amialiusik (Belarus)
15 Emma Pooley (Great Britain)

Marianne Vos attacks on the Cauberg with Elisa Longo Borghini to bridge up to the decisive break. Photo © 2012 Bart Hazen

16 Evelyn Stevens (United States of America)
17 Jessie Daams (Belgium)
18 Liesbet De Vocht (Belgium)
19 Hanka Kupfernagel (Germany) 0:04:49
20 Giorgia Bronzini (Italy)

Amber Neben was very active in the race. Photo © 2012 Bart Hazen

21 Leah Kirchmann (Canada)
22 Inga Cilvinaite (Lithuania)
23 Ceclie Gotaas Johnsen (Norway)
24 Oxana Kozonchuk (Russian Federation)
25 Yevgeniya Vysotska (Ukraine)

Up the Cauberg through the massive crowds. Photo © 2012 Bart Hazen

26 Ivanna Borovichenko (Ukraine)
27 Larisa Pankova (Russian Federation)
28 Anna Sanchis Chafer (Spain)
29 Carmen Small (United States of America)
30 Karol-Ann Canuel (Canada)

Vos celebrates the win. Photo © 2012 Bart Hazen

31 Tiffany Cromwell (Australia) 0:04:52
32 Tatiana Antoshina (Russian Federation) 0:04:54
33 Megan Guarnier (United States of America)
34 Charlotte Becker (Germany)
35 Eneritz Iturriagaechevarria Mazaga (Spain) 0:04:58

Rachel Neylan - Evelyn Stevens. Photo © 2012 Bart Hazen

36 Clemilda Fernandes Silva (Brazil)
37 Edwige Pitel (France)
38 Elena Cecchini (Italy)
39 Sharon Laws (Great Britain)
40 Sofie De Vuyst (Belgium)

Megan Guarnier attacks on the Bemelerberg. Photo © 2012 Bart Hazen

41 Kelly Druyts (Belgium)
42 Martina Ruzickova (Czech Republic)
43 Annelies Van Doorslaer (Belgium)
44 Kristin McGrath (United States of America)
45 Claudia Hausler (Germany)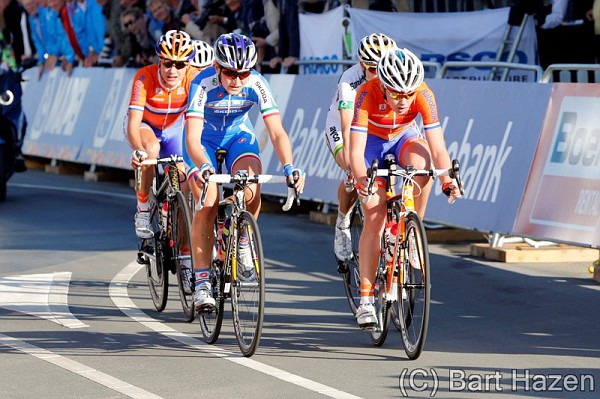 Anna van der Breggen leads the decisive break turning into the final lap. Photo © 2012 Bart Hazen

46 Aleksandra Burchenkova (Russian Federation)
47 Pauline Ferrand Prevot (France) 0:05:03
48 Lucinda Brand (Netherlands)
49 Olena Sharga (Ukraine)
50 Cherise Taylor (South Africa)

Rossella Ratto. Photo © 2012 Bart Hazen

51 Lise Nostvold (Norway)
52 Malgorzta Jasinska (Poland)
53 Shara Gillow (Australia)
54 Ane Santesteban Gonzalez (Spain)
55 Amelie Rivat (France)

Linda Villumsen wins the sprint of the first chasing group for seventh. Photo © 2012 Bart Hazen

56 Katarzyna Sosna (Lithuania)
57 Trixi Worrack (Germany)
58 Andrea Dvorak (United States of America)
59 Olivia Dillon (Ireland) 0:05:39
60 Nicole Cooke (Great Britain)

In the feedzone. Photo © 2012 Bart Hazen

61 Petra Zrimsek (Slovenia)
62 Jennifer Hohl (Switzerland)
63 Edita Janeliunaite (Lithuania)
64 Francesca Cauz (Italy)
65 Veronica Leal Balderas (Mexico)

Joelle Numainville. Photo © 2012 Bart Hazen
66 Nikki Harris (Great Britain)
67 Veronique Labonte (Canada)
68 Amanda Spratt (Australia)
69 Adrie Visser (Netherlands) 0:05:41
70 Ina-Yoko Teutenberg (Germany)

The podium. Photo © 2012 Bart Hazen

71 Jessie MacLean (Australia) 0:06:04
72 Gracie Elvin (Australia)
73 Marta Tagliaferro (Italy)
74 Noemi Cantele (Italy)
75 Hanna Nilsson (Sweden)
76 Evelyn Arys (Belgium)
77 Kirsten Wild (Netherlands)
78 Sandrine Bideau (France) 0:06:22
79 Tatiana Guderzo (Italy) 0:07:01
80 Lilibeth Chacon Garcia (Venezuela) 0:08:24

HD Lex Albrecht (Canada)
HD Miriam Bjørnsrud (Norway)

DNF Romy Kasper (Germany)
DNF Loren Rowney (Australia)
DNF Siobhan Horgan (Ireland)
DNF Aleksandra Sosenko (Lithuania)
DNF Serika Guluma Ortiz (Colombia)
DNF Doris Schweizer (Switzerland)
DNF Daniela Pintarelli (Austria)
DNF Lise Olivier (South Africa)
DNF Alexandra Chekina (Russian Federation)
DNF Martina Ritter (Austria)
DNF Mayuko Hagiwara (Japan)
DNF Maria Briceno (Venezuela)
DNF Rimma Luchshenko (Kazakhstan)
DNF Audrey Cordon (France)
DNF Sara Mustonen (Sweden)
DNF Jessica Kihlbom (Sweden)
DNF Patricia Schwager (Switzerland)
DNF Sophie Creux (France)
DNF Joanna Van De Winkel (South Africa)
DNF Katie Colclough (Great Britain)
DNF Shelley Olds (United States of America)
DNF Emilia Fahlin (Sweden)
DNF Ellen Van Dijk (Netherlands)
DNF Loes Gunnewijk (Netherlands)
DNF Emily Collins (New Zealand)
DNF Eugenia Bujak (Poland)
DNF Olena Pavlukhina (Ukraine)
DNF Anna Nahirna (Ukraine)
DNF Semra Yetis (Turkey)
DNF Rotem Gafinovitz (Israel)
DNF Mia Radotic (Croatia)
DNF Mayra Del Rocio Rocha (Mexico)
DNF Kathryn Bertine (Saint Kitts and Nevis)
DNF Kaat Hannes (Belgium)
DNF Robyn De Groot (South Africa)
DNF An-Li Pretorius (South Africa)
DNF Sari Saarelainen (Finland)
DNF Polona Batagelj (Slovenia)
DNF Roberta Monaldini (San Marino)
DNF Isabelle Soderberg (Sweden)
DNF Lenore Pipes (Guam)
DNF Julia Martisova (Russian Federation)
DNF Andrea Graus (Austria)
DNF Yennifer Cesar (Venezuela)
DNF Emma Crum (New Zealand)
DNF Kate Chilcott (New Zealand)
DNF Martina Sablikova (Czech Republic)
DNF Agne Silinyte (Lithuania)
DNF Ursa Pintar (Slovenia)
DNF Pavlina Sulcova (Czech Republic)

Celebrating our tenth year!
Help Support the Daily Peloton