2012 Road World Championships - Valkenburg: Men-U23 RR
Alexey Lutsenko sprints to U23 World title. Kazakh surprisingly takes gold over Bryan Cocquard and Tom van Asbroeck. Photos...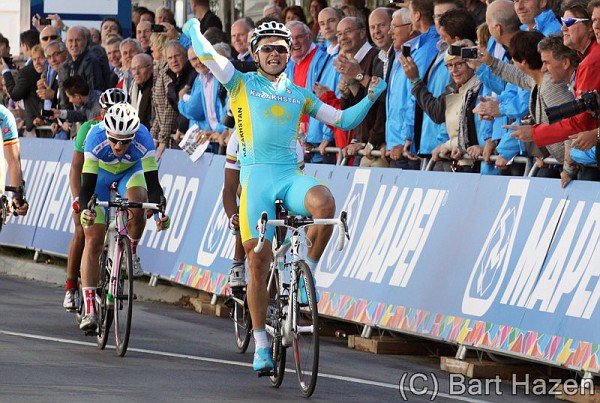 Alexey Lutsenko takes the win for Kazakhstan in the Men's U23 RR. Photo © 2012 Bart Hazen
Result (top 50)
1 Alexey Lutsenko (Kazakhstan) 4:20:15
2 Bryan Coquard (France)
3 Tom Van Asbroeck (Belgium)
4 Hugo Houle (Canada)
5 Luka Pibernik (Slovenia)

Cocquard and Van Asbroek second and third. Photo © 2012 Bart Hazen

6 Jhoan Esteban Chaves Rubio (Colombia)
7 Hernando Bohorquez Sanchez (Colombia)
8 Kenneth Van Bilsen (Belgium)
9 Wouter Wippert (Netherlands)
10 Sam Bennett (Ireland)

The podium ceremony. Photo © 2012 Bart Hazen

11 Patrick Konrad (Austria)
12 Jan Polanc (Slovenia)
13 Soufiane Haddi (Morocco)
14 Moreno Hofland (Netherlands)
15 Haavard Blikra (Norway)

The early break. Photo © 2012 Bart Hazen

16 Sergei Pomoshnikov (Russian Federation)
17 Silvan Dillier (Switzerland)
18 Lawrence Kalil Warbasse (United States of America)
19 Jay McCarthy (Australia)
20 Michael Valgren Andersen (Denmark)

France and Belgium attack on the Cauberg with 2 laps to go. Photo © 2012 Bart Hazen

21 Sven Erik BystrÝm (Norway)
22 Sebastian Lander (Denmark)
23 Janis Dakteris (Latvia)
24 Tobias Ludvigsson (Sweden)
25 Michel Koch (Germany)

The finishing straight with one lap to go. Photo © 2012 Bart Hazen

26 Sean Patrick Downey (Ireland)
27 Arman Kamyshev (Kazakhstan)
28 Ilia Koshevoy (Belarus)
29 Nikias Arndt (Germany)
30 Juan Ernesto Chamorro (Colombia)

The race ended up in a bunchsprint despite 11 times up the Cauberg and Bemelerberg. Photo © 2012 Bart Hazen

31 Kristian Haugaard Jensen (Denmark)
32 Philip Lavery (Ireland)
33 Karel Hnik (Czech Republic)
34 Kirill Yatsevich (Russian Federation)
35 Natnael Brhane Teweldemedhin (Eritrea)

One lap to go. Photo © 2012 Bart Hazen

36 Rick Zabel (Germany)
37 Joshua Atkins (New Zealand)
38 Gijs Van Hoecke (Belgium)
39 Fabio Felline (Italy)
40 James Oram (New Zealand)
41 Vegard Breen (Norway)
42 Pit Schlechter (Luxembourg)
43 Nathan Davis Brown (United States of America)
44 Tim Mikelj (Slovenia)
45 Jan Hirt (Czech Republic)
46 Alex Kirsch (Luxembourg)
47 Carlos Verona Quintanilla (Spain)
48 Pawel Poljanski (Poland)
49 Gavin Mannion (United States of America)
50 Joshua Edmondson (Great Britain)
Full result

Celebrating our tenth year!
Help Support the Daily Peloton